In tweets, father dedicates life to memories of his dead children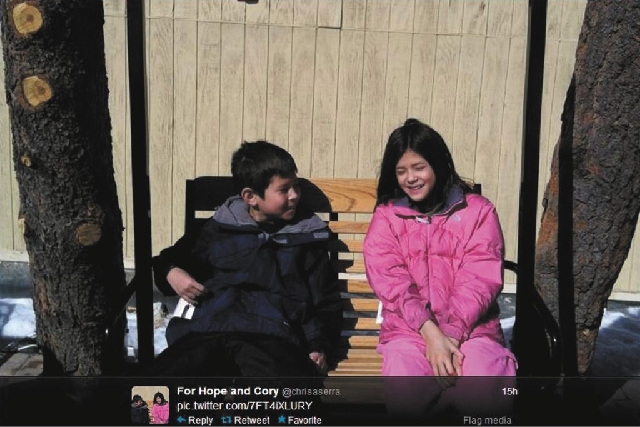 Christopher Serra is asking his children to forgive their mother.
Siblings Hope, 11, and Cory, 9, died Friday after their mother, Hae Chong Serra, 40, stabbed them inside the family's southwest Las Vegas home. The mother then turned the knife on herself, committing suicide.
"Please forgive her," Serra wrote on his Twitter account, which he shared Tuesday with the Las Vegas Review-Journal. "She didn't know what she was doing. Although what she did to you and herself was wrong, she truly believed, in my mind, she was doing it out of love for you."
The Twitter account, dubbed "For Hope and Cory," offers a window into the father's pain, with good memories of his children. In an email, Serra said he is not yet ready to talk about what happened. But line by line, tweet by tweet, he began composing an open letter to his children Monday.
"You are my inspiration," he tweeted to the children. "You have and always will touch my soul, my life, and my very being. You are a part of me forever."
Meanwhile, police on Tuesday revealed more about troubling events leading up to the deaths.
Two days before Hae Chong Serra killed herself and the children, Christopher Serra, 39, attempted suicide by drinking pesticide, according to the Metropolitan Police Department.
Lt. Ray Steiber said Christopher Serra attempted suicide April 17. He was hospitalized when his wife, whom he married in 2001, stabbed her two children inside their home on Wolf Pack Lane, near Fort Apache Road and state Route 160.
Hope and Cory were students at Wright Elementary School, where Hope was in fifth grade and Cory was in fourth grade, said Melinda Malone, a Clark County School District spokeswoman. The district on Monday sent a crisis response team of counselors to the school to work with staff and help grieving students.
Principal Carol Erbach on Monday sent a letter to parents of all students in the school, telling them of the loss and that counseling resources are available.
No charges will be filed in connection with the case, as the evidence doesn't show anyone else was involved, police said.
Steiber indicated that Hae Chong and Christopher Serra appeared to be having marital problems before the deaths occurred.
Whatever those problems may have been, Christopher Serra wasn't dwelling on them in social media.
"You made my life worth living, and my memories of you will keep me going strong," he tweeted. "My life was devoted to you and your mom."
Serra's memories: "You had the greatest smiles. You told the greatest riddles. You solved them with ease."
Plenty of details about the children emerge in the tweets. Hope was a straight-A student in school, and her favorite stuffed animal was a worn Beanie Baby cat named Muffin.
When Hope came home from school, she always had a different joke to tell.
Cory played with toy soldiers for hours on end, putting a few in his pocket whenever he went out, the father tweeted. The boy also was empathetic, asking the father if he was all right when he slipped, and offering to help carry heavy objects.
"You will be missed," Serra wrote to his children. "I'm sorry I can't be with you right now. I hope you will understand. 'til we do meet again, take care of your mom for me."
He added: "My life is dedicated to you both, Hope and Cory. I promise I'll make you proud. I love you so much!!"
Contact reporter Ben Botkin at
bbotkin@reviewjournal.com or 702-405-9781.
Contact reporter Colton Lochhead at
clochhead@reviewjournal.com or 702-383-0264.

CHRISTOPHER SERRA'S TWEETS
twitter.com/chrisaserra