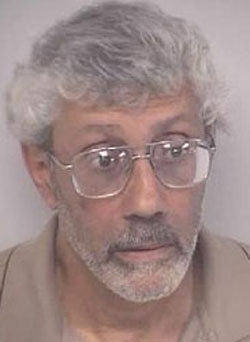 A nonprofit manager kissed a woman against her will and attempted to coerce her into sex in exchange for signing off on her court-mandated community service hours, a North Las Vegas police report released Thursday said.
The 24-year-old woman was appalled and frightened by 59-year-old Benedetto Vitale's actions Sunday morning at Safe Nest's donation center in North Las Vegas, the report said.
While alone in his office with him, she videotaped Vitale with her cellphone while he made lurid suggestions to her.
The woman kept the phone on her lap and at one point aimed the cellphone at Vitale and captured his face.
Vitale asked for sex in exchange for filling out the woman's 171 hours of required community service from a drunken driving arrest in Los Angeles in February 2011, police said.
"In the video, it appears (the victim) places the phone on her lap, but you can hear the conversation between (the victim) and the male sitting at a desk," the report said. "The male is talking about how he wants … sexual intercourse with (the victim) and talks about how he never does that with anyone."
During the videotaped exchange, the woman played along, specifically asking Vitale what he wanted from her, the report said. Vitale told her she could come to his office on Sundays for sex.
North Las Vegas police arrested Vitale on Tuesday on one count each of sexually motivated coercion, forgery and open or gross lewdness.
Police also said Vitale illegally signed a time sheet that indicated the woman completed the court-required community service hours. Vitale told the woman that if she fulfilled the sexual contract, she would get the sheet on Aug. 4, police said.
Police said the exchange between Vitale and the woman occurred at the donation center near Craig and Losee roads.
The report said Vitale got up from his desk to check on another worker. It was then the woman saw her opportunity to escape his office. She feared Vitale wanted sex right then, the report said.
She told Vitale she was going to go smoke a cigarette and, on her way out the door, grabbed the time sheet signed by Vitale.
The report said the woman was so upset that it took her several attempts to open her car door because her hands were shaking. The woman called police from her home, the report said.
Sunday morning was the first time she and Vitale had met face to face, although they had spoken on the phone to set up their initial meeting.
During his interview with police, Vitale initially denied the accusations but then admitted them and said he was going through a difficult time in his life.
"Ben's confession was very consistent with (the victim's) statement," the report said. "Ben did admit that he completed and signed the time sheet and made the verbal contract to have sexual contact with (the victim) for the community services signature she needed to satisfy the courts."
Vitale told police that he had never coerced other women into have sex with him in exchange for falsifying community service requirements. He said he made a mistake.
North Las Vegas police spokeswoman Chrissie Coon said Thursday it's possible more victims could come forward.
The report said Vitale, who has been suspended by Safe Nest, had interviewed and worked with hundreds of people during the past eight or nine years. Files detailing who Vitale has been in contact with will be investigated in a search for other victims, the report said.
Safe Nest is a nonprofit agency dedicated to helping women who are victims of domestic violence.
Vitale's job did not bring him into contact with victims of domestic violence.
Contact reporter Antonio Planas at aplanas@reviewjournal.com or 702-383-4638.