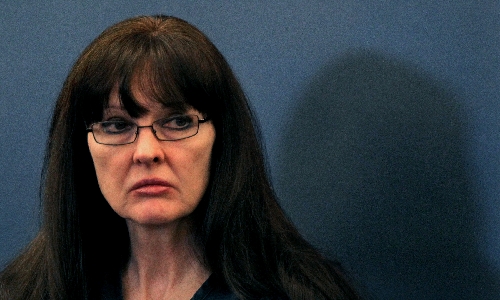 A district judge tossed an indictment against a woman charged with shooting her adult son last year after a fight over an ex-girlfriend.
Judge Abbi Silver on Thursday ruled that prosecutors presented inappropriate evidence of a previous domestic violence incident between Linda Cooney and Kevin Cooney to the grand jury. Silver said the evidence was prejudicial to the grand jury because prosecutors failed to admonish the jurors not to consider the prior bad act when deliberating on the shooting case.
But Silver said prosecutors could refile their case against Linda Cooney, 64, who was acquitted of murder in the fatal shooting of her ex-husband more than two decades ago in Florida.
Prosecutors are expected to seek a new indictment against Linda Cooney via a different grand jury or hold a preliminary hearing before a Las Vegas justice of the peace to determine whether there is enough evidence to take the case to trial.
Defense lawyer Michael Castillo, who, with attorney Michael Becker, represents Linda Cooney, said she "continues to steadfastly maintain her innocence. She looks forward to resolving this matter in a court of law."
Prosecutors declined to comment.
The domestic violence incident dates to September 2002. According to a police report, Linda and Kevin Cooney were arguing when she grabbed a kitchen knife and slapped her son on the wrist with it. He wasn't cut. She then slapped him in the face with her hand.
Kevin Cooney then grabbed a .45-caliber handgun and told his mother to stay away from him.
Linda Cooney called police, but she was the one arrested. The case was later dropped.
Linda Cooney was indicted in April on three felonies in connection with the shooting of Kevin Cooney last summer, including attempted murder, battery with use of a deadly weapon resulting in substantial bodily harm-domestic violence and intimidating a witness.
Authorities say that on June 27, 2011, the mother and son argued over his ex-girlfriend. Authorities say Linda Cooney then shot Kevin Cooney with the same gun she used to kill his father in Florida 21 years ago. She was acquitted of her husband's murder by a jury partly based on testimony from Kevin Cooney, who witnessed the shooting.
Kevin Cooney was struck in the neck and was paralyzed. He has not cooperated with authorities, although he has told medical staff that his mother shot him, court documents show.
Kevin Cooney, who worked as a bouncer at nightclubs on the Strip and downtown, is considered an incomplete quadriplegic, meaning that he has some movement in his arms and legs.
According to court testimony, he has improved since the shooting and can speak again.
Contact reporter Francis McCabe at
fmccabe@reviewjournal.com or 702-380-1039.