Internet poker companies shut down, charged with fraud
April 15, 2011 - 11:38 am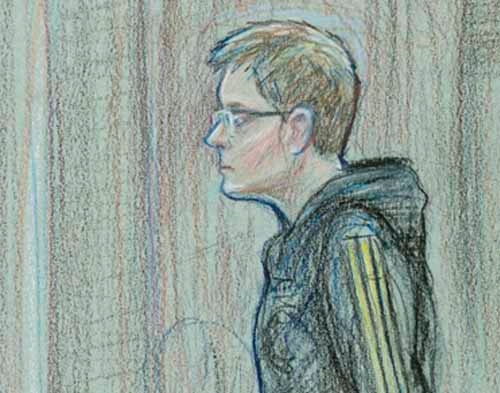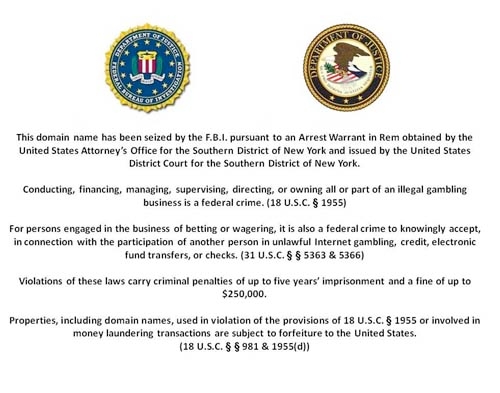 A nine-count federal indictment that was unsealed Friday shut down three of the world's largest Internet poker websites and could also end efforts by Nevada lawmakers to legalize the activity within the state.
Federal prosecutors in New York charged the founders of PokerStars, FullTilt Poker and Absolute Poker with bank fraud, money laundering and operating illegal gambling businesses.
By late Friday afternoon, two Nevada companies, Wynn Resorts Ltd. and Fertitta Interactive, said their proposed deals to operate potential online poker sites with two of the indicted companies were now dead.
A total of 11 individuals, including one Las Vegas resident, were named in the indictment.
The U.S. government also filed a civil lawsuit seeking $3 billion in money laundering penalties from the websites and their operators. The companies' for-money online-gambling websites were shut down Friday and seized by the U.S. Department of Justice.
In a 51-page indictment, the 11 individuals were charged with violating the Unlawful Internet Gambling Enforcement Act, which was signed into law in 2006. The act made it illegal for banks and financial companies to process Internet gambling transactions.
"These defendants concocted an elaborate criminal fraud scheme, alternately tricking some U.S. banks and effectively bribing others to assure the continued flow of billions in illegal gambling profits," Preet Bharara, U.S. Attorney for the Southern District of New York, said in a statement. "In their zeal to circumvent the gambling laws, the defendants also engaged in massive money laundering and bank fraud."
The action took the largest Internet poker companies out of business and cast doubt over whether or not the activity would ultimately be legalized in the United States anytime soon. Online poker is considered to be a large part of an estimated $26 billion a year online gambling industry.
Nevada lawmakers are currently debating Assembly Bill 258, which is backed by PokerStars and would pave the way for online gambling in the state. It directs the Nevada Gaming Commission to start drafting rules to regulate online poker but states that Internet gambling would not be implemented until sanctioned by Congress or the Justice Department.
Richard Perkins, former speaker of the Nevada Assembly who now works as a lobbyist for PokerStars, said the news shouldn't affect efforts behind AB258.
"It is not just about this company, it is about the policy of this state," Perkins said.
Two members of the Assembly who traveled at the behest of Perkins to England to see the online gambling company's facilities said the indictment doesn't change their view that Nevada should embrace Internet betting.
"I think it is a good policy for Nevada to enter into the online gaming market," said Assemblyman William Horne, D-Las Vegas. "It provides jobs for Nevada. It provides revenue for Nevada."
Horne, chairman of the Assembly Committee on Judiciary, took a two-day trip to England last year with Assemblyman Kelvin Atkinson, D-North Las Vegas, that was arranged by Perkins.
At the time there were no signs PokerStars would run afoul of U.S. legal authorities, Horne said.
During judiciary committee testimony on AB258 Horne said another committee member stated there were rumors online gambling companies might be facing an indictment but that Perkins assured the committee that wasn't the case.
"Richard Perkins said that it was not true," Horne said.
Asked whether the indictment harmed the credibility of pro-Internet gambling interests lobbying the Legislature, Horne said, "indictment doesn't mean guilt."
Atkinson said he still favors Nevada moving ahead into online gambling despite PokerStars problems.
"I still believe in the policy part of it," Atkinson said. "The only interest I ever had in it was that I was told how many potential jobs it might bring to the state."
Gov. Brian Sandoval, who on Tuesday said he supported Congress approving online poker rather than having the issue decided on a state-by-state basis, said Friday's action showed the complexity of the issue.
"Nevada is the regulatory standard-bearer and we must continue to guard against any semblance of wrongdoing in our most important industry," Sandoval said in a statement. "While the allegations made today against these three companies are of grave concern, I remain committed to the prospect of federal legislation that will provide for Internet gaming in a way that applies the same rigorous standards to online companies that we apply to traditional gaming institutions."
Sandoval said he asked state gaming regulators to closely monitor the federal case.
Wynn Resorts announced a deal with PokerStars on March 24 and Fertitta Interactive, a business involving the founders of Station Casinos, announced an agreement with FullTilt on March 30.
The companies all agreed to seek the federal legalization of online poker and operate for-money gambling websites if the activity was approved in the United States.
In a statement Friday, Wynn Resorts said it "terminated its alliance with PokerStars. The decision was reached as a result of the indictment."
A spokeswoman for Fertitta Interactive, which is co-owned by Frank Fertitta III, Lorenzo Fertitta, Tom Breitling and Tim Poster, read a statement Friday afternoon.
"The deal between FullTilt Poker and Fertitta Interactive was contingent upon the passage of federal legislation legalizing Internet poker, our own internal due diligence, and a finding of suitability for gaming licensure," the statement said.
Gaming sources speculated any agreements between Nevada gaming licensees and online gaming companies that accepted wagers from Americans following passage of the 2006 Unlawful Internet Gaming Act are all but dead with poker company executives now under federal indictment.
Nevada Gaming Control Board Chairman Mark Lipparelli wouldn't comment on the specifics of the indictment, but said the charges show that Internet gambling needs a strict regulatory process.
"Today's events prove that this is an industry that is desperately in need of regulation," Lipparelli said.
Friday's indictment said PokerStars founder Isai Scheinberg, FullTilt founder Raymond Bitar, and Absolute Poker founders Scott Tom and Brent Beckley arranged for money to be received from U.S. gamblers that was disguised as payments to hundreds of nonexistent online merchants purporting to sell merchandise such as jewelry and golf balls.
PokerStars, which is based in the Isle of Man, a British dependency, is said to control more than 50 percent of the online poker market. In addition to Perkins, the company hired former Nevada gaming regulators Randall Sayre and Scott Scherer, public relations experts and financial experts to help gain support for the passage of AB 258.
During testimony for the bill last month in Carson City, an expert said one in every four online poker accounts belongs to U.S. citizens. It was unclear how many Nevada residents participate in online poker.
The indictment claims the poker companies tricked U.S. banks into processing billions of dollars in transactions. Approximately one-third or more of the funds went directly to the poker companies as revenue through the "rake," which are fees charged to players on almost every hand played online.
"These defendants, knowing full well that their business with U.S. customers and U.S. banks was illegal, tried to stack the deck," FBI Assistant Director Janice Fedarcyk said in a statement. "They lied to banks about the true nature of their business. Then, some of the defendants found banks willing to flout the law for a fee. The defendants bet the house that they could continue their scheme, and they lost."
The nine counts in the indictment carry penalties of between five and 30 years in prison and hundreds of thousands of dollars in fines.
One Nevadan, Chad Elie of Las Vegas, was named in the indictment and was arrested Friday morning. Elie, 31, was one of four individuals charged with acting as a "payment processor" who obtained accounts at U.S. banks for the poker companies.
Elie was in federal court in Las Vegas Friday afternoon, wearing a black-and-yellow sweat suit when he appeared before U.S. Magistrate Judge Peggy Leen. Elie was released on his own recognizance. Prosecutors did not object to the release.
Leen said Elie must maintain lawful employment while awaiting trial. She also restricted his travel to Nevada, New York and Washington, D.C.
The defendant is scheduled to appear in a New York courtroom Tuesday morning. Reno attorney Craig Denney represented Elie at Friday's hearing but said Washington, D.C., attorney William Cowden will defend him in New York.
"Mr. Elie intends to go back to New York and contest the allegations," Denney said after the hearing.
He said Elie lives in Las Vegas with his fiancee, but the lawyer declined to comment further. Cowden could not be reached for comment late Friday.
Gaming experts said the indictment sets up a worldwide legal battle between the Department of Justice and the online poker entrepreneurs who have long argued that their operations in the United States do not violate U.S. law.
In a statement, the Washington, D.C. based American Gaming Association, which came out in favor of legalizing Internet gaming last year, said the action shows a need to strengthen laws that address illegal online gambling.
"The risk of consumer fraud, money laundering and underage gambling will continue until the U.S. passes laws ensuring that only licensed, taxed and highly regulated companies can operate in the U.S. market," the organization said in a statement.
The Poker Players Alliance, a group that supports the legalization of online poker and claims to have more than 1 million members, said the action by Department of Justice shocked the organization's leaders.
"Online poker is not a crime and should not be treated as such," organization chairman Alfonse D'Amato said in a statement posted on the group's website. "We are currently gathering all of the information around today's announcement and will offer detailed analysis when the full facts become available."
Benham Dayanim, a Washington, D.C., attorney who represents Internet gambling firms, described how the news could affect legalization efforts in the United States.
"This is a warning that U.S. companies should be careful about with whom they do business," Dayanim said. The indictment clearly shows, "the U.S. government view that Internet gambling is unlawful, including Internet poker."
Contact reporter Howard Stutz at hstutz@reviewjournal.com or 702-477-3871. Review-Journal reporters Carri Geer Thevenot and Benjamin Spillman contributed to this report.