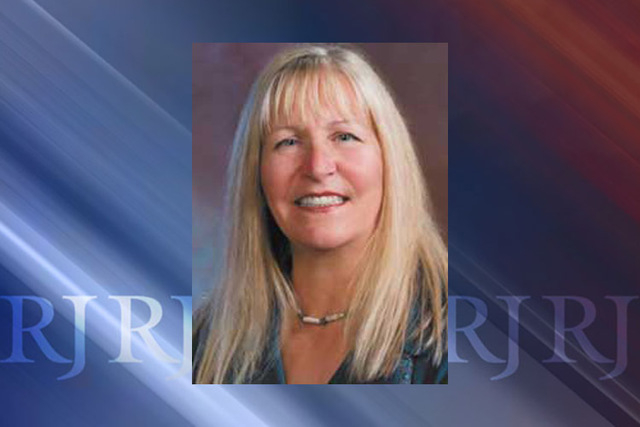 Down at the Regional Justice Center it's called the Wall of History, and it's the only place an attorney is guaranteed to win an argument with a judge.
Starting with an unveiling ceremony scheduled for 11:30 a.m. today on the 16th floor of the RJC, portraits of 95 local judges past and present will be on display.
The wall is the effort of retiring District Judge Valorie Vega, who donated more than $11,000 from her holdover campaign funds for the project. Although a few of the earliest portraits were painted in oil, most are black-and-white and color photographs.
"I was a one-person committee," said Vega, whose 25-year tenure on the bench ends Jan. 5.
Vegas said she spent approximately five years during spare moments collecting the historical portraits, some of whom were collecting dust in storage at the courthouse.
The oldest image is an oil painting from 1910 of Judge Charles S. Brown. Given the name, may we presume he was a good man?
There are several images of district judges who went on to serve at the state Supreme Court. Among many: John Mowbray, Bob Rose, Nancy Becker, Michael Cherry, Ron Parraguirre, Mark Gibbons, Nancy Saitta and Michael Douglas.
As with all things judicial in Nevada, the Foley family is well-represented by future U.S. District Judge Roger Foley (1939-41) and Tom Foley (1983-93.) A portrait of David Zenoff, who married Elvis and Priscilla Presley and would go on to lead the Nevada Supreme Court.
Judges are allowed to donate holdover campaign funds to the administrative office of the court, which in turn covered the cost of the display.
But what about ousted Family Court Judge Steven Jones? This week he pleaded guilty to a federal conspiracy charge linked to a $3 million fraud scheme. He is expected to be sentenced in January to at least 27 months in prison. Family Court isn't part of the gallery.
Still, it would be great to see his face on the courthouse wall.
Preferably wearing something with pinstripes.
MOB-CON: Admit it. Las Vegas offers the most eclectic conventions in the country. The arrival of Mob-Con 2014 this weekend at Palace Station is one knee-breaking example.
Mob-Con is the creation of Robert Allen, genuine gangster Frank Cullotta and their writing pal Denny Griffin.
This year's lineup of talent includes not only the usual suspects, but appearances by an impressive list of good guys — former FBI agents Lynn Ferrin and Dennis Arnoldy, ex-Strike Force prosecutor and federal judge Lawrence Leavitt, former mob prosecutor Stan Hunterton, and more.
I'll say a few words about covering organized crime cases, but visitors won't want to miss appearances by a group of women who spent parts of their lives under the same roof with some of the most notorious men in America.
And an appearance by double-tough Ron Fino is always worth the price of admission.
For more information on the gathering, visit mob-con.net, or just dust off the old fedora and get a ticket at the door.
OPA TIME: Everyone in Southern Nevada is a little bit Greek this time of year, the very Greek Marilyn Flangas says.
That is why they will want to check out the 42nd annual Greek Food Festival under way at St. John the Baptist Greek Orthodox Church at 5300 El Camino Road.
Talk about a tasty tradition.
STYLE CIRCUS: Circus Couture returns to The Joint inside the Hard Rock Sunday, Oct. 5 with an acrobatic, fashion and art experience that annually raises funds for pediatric cancer care at the Children's Specialty Center of Nevada and the St. Baldrick's Foundation. Information: circus-couture.com.
ON THE BOULEVARD: Metro's arrest this week of reputed pimp Robert Sharpe (see Mike Blasky's front-page story) on a variety of violence-related felony charges ought to shock even the most jaded citizen about the need for increased protection of prostitution's many victims. More on this topic coming Sunday.
Have an item for the Bard of the Boulevard? Email comments and contributions to Smith@reviewjournal.com or call 702-383-0295. Follow him on Twitter @jlnevadasmith.