Jailed Las Vegas lawyer Alexis Plunkett accepts plea bargain
Updated March 19, 2019 - 5:57 pm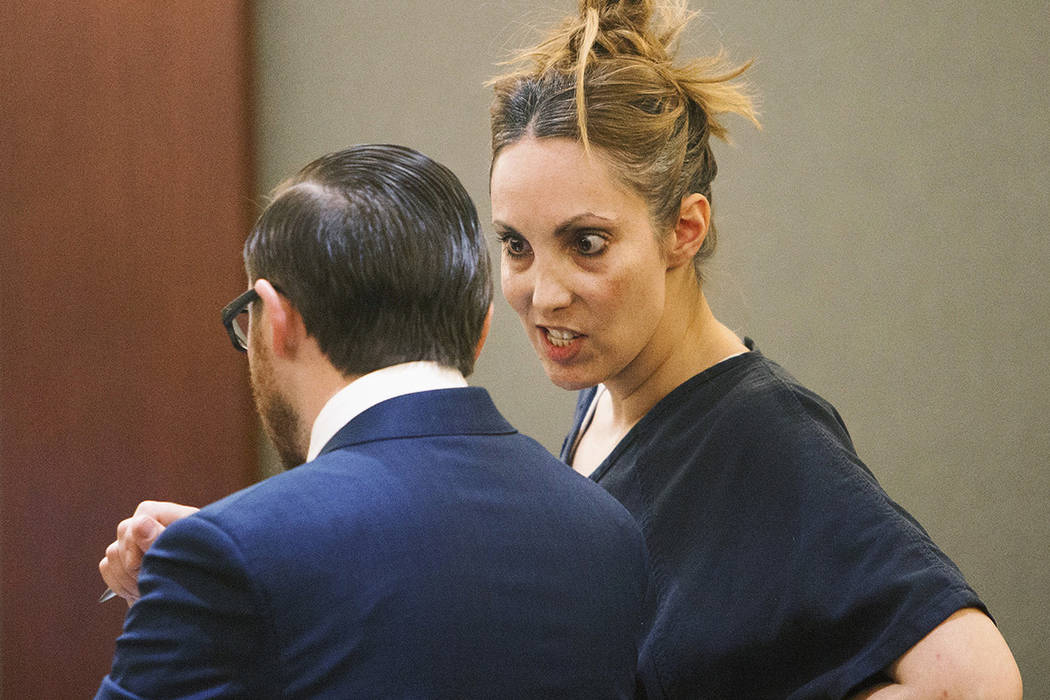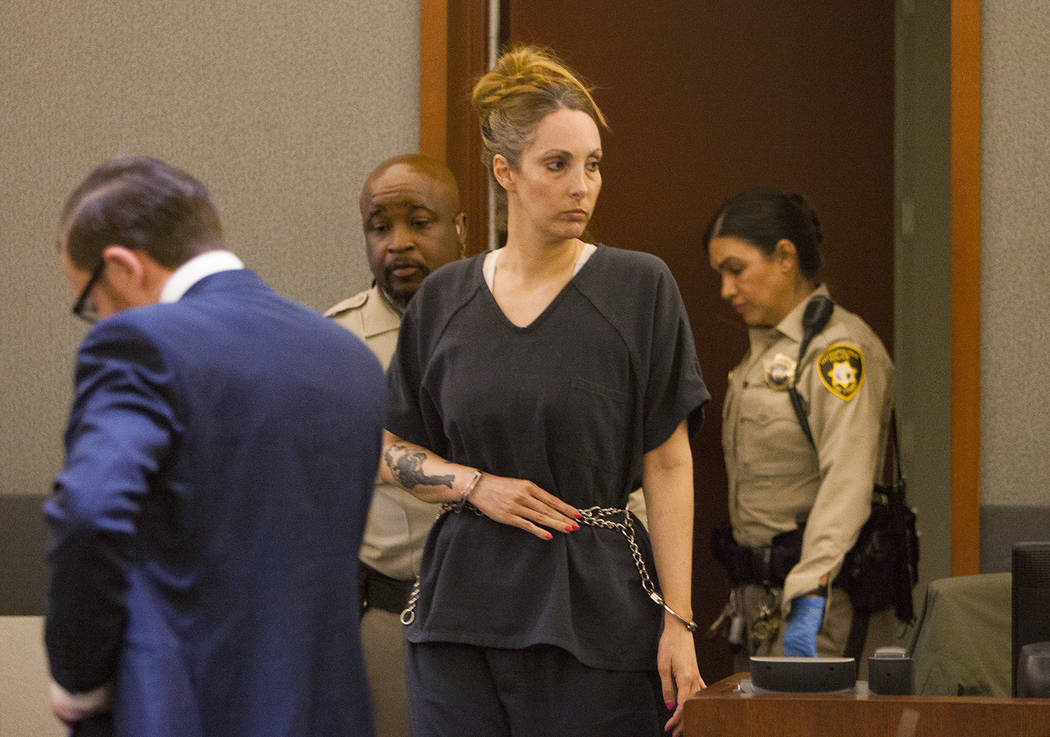 Las Vegas attorney Alexis Plunkett pleaded guilty to a felony on Tuesday for allowing clients to use cellphones in jail.
As part of a deal worked out late last week, the 38-year-old, who has been jailed for two weeks, is expected to have her law license suspended in Nevada for five years and never practice again in the state.
She pleaded guilty to one count of possession of a telecommunication device by a prisoner.
Her lawyer, Adam Solinger, called the agreement "a good resolution for all sides involved."
While Plunkett's law license would be suspended, Solinger said she could seek to practice law one day in another state.
The felony stems from jail visits Plunkett made to her former client Rogelio Estrada and then-boyfriend Andrew Arevalo, who in 2014 was shot and wounded by a High Desert State Prison guard.
Arevalo is awaiting trial on felony drug and weapons charges. Plunkett represented Arevalo in his lawsuit against the Nevada Department of Corrections in connection with the shooting that left another man dead.
District Judge Michael Villani initially dismissed a 14-count indictment against Plunkett, but the Nevada Supreme Court later reversed that decision.
Plunkett has said she was in a relationship with Arevalo, who also was indicted, and that she used the cellphone to make calls regarding bail, which she believed she was authorized to do.
Chief Deputy District Attorney Jay P. Raman said he would drop charges of bribing or intimidating a witness, a felony, and dissuading or preventing a person from testifying, a gross misdemeanor, which were filed earlier this month in a separate case.
Solinger said Plunkett approached him about striking a deal with prosecutors.
"It's the choice that she made that's best for her, and I respect that," Solinger said. "Ultimately it came down to being tired of continued litigation. Fighting a war on two fronts takes a toll on you, and remaining in custody pending your trial and resolution of your other case is really hard to do."
Villani revoked Plunkett's bail last week after reading through a set of text messages in which she had detailed a plot to have 28-year-old Arevalo killed behind bars. Prosecutors never charged her with a crime in connection with the messages.
At the plea hearing, the judge agreed to set her bail at $40,000, which Solinger said likely would be posted Tuesday, and she could be released from the Clark County Detention Center as early as Wednesday afternoon.
She would be placed on electronic monitoring and restricted from having any contact with a woman she identified on Facebook as a "snitch" and a "rat" in a criminal case late last year. The Facebook comments led to the witness intimidation charges.
Meanwhile, Plunkett also must refrain from using social media, according to an order from Villani.
Plunkett told the judge she only controlled one social media page, her law firm's Facebook account, and it "will be going away."
Solinger said he would ask Villani to give Plunkett probation at her May sentencing. Prosecutors are not expected to recommend any prison time.
Contact David Ferrara at dferrara@reviewjournal.com or 702-380-1039. Follow @randompoker on Twitter.
Alexis Plunkett plea deal by Las Vegas Review-Journal on Scribd