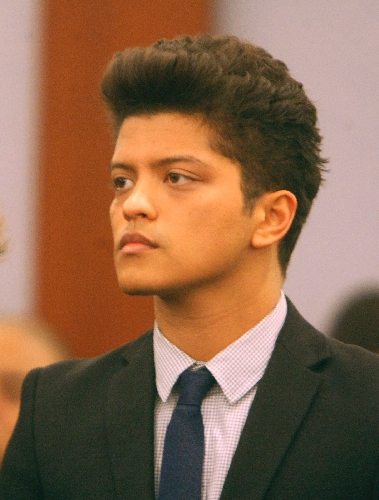 Grammy-winning pop singer and songwriter Bruno Mars has successfully completed a year of probation stemming from his 2010 drug bust at the Hard Rock Hotel.
Clark County District Judge Jessie Walsh dismissed the case Wednesday after learning Mars had fulfilled all of his sentencing obligations, including performing more than 200 hours of community service.
Mars, whose real name is Peter Hernandez, did not appear in court and was represented by Las Vegas celebrity criminal defense attorney David Chesnoff and Los Angeles attorney Blair Berk.
Mars also paid a $2,000 fine, stayed out of trouble during his probation and attended drug counseling.
Mars pleaded guilty to felony cocaine possession last year after reaching a deal with prosecutors.
Afterward, Berk said, Mars performed more community service than required. "Bruno earned the dismissal. He exceeded the expectations of the court," she said.
Mars, 26, performed 228 hours of community service, mostly doing charity events in Los Angeles, including visiting a children's hospital and at least one in Minnesota, prosecutor Tina Sedlock said.
Mars has done charity work in Nevada, but none of that was used to satisfy the court's sentence, Berk confirmed.
Mars, who last year won a Grammy award for best male pop vocal, was arrested in September 2010 at the Hard Rock Hotel after an attendant saw him with a plastic bag of white powder in a restroom stall. According to a Las Vegas police arrest report, Mars, who was wearing a striped red shirt and jeans, was discovered with 2.6 grams of cocaine. When confronted by hotel security, Mars handed over the baggie.
Mars later asked a police officer, "'Can I speak to you honestly, sir?' Hernandez (Mars) admitted he did a foolish thing and has never used drugs before," according to the arrest report.
Mars' arrest came on the heels of a two-year undercover investigation of the Hard Rock Hotel conducted by the Nevada Gaming Control Board. The investigation targeted hotel hosts and security personnel who were selling drugs and providing patrons with private restrooms for drug use and sex.
Mars' musical career soared in popularity over the past few years for singing and co-writing pop hits "Nothin' On You" by B.o.B and "Billionaire" by Travie McCoy.
He scored a Billboard No. 1 hit with his song "Just The Way You Are."
Contact reporter Francis McCabe at
fmccabe@reviewjournal.com or 702-380-1039.