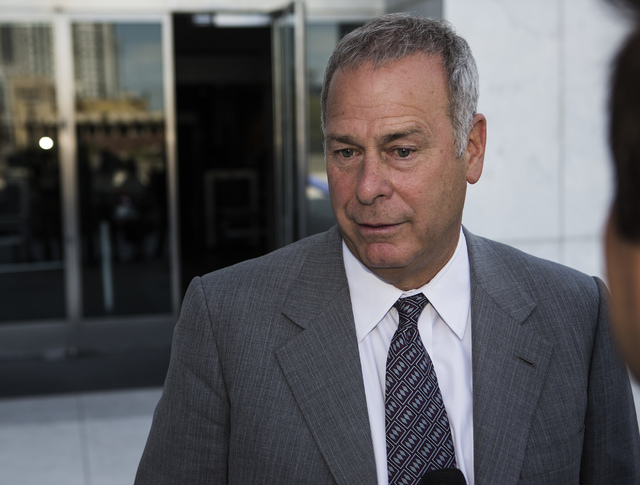 A federal judge on Wednesday again denied an effort to head off the demise of a 24-year-old agreement governing operation of Las Vegas' two daily newspapers.
In a two-page order, U.S. District Judge James Mahan said the court was "unpersuaded that presence of signatures" on a non-binding letter of intent "somehow transforms this matter into one ripe for review."
The denial was the second time Mahan halted a request by Las Vegas Sun Publisher and Editor Brian Greenspun to stop a move by his family and the owners of the Las Vegas Review-Journal from agreeing to end a Joint Operating Agreement that first went into effect in 1989 and was amended in 2005.
Greenspun in August sued Stephens Media, publisher of the the Review-Journal, saying the newspaper operators conspired with his three siblings and were violating federal antitrust law in an effort to end the agreement. He did not sue his siblings.
On Sept. 6, Mahan denied Greenspun's motion for a preliminary injunction following an hour-long court hearing, saying that without a definitive contract or agreement between Stephens Media and the Greenspun family a claim of antitrust law violations "was premature and not ripe."
Greenspun renewed his call for a preliminary injunction last week after Stephens Media CEO Michael Ferguson and Paul Hamilton, president of the Las Vegas Sun and the Greenspun Corp., signed a nonbinding letter that would dissolve the joint operating agreement by Dec. 31.
In his order, Mahan said "it appears that the only difference between the circumstances as they existed at the time if the motions and as they stand now is that the letter of intent has been signed by both parties."
According to the letter of intent, the Greenspuns agree to end the joint operating agreement with the siblings each receiving $70,000 . The family would also retain ownership of the Sun's website, lasvegassun.com. In addition, the Greenspuns would own the web domain name lasvegas.com, which they currently lease from Stephens Media for $1 million to $2.5 million annually.
Stephens Media would no longer pay the Greenspuns a share of annual profits from the joint operating agreement, which last year was $1.3 million, and would cease printing and delivering the Sun as a six- to 10-page insert. Under the joint operating agreement, the Review-Journal handles all business functions of the two newspapers, including advertising, marketing, circulation and printing, while the paper maintain separate and independent newsrooms and editorial functions.
Contact reporter Howard Stutz at hstutz@reviewjournal.com or 702-477-3871. Follow @howardstutz on Twitter.