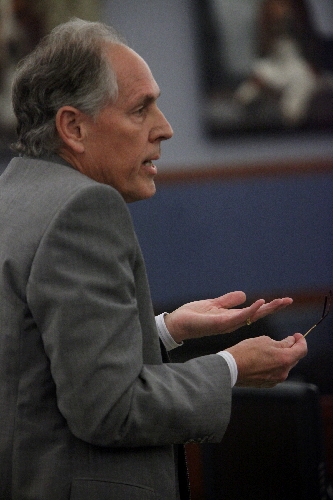 District Judge Kathleen Delaney on Tuesday set a Jan. 27 hearing to determine whether Dr. Dipak Desai is competent to stand trial on criminal charges stemming from the hepatitis C outbreak.
Medical experts from Lake's Crossing, the state's secure mental health facility in Sparks, found Desai competent to assist his lawyers, concluding he has been exaggerating the physical impairments caused by two strokes.
But his defense attorney, Richard Wright, is challenging those findings. Wright said he has received 1,200 pages of documents from Lake's Crossing and elsewhere related to the recent medical evaluations of his client.
Desai, 61, who is free on $1 million bail, ran the endoscopy clinics where health officials said the hepatitis outbreak occurred. He voluntarily surrendered his medical license after officials reported the outbreak in 2008.
On Tuesday, Wright told Delaney, who oversees all competency matters in District Court, that he wanted a full-blown competency hearing so that he could call his own experts and other witnesses to the stand.
But Delaney said the law only allows for Wright to challenge the conclusions of the state medical experts in a more limited proceeding.
Prosecutors share Delaney's opinion, but the judge ordered both sides to file court briefs supporting their positions. She scheduled a Dec. 13 hearing to set the parameters for the proceeding on Desai's competency.
Desai was not in court on Tuesday.
His ability to assist his lawyers must be decided before his approaching trial date. Desai and two of his nurse anesthetists, Keith Mathahs and Ronald Lakeman, face a March 12 trial on felony charges, including racketeering, insurance fraud and neglect of patients.
The charges revolve around seven people who authorities say were infected with the potentially deadly hepatitis C virus at Desai's clinics.
Desai also faces federal charges.
He is to be tried May 22 with Tonya Rushing, his clinic manager, on one count of conspiracy and 25 counts of health care fraud.
A federal indictment alleged the pair carried out a scheme from January 2005 through February 2008 to inflate the length of medical procedures and overbill health insurance companies.
Desai has pleaded not guilty in that case, and federal prosecutors have not taken a position on his competency to stand trial there.
Contact Jeff German at jgerman@reviewjournal.com or 702-380-8135.