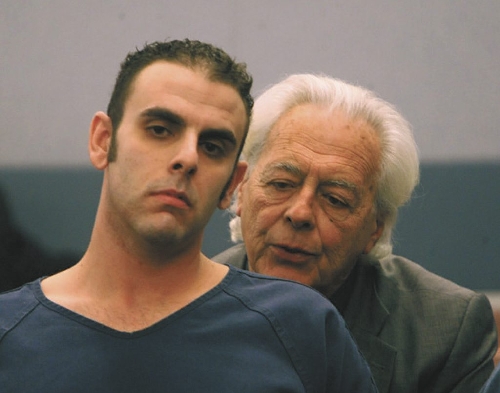 There will be no Hollywood ending in the Bellagio Biker Bandit case.
Suspect Anthony Carleo will plead guilty to two brazen Las Vegas casino heists, including the robbery of the Strip's Bellagio of more than $1.5 million in gambling chips from a craps table.
Carleo, son of Las Vegas Municipal Judge George Assad, is expected to enter his pleas today to one count each of robbery with use of a deadly weapon and assault with use of a deadly weapon in the Dec. 14 Bellagio robbery, Assistant District Attorney Chris Owens said.
Later this week, Carleo will plead guilty to the same charges in the Dec. 9 robbery of the Suncoast poker room, which involved about $18,000 in cash, Owens said.
Carleo faces a sentence of three to 54 years in prison for the two cases.
District Judge Michelle Leavitt will sentence Carleo in the Bellagio case, but a date has not been set.
A district judge will be assigned to the Suncoast case when Carleo is arraigned on Thursday.
Carleo's defense attorney Bill Terry did not respond to messages requesting comment.
As part of the negotiated plea, prosecutors will drop eight felony charges against Carleo in the two cases, including three robbery counts.
Prosecutors hinted in May that Carleo could face drug and weapons charges. He also was accused of intimidating witnesses. As of Monday, no other charges had been filed against Carleo.
Leavitt recently denied a request to reduce Carleo's $1 million bail amount. He remains in custody at the Clark County Detention Center.
On Feb. 2, the 29-year-old was arrested and charged in the early morning Bellagio heist after he sold 14 $25,000 chips to an undercover Las Vegas police officer. Carleo was staying at the Bellagio as a comped high-roller at the time.
The officer, Michael Gennaro, testified Feb. 23 that Carleo was on a self-described drug and gambling binge that was spiraling out of control.
When Gennaro asked Carleo to join his crew to rob the Bellagio, Carleo told the officer, "I already did" and laughed.
Gennaro testified that during five meetings with Carleo, the officer bought the chips at a cut rate of $7,000 to $10,000 each. Carleo told Gennaro during the meetings that he had gambled away $300,000 at the Bellagio, including $70,000 on New Year's Eve alone.
Gennaro testified that Carleo complained his father, who was upset with the son's lifestyle of drug use and gambling, had cut his allowance from $1,000 a month to $600. Carleo was using cocaine and OxyContin, according to the officer's testimony.
The Bellagio robbery made international headlines and featured security footage of an armed man briskly walking through the casino in a motorcycle helmet. Many likened the robbery to a real-life version of the film "Ocean's Eleven" because, for weeks, no arrests were made.
In both the Bellagio and Suncoast robberies, Carleo used a motorcycle for a quick getaway and wore a helmet to conceal his face. No one was hurt in either heist.
According to witnesses in the Bellagio case, the robber dressed in black, wore a white-striped motorcycle helmet and rode a Suzuki motorcycle. He parked at the Bellagio's north valet entrance for quick access to the gaming floor.
Once inside, Carleo stopped at a craps table near the entrance and told employees to "move." Someone then yelled, "He has a gun," according to testimony from a floor supervisor.
Because of the robbery, the Bellagio discontinued its $25,000 cranberry gambling chips, forcing anyone who had them to redeem them before they became worthless.
Authorities have said a total of $1.2 million in chips and cash have been recovered or accounted for since Carleo's arrest, but thousands of dollars worth of the chips remain missing.
Assad, an 11-year judge who has declined to comment about his son's case, last week lost his bid for another term on the bench. After his loss to a lesser-known candidate, Assad said he did not know why he lost the election. But some who voted against him said Carleo's arrests influenced their decision.
Contact reporter Francis McCabe at fmccabe@review journal.com or 702-380-1039.