Jury rules against Nevada in patient dumping case
Updated November 1, 2018 - 8:00 pm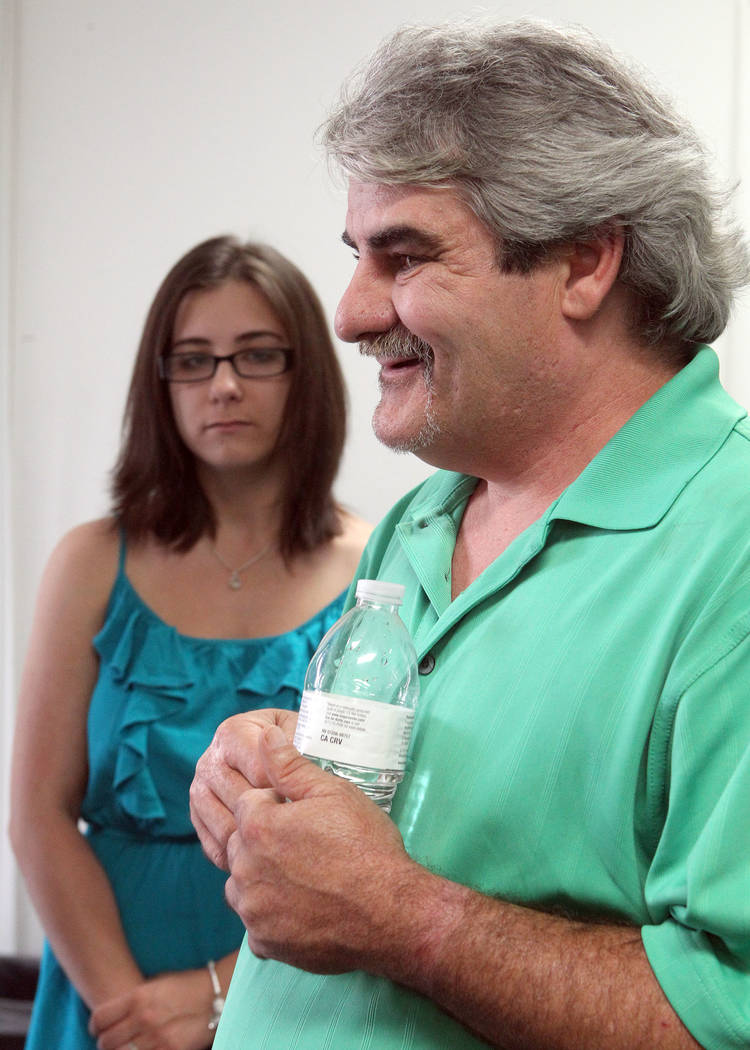 A Las Vegas jury on Thursday handed down what could amount to a multimillion-dollar penalty against Nevada for busing mental patients out of state without support services awaiting them.
Rawson-Neal Psychiatric Hospital came under scrutiny in early 2013 after media reports about patients receiving one-way tickets to unfamiliar parts of the country.
A jury of eight women awarded $250,000 to James Flavy Coy Brown in a class-action lawsuit against Southern Nevada Adult Mental Health Services, the hospital, its administrator and others after a trial over the practice. That same dollar amount should be given to each of the patients, their lawyers said.
A deputy attorney general, representing the defendants, declined to comment on the verdict, but a spokeswoman for the state Department of Health and Human Services said in an email to the Review-Journal that the department will ask the attorney general's office to appeal the decision.
"Rawson Neal hospital continues to be committed to providing safe and appropriate discharges," spokeswoman Martha Framsted also said in the email.
The plaintiffs' lawyers had contacted 89 people who were bused out of state, including 11 who testified during the trial, according to Sacramento attorney Mark Merin. At least 371 had been identified in the class, he said.
Upward of 1,500 people treated at the facility had been sent to states across the country and to Washington, D.C., Merin said after the verdict was reached.
State law caps lawsuits against government agencies at $100,000, but another lawyer for the patients, Allen Lichtenstein, said that cap may not be in play against the hospital's administrator, Chelsea Szklany, who was sued individually.
Through the trial that started last month, witnesses, including Brown, described their troubles after being dropped off in unfamiliar towns in testimony that Merin called "just mind-blowing."
Some of the patients immediately became homeless, sleeping under benches, in bus stations and on curbs, the lawyer said. Others told of arrests, hospitalization, "everything you can imagine."
The Sacramento Bee first reported that Brown spent 72 hours at Rawson-Neal before he was picked up by a taxi, driven to a bus station and placed on a bus traveling to Northern California without any form of identification or ability to obtain medication for his mental illness.
In their verdict, jurors found that Southern Nevada Adult Mental Health Services violated state law regarding indigent residents who had recovered from mental illnesses by failing to return them to their families, previous residences or to the counties where they had been involuntarily committed.
The jury decided that those patients were harmed because of the violation and that state agents, including Szklany, breached their duties to psychiatric patients who were discharged and sent by taxi to a Greyhound Bus station, before being carried out of state. The hospital staff also failed to arrange for follow-up care and housing, and provide medical documentation, the jury found.
"I think the jury listened very carefully," Merin said.
"Maybe now the state will actually talk about settling," he said. "They have to recognize that if they don't win on appeal, they're going to have to face this verdict."
Contact David Ferrara at dferrara@reviewjournal.com or 702-380-1039. Follow @randompoker on Twitter.