Jury weighs gun charge after man acquitted in Las Vegas killings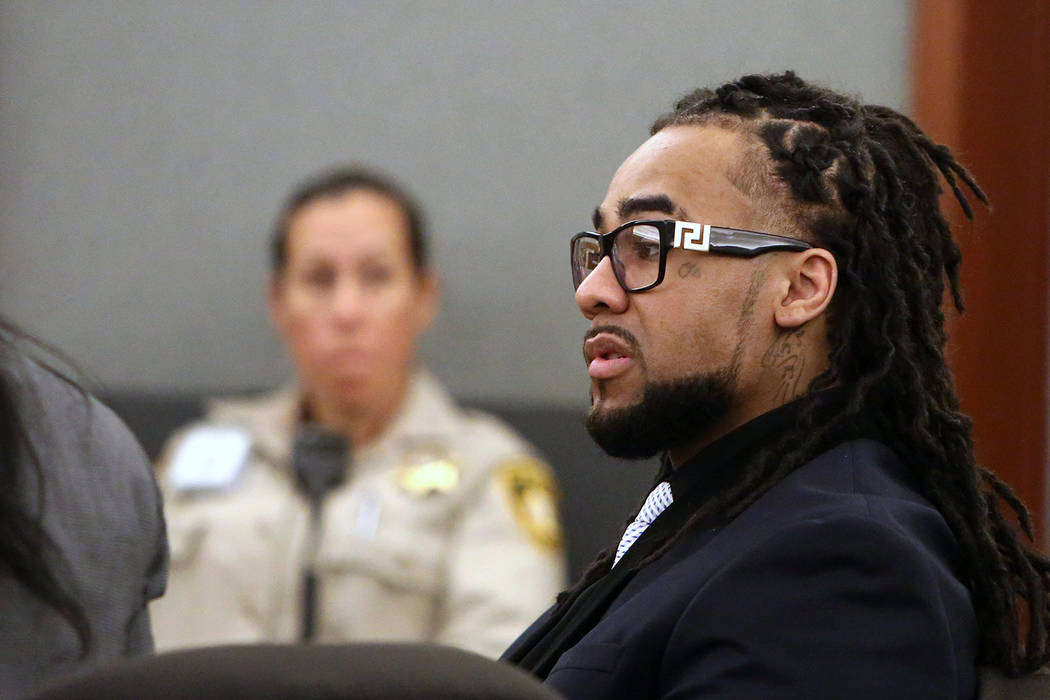 Maurice Sims faced the death penalty for five years in connection with a double homicide, and after a jury's verdict this week he could walk free.
First, the same panel that acquitted Sims of two counts of first-degree murder and several other felonies must weigh whether he was carrying a gun the day in January 2013 that Anthony Anderson and Evin Russell died inside the Harbor Island Apartments, on East Harmon Avenue near Paradise Road.
Because Sims was a felon prior to being charged with murder, weapons possession could mean more prison time. After his first double murder trial in April, a jury was deadlocked on a verdict. Prosecutors dropped the death penalty for his second trial, which started this month. On Monday, the new panel found Sims not guilty of murder, conspiracy, robbery and other counts, but convicted the 28-year-old on a burglary charge related to a home invasion prior to the deaths.
The jury did not add a weapon enhancement to the burglary conviction, which defense attorneys Pete Christiansen and Ivette Maningo suggested meant he should not be found guilty of being a felon in possession of a firearm.
On Tuesday, Chief Deputy District Attorney Marc DiGiacomo appeared frustrated with the jury's decision a day earlier.
Prosecutors have described the killings as a home invasion gone awry. On Jan. 8, 2013, Sims, his girlfriend at the time, Sasha Williams, and two other men broke into an apartment to get a TV she believed she was owed. They also took other electronics. The group's plan fell apart after Anderson fought back, and that is when he and Russell were killed.
"Yesterday, after your verdict, I'm trying to figure out what the truth is," DiGiacomo told jurors, saying that he believed they had reached a compromised decision and violated an oath to render a true verdict.
A third apartment resident, Laurice Brightman, was shot in the buttocks during the fray. He jumped out a window to escape, police said at the time. Brightman reportedly told police Williams showed up at the home with three men carrying guns who forced their way inside. Williams, who is free, said she was owed $200 for a phony credit card that the victims made, so she wanted a TV in return.
Da Ron Morris pleaded guilty in the slayings and is serving decades behind bars. Williams and Brandon Range, who is in prison, also pleaded guilty to conspiracy and other charges. DiGiacomo said the jury's verdict in Sims' trial on the murder charges did not make sense.
"The reality is, who knows? Would it have been different if the victims weren't engaged in criminal behavior?" the prosecutor said. "Or maybe it would have been different if they didn't live in that little dinky hellhole of the apartment that they lived in. Those things probably do matter, even though the law says they shouldn't."
The panel deliberated for more than two hours Tuesday afternoon, and is expected to return to the courthouse Wednesday.
DiGiacomo said evidence showed that the weapon used in the killings belonged to Sims.
"Clearly there was a weapon inside this house, because there's people dead, unless Mr. Sims went in there and it happened by spontaneous combustion," the prosecutor said. "I'm going to ask you this time to actually have your oath matter. Just decide. What do you really believe?"
Contact David Ferrara at dferrara@reviewjournal.com or 702-380-1039. Follow @randompoker on Twitter.