Kelvin Atkinson, ex-Nevada Senate leader, pleads guilty — VIDEO
Updated March 12, 2019 - 12:12 am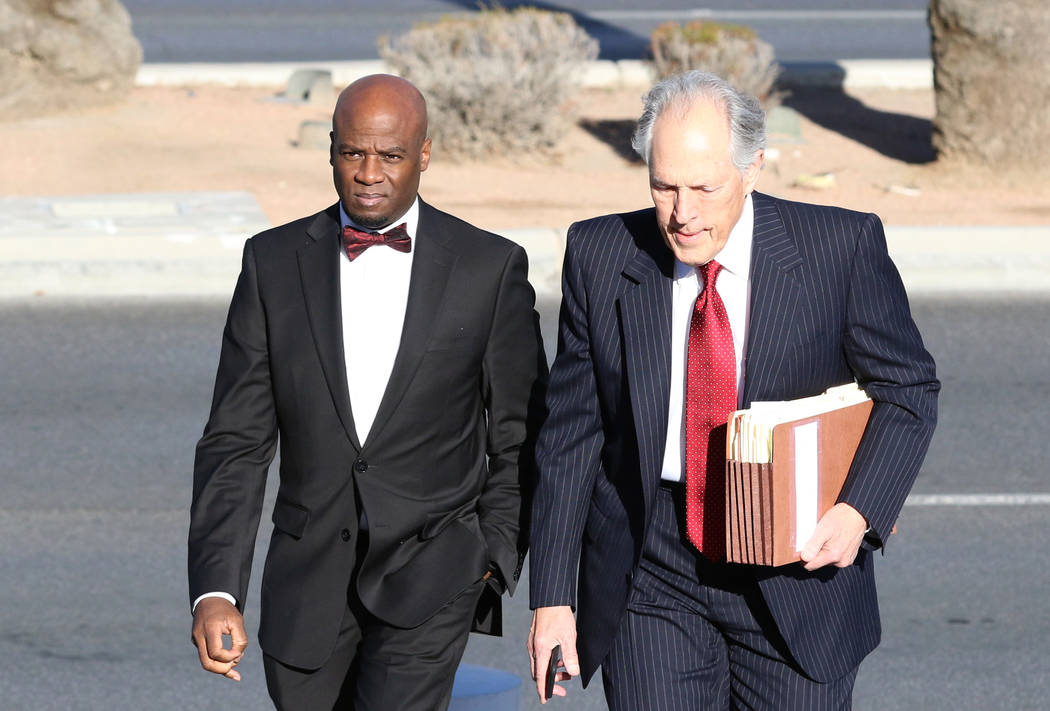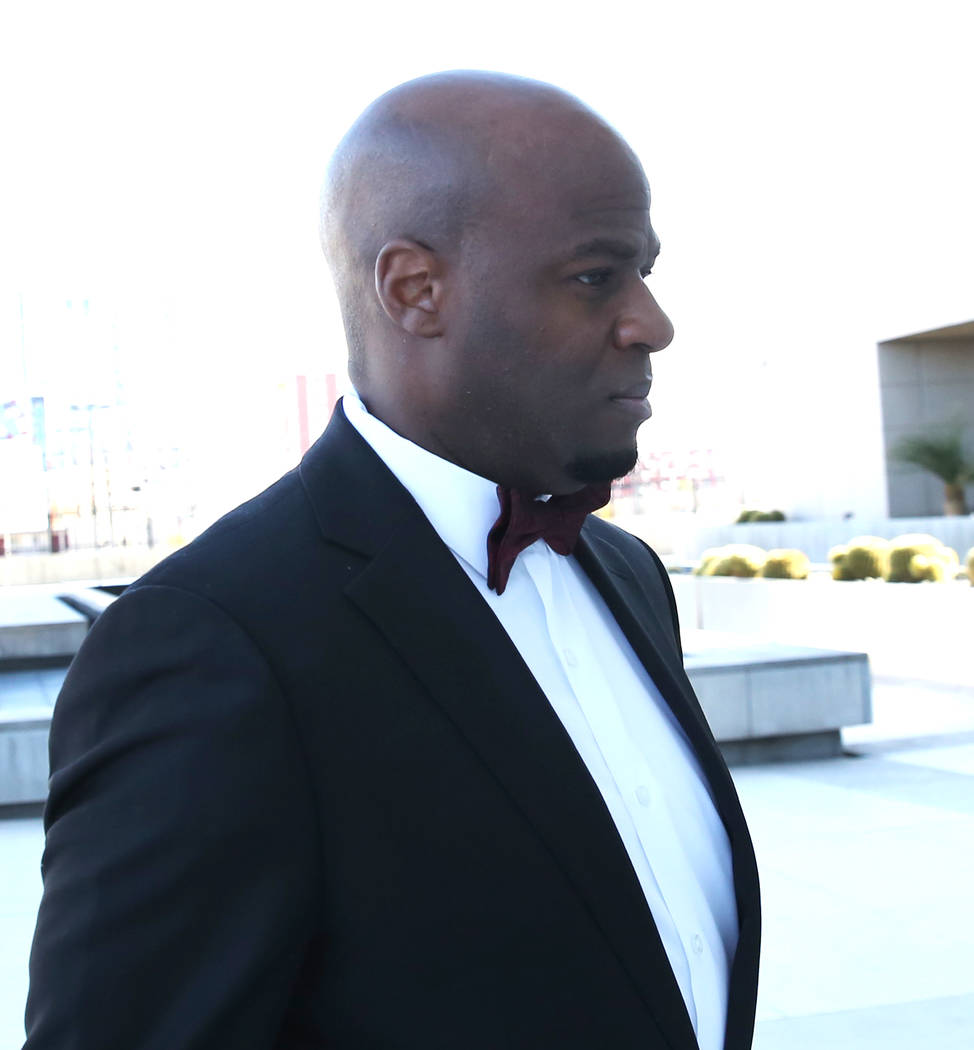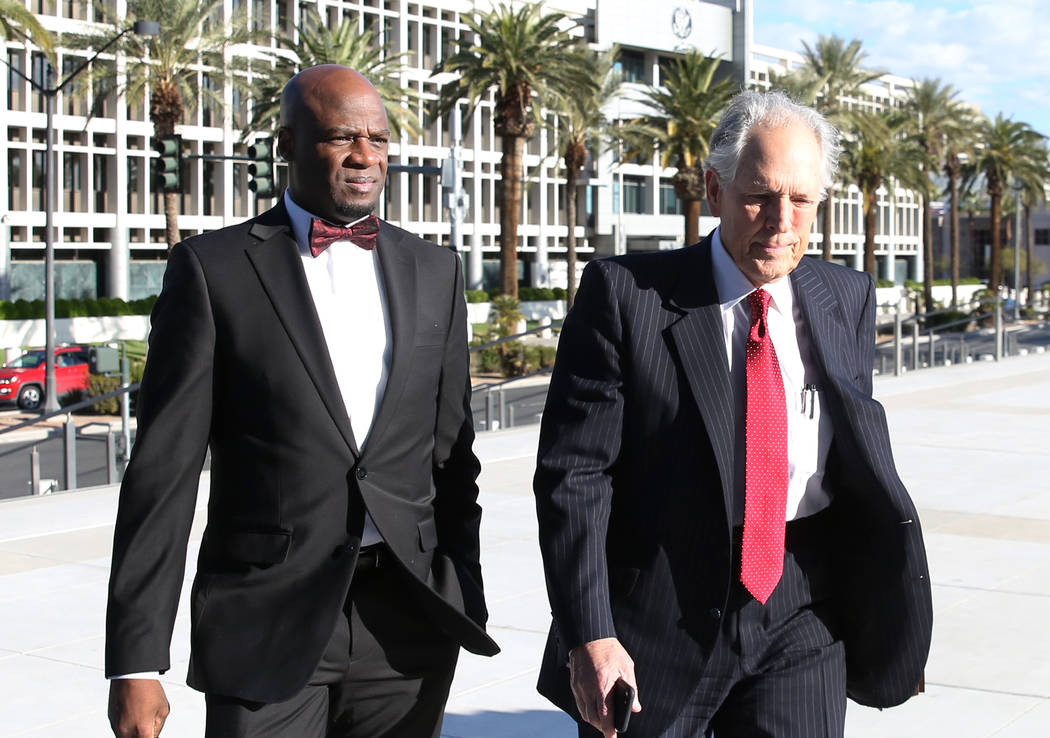 Former Nevada Senate Majority Leader Kelvin Atkinson pleaded guilty Monday to a federal wire fraud charge and admitted misusing nearly $250,000 in campaign funds.
Over an eight-year period, records show, Atkinson spent donor money to open a nightclub, lease a luxury SUV and pay off personal credit card bills.
Atkinson, 49, entered his plea in Las Vegas less than a week after resigning from the Legislature.
"What happened today in court is a stark reminder that there are public officials, a small minority of them, that lose their way," Nicholas Trutanich, U.S. Attorney for Nevada, said a news conference after the plea hearing.
The scheme started in January 2010, while the Democrat worked as a state assemblyman from Las Vegas, and continued through the end of 2017, while he served as a state senator and used $20,000 to lease a Jaguar F-Pace SUV, according to court papers made public as Atkinson stood before Senior U.S. District Judge James Mahan.
Atkinson announced his resignation last week and, in his resignation speech, said he had "used campaign funds for personal use" and would "be pleading guilty for those actions when the time comes."
Prosecutors alleged that Atkinson, who received 848 contributions during the period in question, commingled funds and never reported thousands of dollars on his campaign expense reports.
'False and fraudulent representations'
In 2016, he paid a business consultant with campaign funds to procure a business license and spent $75,000 to open and operate a Las Vegas nightclub, his plea agreement states. Atkinson used at least $100,000 to pay off personal credit cards and another $8,600 to repay a personal loan, according to the document.
"For years, Atkinson made materially false and fraudulent representations and omissions to potential campaign donors that caused them to donate to his campaigns," the plea agreement states.
Atkinson signed the agreement March 3. In it, he admitted that he withdrew more than $1.2 million from his campaign account, while reporting less than $765,000 in campaign expenses.
Trutanich told reporters that Atkinson's lack of campaign account record keeping and the age of the transactions for political donations he received "make the precise fraud amount presently indiscernible."
Prosecutors are expected to seek a 33-month prison term, while Atkinson's attorney, Richard Wright, could ask for probation at a July sentencing.
Trutanich observed the plea from the courtroom gallery.
"Theft of any kind is unacceptable, but theft of campaign contributions from a sitting public official is particularly troubling," he said later. "When a candidate diverts campaign money from its own intended purposes to line his own pockets, a donor's confidence in our democratic process is undermined."
As Mahan canvassed Atkinson, who was first elected in 2002, about his education and understanding of the plea, Atkinson told the judge that he understood the negotiation and that he was in court to "deal with charges."
Trutanich said the Atkinson investigation was referred to the FBI by the Nevada secretary of state's office "a couple of years ago," and a search warrant was executed at "at least one location in late January."
'No corruption should be tolerated'
Ray Johnson, assistant special agent in charge of the FBI's Las Vegas office, told reporters that the agency investigated more than 3,000 cases related to elected officials from 2015 to 2018.
"Public corruption erodes public confidence and undermines the strength of our democracy," Johnson said. "Corruption, big or small, tears the foundation of our nation. And no corruption should be tolerated or accepted."
Atkinson and Wright declined to comment after the plea hearing.
Sen. Nicole Cannizzaro, D-Las Vegas, became the Democratic majority leader after Atkinson's departure, becoming the first woman to serve in that role in the state's history.
On Monday, she called the charges "serious" and said lawmakers have turned their focus toward the legislative session.
"He betrayed the trust of the voters, and it is our job that the voters maintain trust with this body," Cannizzaro said. "We obviously are just as surprised as anyone else, but I can't stress enough that this is not a reflection of this caucus. We do not approve or condone this kind of behavior whatsoever."
Senate Minority Leader James Settelmeyer, R-Minden, said he hoped to prevent future campaign offenses.
"But the problem is, how do you regulate morality?" Settlemeyer said. "Now we know what he did, so now we try to figure out what kind of legislation you put forth to curb the problems."
Contact David Ferrara at dferrara@reviewjournal.com or 702-380-1039. Find @randompoker on Twitter. Capital Bureau Chief Colton Lochhead contributed to this report.
RELATED
Applicants sought to replace Atkinson in Nevada Senate