After news broke about Alexis Plunkett facing a dozen felony counts, the Las Vegas defense attorney took to social media, calling the allegations against her a "witch hunt."
A criminal complaint charges Plunkett, 36, with providing at least one cellphone to inmates at the Clark County Detention Center.
"I will never apologize for providing a vigorous defense or trying to get my clients out of jail," she posted Monday, with a link to a Las Vegas Review-Journal story, on the Facebook page for her law office. "Each and every phone call was open and related to bond. This is a true WITCH HUNT! #witchhunt #callme #igotyou."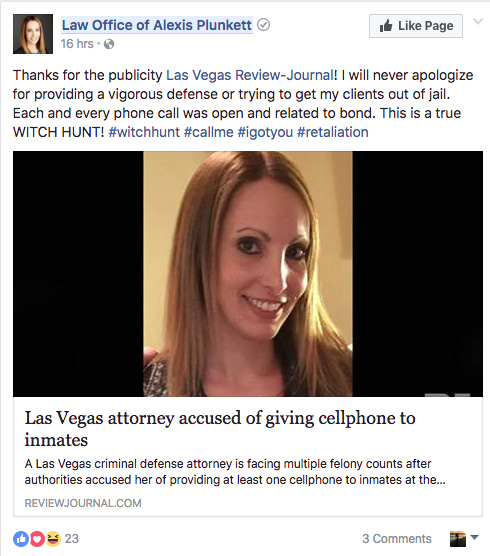 In an email to a Review-Journal reporter late Monday night, Plunkett wrote: "I assure you I believed I was authorized to do what I did and the truth will be revealed."
Plunkett represents Andrew Arevalo, a 26-year-old inmate who was shot in the face during a 2014 shooting at High Desert State Prison that left another man dead. Arevalo, who was charged with murder before authorities leveled one count of involuntary manslaughter against a prison officer trainee, has sued the Nevada Department of Corrections and others, including the former director of prisons.
In her Facebook posts, which since have been deleted, Plunkett indicated that calls were made inside an attorney room at the jail, "pursuant to my waiver with the jail where they know I am bringing in a cell phone for case-related activity."
On several occasions in April and earlier this month, authorities alleged, Plunkett allowed Arevalo and another inmate to "possess or control a cellphone" at the Clark County Detention Center. She faces 12 counts of unlawful possession of a portable telecommunication device by a felony jail prisoner, which is a felony offense, and two gross misdemeanor counts of conspiracy.
Arevalo, who is being held on $200,000 bail in a drug trafficking case, also is charged with possessing a cellphone in custody.
Defense lawyers often bring phones into the jail, signing documentation that states they will use the phones for purposes related to the case on which they are working. Several other attorneys said Tuesday that they carry phones into the jail for personal safety, in case an emergency occurs while meeting with an inmate.
Clark County District Attorney Steve Wolfson has declined to comment on Plunkett's case.
Plunkett wrote on her law firm's Facebook page: "Call me for a vigorous defense. #igotyou Please go read all the comments from the fools and trolls on the RJ! As an attorney, I am ALLOWED to bring a cell phone into a jail and use it for case-related activity. Sit down, dunces."
In response to that post, Plunkett commented: "F––– THEM ALL!!!"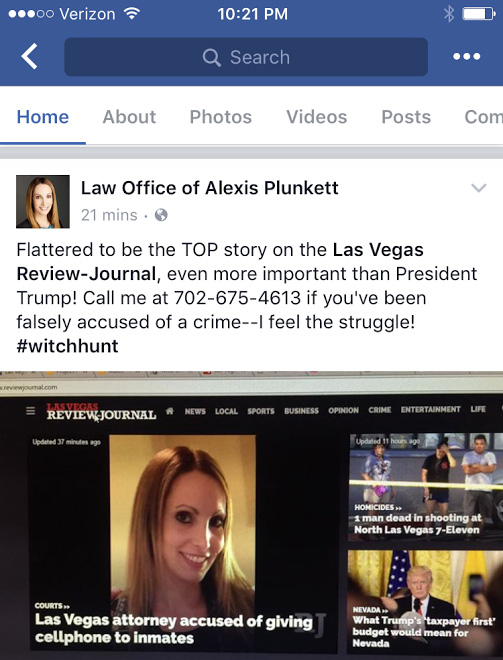 Plunkett's lawyer, Robert Langford, said he advised her to remove the posts, and she did on Tuesday.
"She's been in a stressful situation, and anybody's first reaction is to lash out," Langford said. "I'm confident we're going to get a good resolution."
Langford said Plunkett surrendered to the jail Tuesday morning and later was released on her own recognizance.
A judge has scheduled a hearing for Wednesday, but Langford said Plunkett is not expected to appear in court.
Contact David Ferrara at dferrara@reviewjournal.com or 702-380-1039. Follow @randompoker on Twitter.
Facebook post
Alexis Plunkett took to Facebook after news of charges against her broke: "If you've been falsely accused of a crime — I feel the struggle! #witchhunt"