Las Vegas heavy hitters vie for medical marijuana licenses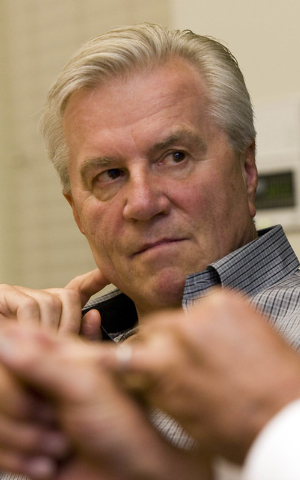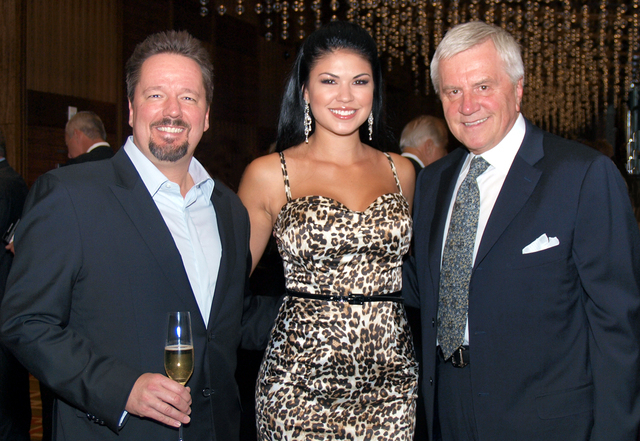 At the height of the "Just Say No" campaign in the war on drugs, Sig Rogich was a senior adviser to Presidents Ronald Reagan and George H.W. Bush.
Now Rogich, who runs one of the most powerful public relations firms in Nevada, is part of a team looking to snag one of Clark County's medical marijuana licenses.
"It was 30 years ago, a lot has changed," Rogich, 69, said of his involvement with marijuana's staunch political opponents. "They're legalizing it in 22 states now."
Twelve years ago, when Nevada voters considered outright legalization of pot, Rogich said that with "the most liberal drug laws in the union, Las Vegas would become an ongoing Jay Leno joke."
Eight years ago, amid another marijuana ballot initiative, Rogich's firm managed an anti-drug campaign.
Rogich called himself "a very, very, minority small owner" in Deep Roots Medical LLC. His partners include former casino owner Gary Primm and his son Roger Primm. Rogich's wife, Lori, is listed as the registered agent for the company, according to the Nevada secretary of state.
Rogich said he never opposed medical marijuana use on principle, but wouldn't say whether he currently approves of recreational use. He acknowledges that he used the drug when he was a University of Nevada, Reno student in the 1960s, though he didn't volunteer how often.
Rogich is one of a score of political heavyweights jostling for Nevada's limited medical marijuana business licenses.
In a review of the 109 companies that pitched 206 proposals for medical marijuana licenses in Clark County last week, the Review-Journal found not only deep political clout, but ties to the casino industry, real estate moguls and several prominent doctors in the Las Vegas Valley.
A state law passed last year allows as many as 40 medical marijuana business licenses in Clark County for dispensaries, production facilities, cultivation warehouses and product testing labs. Those licenses can mean big profits in a new and apparently growing industry.
In a study of legal marijuana sales across the country, San Francisco-based The Arcview Group projected the Nevada market to be worth $9.6 million in 2014.
And if Nevada follows in the footsteps of Colorado and Washington state in allowing recreational marijuana use, that market could be huge.
"There's no way to calculate exactly what it'll be worth, but it'll be worth a helluva lot of money," said state Sen. Tick Segerblom, D-Las Vegas, who authored the medical marijuana bill in the 2013 session.
GETTING IN EARLY
James Bixler, retiring Eighth District Court judge, formed Greenleaf Dispensaries Inc. with two brothers-in-law and his friend, attorney Robert Walsh, and applied for dispensary and cultivation licenses.
He said he thought the application process would be like a lottery.
But the forms submitted last week marked just the first step in a lengthy application process. On June 5, the commission has scheduled hearings for special-use applications from companies that meet requirements, which include presenting copies of a deed or lease for facilities and passing an FBI background check.
From that point, applicants must submit documentation to the state for provisional certification. With state certification, applicants then apply for a county business license.
The judge, who will leave the bench in January, said he reviewed his caseload as soon as he decided he wanted to enter the cannabis business. He plans to recuse himself from one case that involves medical marijuana.
If granted a license, Bixler said he intends to donate some profits to drug education and treatment programs.
"Our old War on Drugs is a farce," the judge said. "We're not losing. We've lost. We need to step back and take a whole new approach. And it needs to start with education. We need to start treating drug addicts like drug addicts instead of like prisoners."
Dozens of the applications submitted last week came from shell corporations managed by limited liability companies, which are not required to list individual officers under Nevada law. Clark County requires marijuana business applicants to disclose names of all owners, and officials are expected to release those names to the public.
Other notable Nevada public figures getting involved in the new marijuana trade include:
■ Jay Brown, a veteran Las Vegas lobbyist, political insider and steward of U.S. Senate Majority Leader Harry Reid's family trust. Three medical pot companies registered by his office are shell corporations with no individual officers registered with the Nevada secretary of state. Brown did not respond to requests for comment.
Brown is only one friend of Nevada's senior senators who wants to get in on the ground floor.
In a column titled "Preserving my marriage," Las Vegas Sun Publisher and longtime Reid political ally Brian Greenspun recently wrote that he would bid for a marijuana license. He did not reveal the name of the company. However, license applicant Waveseer LLC was registered by The Reid Firm, a law firm managed by Harry Reid's son, Key Reid, who is a former general counsel for the Greenspun Corp.
Among the managers of Waveseer is Chicagoan David Rosen, former finance director for Hillary Clinton and the Democratic National Committee. Harry Reid, D-Nev., has been a staunch supporter of Hillary Clinton.
Rosen's firm, The Competence Group, credits him most recently with getting Illinois Gov. Pat Quinn elected. Illinois legalized medical marijuana last year.
■ Former Las Vegas Assemblyman Chad Christensen, who ran for the U.S. Senate as a Republican in 2010, teamed up with Daniel Brasov, who has 25 years of experience in the banking industry, to form Fidelis Holdings. The company applied for licenses to operate a marijuana dispensary and a cultivation facility.
A devout Mormon, Christensen said he first became a supporter of medical marijuana about two years ago, when his wife's lifelong best friend was prescribed too much Percocet after a surgery, and her heart stopped. "It definitely opened my mind to the fact that these prescription narcotics in some cases may not be the only route," Christensen said.
Christensen said he plans to bring in medical marijuana "heavyweights" from Colorado to help run the company if granted a license, considering he has no experience in cultivation and sales.
Despite recent guidelines from the Treasury and Justice departments, Banks have shied away from the medical marijuana business because the drug is still illegal under federal law. So Christensen said he and Brasov had "an application that will address banking" issues, but he declined to elaborate.
■ Former Planet Hollywood Resort President Bill Feather formed Doctors' Dispensary LLC with Oscar B. Goodman Jr., an oncologist and son of Las Vegas Mayor Carolyn Goodman and former Mayor Oscar Goodman.
The company's lawyer, Raffi Nahabedian, called the younger Goodman a consultant, and said Feather wanted to emphasize the medicinal advantages of marijuana.
"This can't be a money thing," Nahabedian said. "This has to be real, and the only way it's real is if it's part of the medical establishment."
Doctors' Dispensary also lists physician Michael Resnick as a manager, and Nahabedian said more physicians would join its advisory board.
■ Nick Spritos, director of the Women's Cancer Center of Nevada, and Geoffrey Hsieh, another oncologist at the center, applied for a license under the company Nevada Medical Marijuana Dispensary, Inc. Neither doctor could be reached for comment.
■ Lobbyist and former Nevada legislator David Goldwater created Inyo Fine Cannabis Dispensary, Sweet Goldy LLC and Sweet Goldy Production LLC. He teamed up with friend Chris Olsen and Greta Carter, president of the Cannabis Training Institute in Seattle, to vie for cultivation, production and dispensary licenses.
In a telephone interview last week, Goldwater gave his pitch: "We're a group that wants to invest and manage this ourselves," touting their vested interest in the operation "to literally grow something that helps people."
■ Integral Associates, listed a manager as Unified LLC, which is run by Camille Ruvo, wife of Larry Ruvo, philanthropist and senior managing director of Southern Wine and Spirits of Nevada, the largest distributor of alcoholic beverages on the Strip.
■ Wellness Connection of Nevada LLC lists Tom Mikovits as a manager. He works as a marketing executive for Real Gaming, the online poker site that South Point launched earlier this year. He declined to discuss the marijuana application.
"It's just too early in the process to even talk about anything," he said.
Contact reporter David Ferrara at dferrara@reviewjournal.com or 702-387-5290. Follow @randompoker on Twitter.