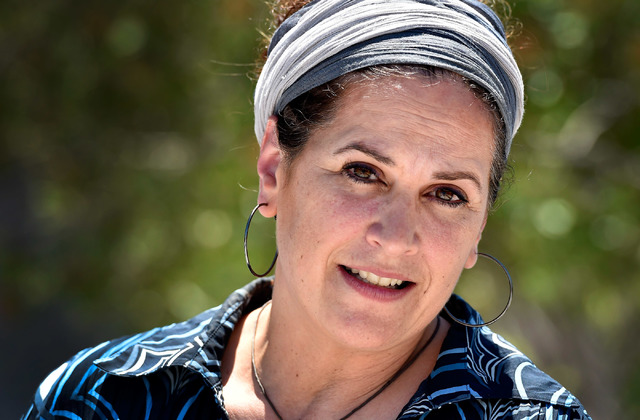 Las Vegas Justice of the Peace Melanie Andress-Tobiasson has a $167,000-a-year, taxpayer-funded role that gives her limited control over certain legal matters, but that power typically doesn't extend to court proceedings in another country.
Three years ago, however, the judge decided she had the authority to issue an order that would trigger an immediate outcome in a Canadian divorce case, a decision she made after a woman she knew, former Las Vegas attorney Jennifer Bolton, came into her chambers and asked for help. Bolton was dying of cancer and wanted to finalize her divorce from Vivian Wright-Bolton, whom she wed in Canada in 2004.
Andress-Tobiasson later was forced to rescind the order, and for a while, that was the only repercussion. She even received a raise the following year. But her actions raised eyebrows among state disciplinary officials, who will consider her case at a hearing Friday in Reno. The hearing could result in anything from a private reprimand to removal from office, or the charges could be dismissed.
The hearing follows a disciplinary investigation that found that Andress-Tobiasson "permitted Jennifer's terminal illness to influence her decision to sign the Order."
FORMAL STATEMENT OF CHARGES
The investigation was conducted by a prosecuting officer for the Nevada Commission on Judicial Discipline, following a complaint by an unidentified party. A formal statement of charges accuses the judge of breaking a rule "requiring her to disqualify herself when she has personal bias or prejudice concerning a party's lawyer or personal knowledge of facts in dispute."
Court filings in a civil case reveal that when Andress-Tobiasson signed the order she knew Bolton was terminally ill, had been estranged from Wright-Bolton for three years and was involved in a separate relationship with a woman in Nevada. Legal documents do not disclose how the judge knew Bolton, and Andress-Tobiasson said "nope" when asked if she was willing to answer that question.
Bolton was a managing partner at Las Vegas law firm Kocka and Bolton. Frank Kocka, the other managing partner, attended Pepperdine Law School — the same law school as Andress-Tobiasson. The firm now is representing the judge in a federal lawsuit filed against both of them by Bolton's ex-wife.
As a justice of the peace, Andress-Tobiasson typically rules on bail, probable cause and protective orders, the sorts of issues the public entrusts the court system to decide fairly and impartially.
The prosecuting officer's report slammed Andress-Tobiasson for getting involved in a case that was not pending in Las Vegas. According to legal filings, Andress-Tobiasson had never handled a civil matter as a judge until Bolton approached her in February 2014. At the time, Bolton and Wright-Bolton were involved in both a child custody fight in Clark County Family Court and divorce proceedings in Canada.
Bolton provided Andress-Tobiasson with a signed affidavit stating that she had served Wright-Bolton with divorce papers, but her wife was refusing to sign them. She also provided a copy of the Canadian Civil Marriage Act, which the judge interpreted to mean she could get involved.
CANADIAN DIVORCE
On February 12, 2014, without offering Wright-Bolton the chance to contest the allegations in Bolton's affidavit, Andress-Tobiasson issued an "ex parte," or one-sided, order. She wrote in the order that Wright-Bolton was unreasonably withholding her consent for divorce. As a result of the order, the Canadian Supreme Court granted Bolton a divorce on February 26, 2014.
After she learned what had transpired, Wright-Bolton contacted the Las Vegas Justice Court's chief judge, Karen Bennett-Haron, and asked her to investigate. A month later, at the chief judge's request, Andress-Tobiasson rescinded her first order, writing that:
"This court does not believe that a law in another country can expand the authority of a limited-jurisdiction justice court in Nevada."
A family court judge overseeing the custody dispute wrote in a filing: "This Court was certainly not comfortable with the process that Respondent Bolton utilized to obtain the ex parte order."
Bolton died in April 2014.
In September of that year, Wright-Bolton filed her civil complaint. The case is pending before the 9th U.S. Circuit Court of Appeals in San Francisco.
A lower federal court in Nevada ruled in 2015 that Andress-Tobiasson was entitled to judicial immunity, a legal mechanism that insulates judges from civil complaints resulting from their rulings. The lower court ruled that the judge was not acting outside the scope of her jurisdiction when she signed the order.
Andress-Tobiasson now insists in court documents she was justified in signing the first order.
When reached by phone, she said, "I have been advised by my attorney not to make a comment. I don't desire to make a comment, anyway."
Andress-Tobiasson, an elected official whose term is set to expire in 2018, added that she and her attorney are preparing for her upcoming hearing.
Contact Jenny Wilson at jenwilson@reviewjournal.com or 702-384-8710. Follow @jennydwilson on Twitter.
RELATED
Judge who refused to revoke bail says there was 'no indication' of threat before day care slaying
Las Vegas judge stands by dismissal of murder charge