Las Vegas killer with facial neo-Nazi tattoos gets 44 years to life
Updated January 9, 2020 - 4:53 pm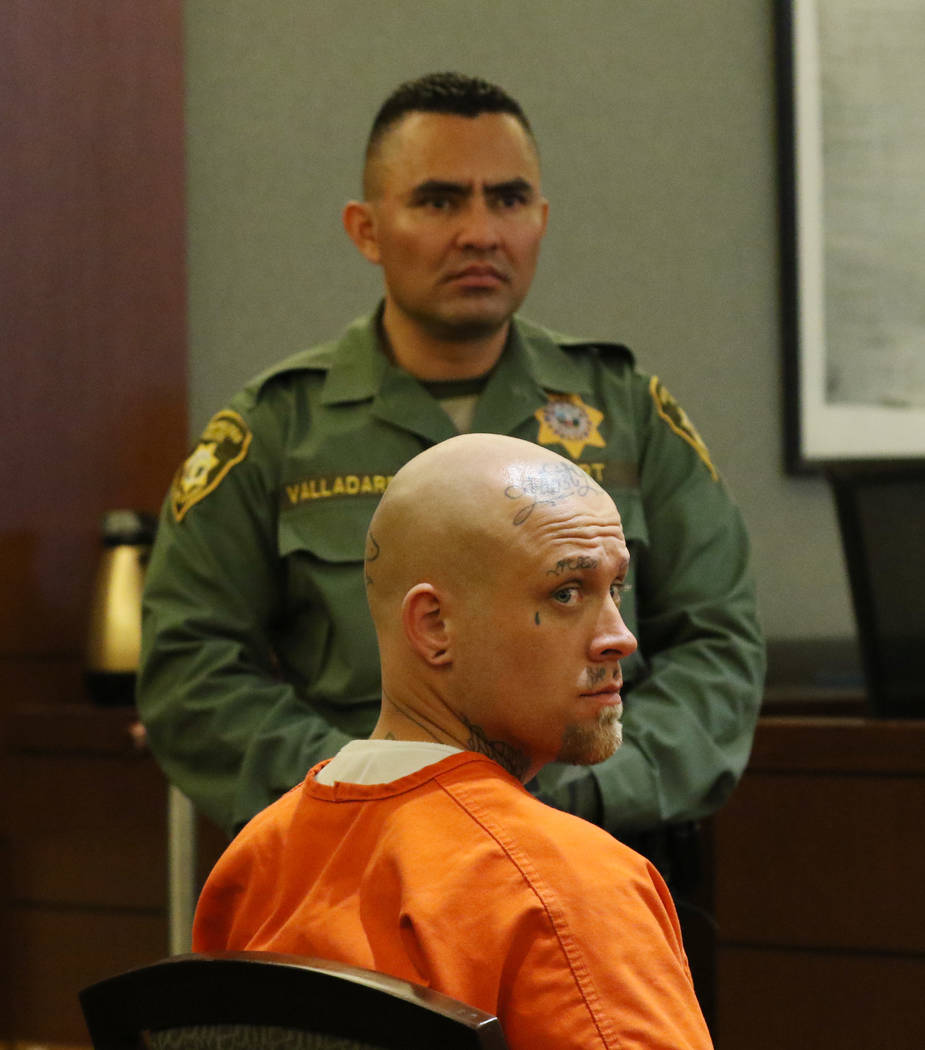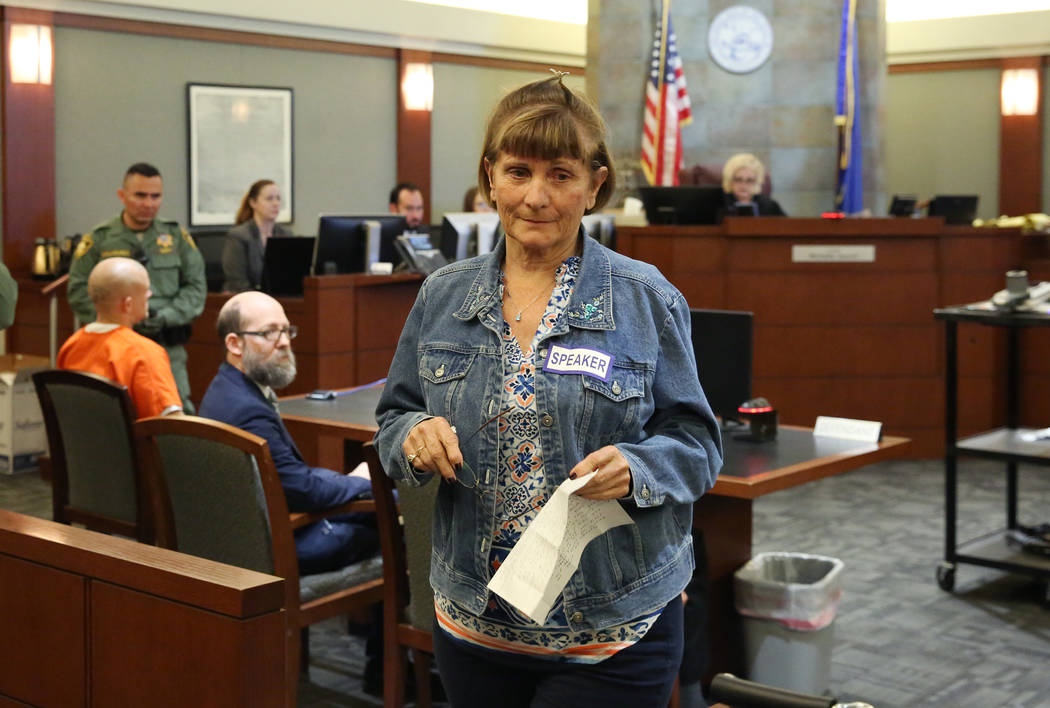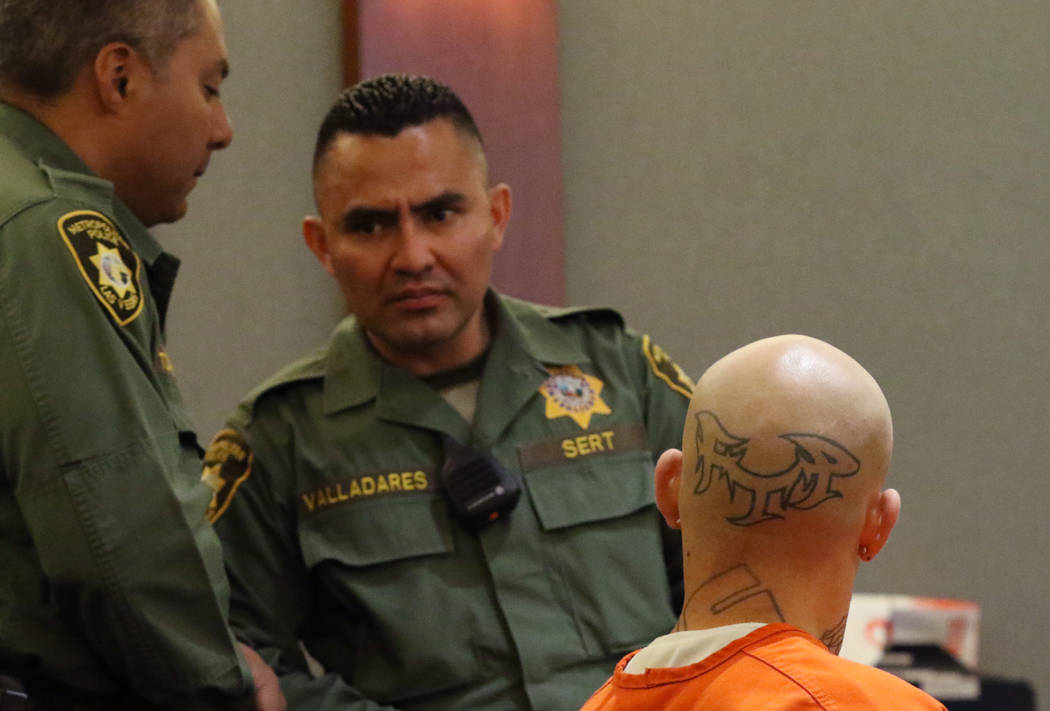 A man with neo-Nazi tattoos on his face who killed a 75-year-old woman in her Las Vegas home in 2013 was sentenced Thursday to at least 44 years behind bars.
Jean Main's family watched from the courtroom gallery as three corrections officers escorted a shackled 26-year-old Bayzle Morgan to a wooden chair beside his attorneys. It had been nearly two years since Morgan pleaded guilty in the 2013 burglary, robbery, beating and fatal shooting.
Main's grandson, Travis Portenier, walked to a podium in the center of the courtroom and tried to express how the killing of "the nucleus of our family" had affected them.
"This has left a scar that will never be repaired," he said.
Her daughter, Frances Joy Portenier, remembered when she learned of her mother's death and asked District Judge Michelle Leavitt, as did prosecutors, to sentence Morgan to life in prison without the possibility of parole.
"All of our lives were changed forever that day," Portenier said. "I cannot imagine the terror she must have felt when this happened."
Chief Deputy District Attorney Brad Turner described how Main was beaten with the butt of a pistol before she was shot, pointing out that Morgan had a history of arrests.
"He's committed a lifetime worth of violent crimes," the prosecutor said, "all worthy of a life sentence."
Morgan was seated beside his defense attorneys Dayvid Figler and Dan Bunin. The defendant had an orange jumpsuit, protective black mittens, a shaved head and a goatee. He will likely be 70 years old before he is eligible for parole.
Figler told the judge that Morgan's parents had essentially abandoned him when he was a child.
Since age 12, Morgan had been a ward of the state, Figler said, whether under Child Protective Services or inside a cell.
"This case is really emblematic of the failure of the state and the failure of the representatives of the state throughout Mr. Morgan's life," Figler said.
Morgan, who was convicted of an unrelated robbery in 2016, has attempted to withdraw his guilty plea in the murder case, even though prosecutors had withdrawn the possibility of the death penalty. Leavitt denied his request.
Morgan declined to speak at his sentencing.
A swastika within a clover is permanently etched under Morgan's left eye. The words "Most Wanted" are scrawled across his forehead. "Baby Nazi" is tattooed on his neck, and two white supremacist tattoos are where his eyebrows should be.
He is serving a sentence of about three to nine years at High Desert State Prison in Indian Springs for the robbery conviction.
Just days before the robbery, in May 2013, prosecutors have said, Morgan broke into Main's home in the 8000 block of Green Pasture Avenue while she was alone, pistol-whipped her over the head so hard that the trigger guard broke into pieces, then shot her in the back of the head. Her boyfriend found her facedown in a first-floor bathroom. A getaway driver, identified as Keith Smith, now 49, left when he heard gunshots but returned and saw Morgan with a suitcase of items from the victim's house. Smith was sentenced to four to 10 years in prison on burglary charges.
On Thursday, Leavitt said she considered several factors in calculating the sentence for Morgan, including his age at the time, on charges of murder, burglary, robbery and conspiracy. He must serve 44 1/2 years to life behind bars, the judge decided, and he was given credit for 201 days he spent in custody on the case.
Contact David Ferrara at dferrara@reviewjournal.com or 702-380-1039. Follow @randompoker on Twitter.