Las Vegas law firm to specialize in drone law
February 22, 2014 - 9:59 am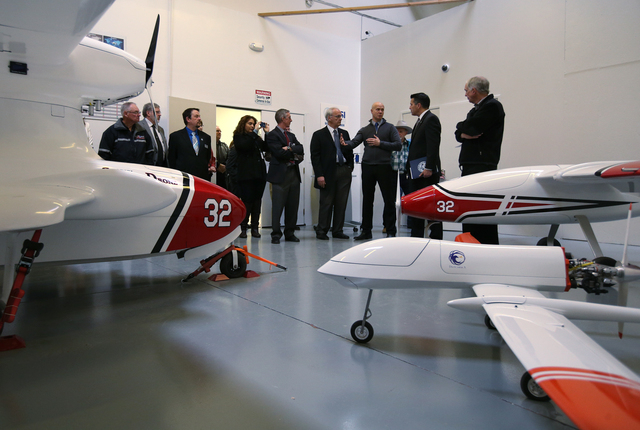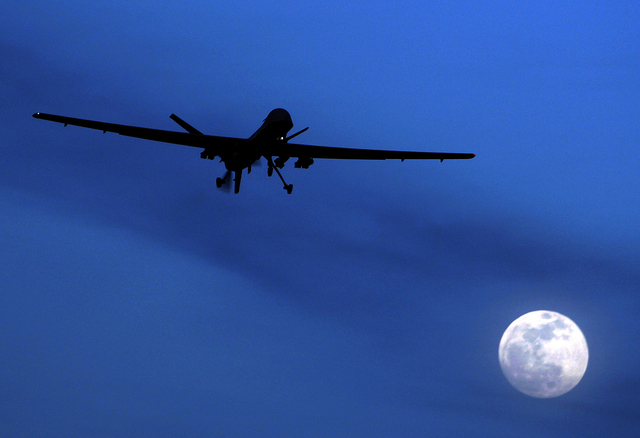 A leading Las Vegas law firm has launched a first-of-its-kind practice in Nevada, focusing on legal issues related to the development and commercial use of remotely piloted aerial vehicles, or drones.
Joe Brown and Richard Jost first approached their firm, Fennemore Craig Jones Vargas, about creating the new working group some years ago, but the state's recent selection as a drone development hot spot made it a priority for the firm, the lawyers said.
Jost will lead the Aviation, Aerospace and Autonomous Systems practice at Fennemore Craig Jones Vargas.
Althogh a first in Nevada, the legal practice follows on the heels of Kramer Levin Naftalis &Frankel LLP in New York, which became the nation's first to offer legal representation for the commercial or private use of drones in December.
Brendan Schulman, special counsel at the New York firm, represents Raphael Pirker, who was fined $10,000 by the Federal Aviation Administration for using a drone in 2011 to shoot a promotional video at the University of Virginia in Charlottesville. The case is pending.
The FAA's selection of Nevada in December as one of six locations for the drone development marks a collaboration of government and business leaders, Brown said.
"We were involved right from the ground floor of this effort with (Nevada)," Brown said. "When the word was out that the FAA was going to have this beauty contest among the states to see where the best sites were. … We saw the opportunity to be the go-to firm."
Jost agreed, saying it became clear very early in the process that there was a need for legal services in this emerging industry. He said it is also about representing business interests in developing technology, not just litigation.
Spending on unmanned aerial vehicles is expected to total $89 billion in the next 10 years, more than doubling from $5.2 billion to $11.6 billion annually now, according to the Fairfax, Va.-based consulting company the Teal Group Corp.
Jost's unmanned aircraft systems practice is based in downtown Las Vegas and will involve attorneys from several existing groups, including regulatory, government relations, business and finance, environmental and intellectual property.
The FAA, however, has yet to develop regulations for commercial use of drones. Although the agency allows recreational use of airspace by model aircraft, it prohibits individuals or companies flying them for business purposes.
Jost said model aircraft are limited to operating below 400 feet.
The FAA Modernization and Reform Act, passed by Congress in 2012, requires the agency to integrate unmanned aircraft into the national airspace by Sept. 30, 2015.
Any discussion about drones sparks a debate over whether their use crosses a line of privacy, a line Jost called "fuzzy at best."
"Obviously, the courts have struggled with that right now and have said, 'We are still trying to figure out what a right to privacy really means,' " Jost said. "We understand it in the criminal context, unlawful search and seizure, but there are some fairly easy-to-spot lines that you can't cross."
Jost said it's about what negatively affects a person's right to privacy and if people are willing to put up with it.
"If you think about it, right now in the Valley you can go outside and enjoy your swimming pool in the backyard and you hear the Metro police helicopters go by," Jost said. "I think most of us assume that when they go by, even if we are in our swimming pools, that it's OK because we want them to be patrolling in our neighborhoods."
Jost said when it comes to unmanned aerial vehicles, the question does change the equation.
"Are we all going to be happy if Metro grounds their manned helicopters and puts up 10 times as many unmanned aircraft?" Jost said.
Contact reporter Chris Sieroty @reviewjournal.com or 702-477-3893. Follow @sierotyfeatures on Twitter.