Las Vegas man accused of acting as teen girl's pimp
Updated April 22, 2017 - 12:24 am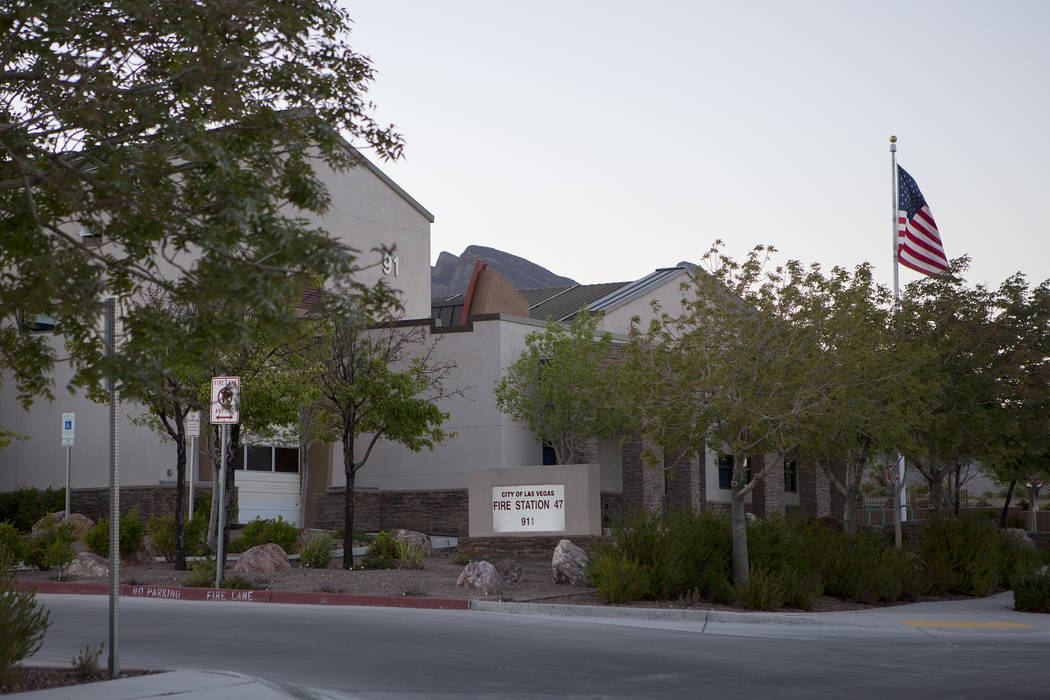 Federal prosecutors have filed trafficking and coercion charges against a Las Vegas man accused of driving a 15-year-old girl to a fire station for sex.
Authorities claim Gino Miller, 23, forced the girl into prostitution just days before the firehouse encounter and acted as her pimp.
Before the teen had sex with a Las Vegas Fire Department captain inside Station 47, Miller checked for police activity, according to court papers.
"It looked clear so (the girl) had the client meet her outside," according to a 13-page criminal complaint.
The complaint, filed April 5 in U.S. District Court in Las Vegas, charges Miller with one count of sex trafficking of children and one count of coercion and enticement.
An FBI spokeswoman said Miller had not been arrested as of early Friday afternoon.
The 46-year-old fire captain, Richard Loughry, is accused of paying the girl $300 for sex. Loughry is facing eight counts, including statutory sexual seduction, in Las Vegas Justice Court.
He contacted the girl after finding her through an advertisement on Backpage.com that listed her age as 22, authorities said. Loughry exchanged several messages with the girl using a secret cellphone, according to court documents.
'He owned her'
The girl met Miller in late February while walking her dog at an apartment complex on South Durango Drive.
Federal agents allege that Miller "intentionally recruited, enticed, harbored, transported, provided, obtained, and maintained" the girl through "force, fraud, and coercion."
The girl told Miller her age before the two had sex, according to the complaint. "He told her he was a pimp, he owned her, and that she was going to work for him as a prostitute."
He convinced her that "she would be okay as long as she did what he told her to do" but later threatened her by mentioning how he had attacked another girl, the complaint alleges.
The girl told authorities "she had never been in a situation like this and feared that Miller would harm her, so she did what she was told."
Miller gave the girl an iPhone to communicate with him and prostitution clients, according to the complaint.
He provided her with a script of how to speak with clients, told her how much to charge, and told her to "beware of clients who, upon arrival, ask again out loud on what the charge is because they are likely to be cops."
If anyone unexpectedly knocked on Miller's apartment door, she would hide in the bathroom because he did not want anyone knowing she was there, according to the complaint.
The document claims she earned about $2,000 — all of which Miller kept — while having sex with men in the course of nine days. She told investigators Miller had sex with her every day they were together.
An ad linked to both Miller's phone and the phone he provided the girl appeared on Backpage.com 28 times between Jan. 13 and March 1, according to the complaint.
In late February, Miller took the girl to California, where they stopped for about an hour to pick up drugs or money, she told investigators. They returned to Las Vegas the same day.
The next day, Miller took her to Aria, where she had sex with a man who said he was from New York.
According to the fire captain's arrest report, he sent a text message to the girl on Feb. 28.
"Would you ship me a pic of you making the peace sign?" Loughry asked, according to the report. "Are you ok visiting me at my fire station? I have my own room, we will be totally alone."
Loughry is charged with two counts of statutory sexual seduction; three counts of lewdness with a child under the age of 16; two counts of child abuse, neglect or endangerment; and one count of soliciting prostitution of a minor.
He is on unpaid administrative leave from the department.
A judge set his bail at $25,000 on Thursday, but Loughry remained at the Clark County Detention Center on Friday evening.
Police contacts
According to the federal complaint, on March 3, he tried to lure a 17-year-old friend of the girl into prostitution. The older girl contacted the 15-year-old's sister, who called police.
Miller did not answer when police arrived at his door, and the younger girl told investigators the two girls hid in the bedroom. Police left. Miller later asked the younger girl if the police had shown up because of her, and struck her on her right ear, causing a bruise, according to the complaint. Police came to the apartment again at 2 a.m. and no one answered. They returned at 7 a.m. Sometime after the officers' first visit and before the 7 a.m. visit, Miller sent the two girls to the older girl's home.
Miller allowed a vice detective and uniformed Las Vegas police officers to search his apartment at 7 a.m., according to the complaint. He told them he had been living there alone for a month and did not know the girls.
He called 911 on March 5 from the same phone number found in Backpage ads and requested assistance for assault and battery after saying his 2001 white Ford Mustang was damaged in a hit-and-run, according to the complaint.
Because the Backpage ad was posted more than a month before Miller met the 15-year-old girl, authorities "believe that Miller was prostituting an additional unknown victim(s) utilizing the same Post ID#."
Contact David Ferrara at dferrara@reviewjournal.com or 702-380-1039. Follow @randompoker on Twitter.
Timeline of allegations contained in police and court records:
Feb. 23: Gino Miller meets 15-year-old girl at apartment complex on South Durango Drive. The two have sex.
Feb. 24: Miller forces girl to have sex with a client.
Feb. 28: Richard Loughry, fire captain, contacts girl after seeing ad online.
Feb. 28: Miller drives girl to fire Station 47, where she has sex with captain.
March 4: Girl escapes Miller.
March 4 and 5: Police search apartment, talk to Miller, but do not arrest him.
March 22: Girl shares story with authorities.