Las Vegas man gets 23 years for 'senseless' rampage
Updated October 2, 2023 - 10:09 pm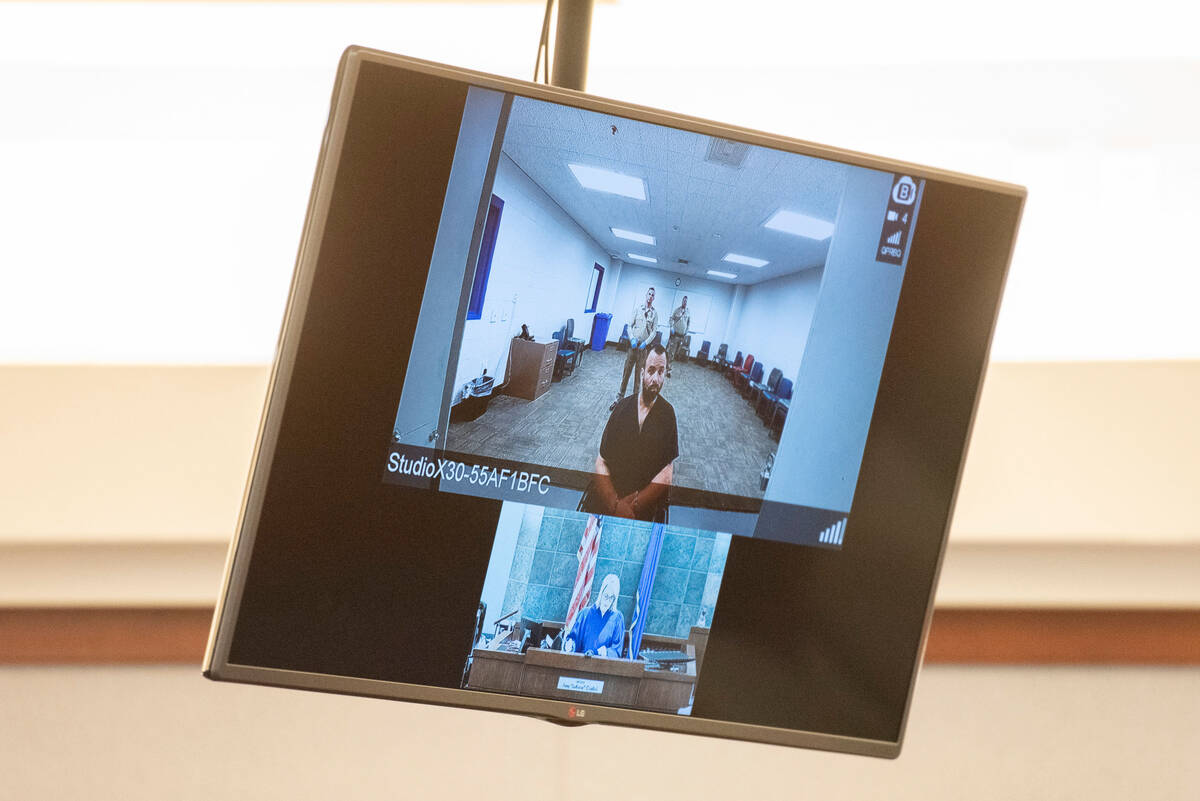 A Las Vegas man has been sentenced to 23 years after he went on a rampage in which he successfully carjacked one vehicle at gunpoint, tried to carjack another but ended up grazing the driver with a bullet, shot at police during a long chase and crashed head-on into a police K-9 officer's vehicle.
Then, while in custody, he "sucker punched" a corrections officer in the face, causing facial fractures among other injuries.
That's according to federal prosecutors and court documents that outlined the violent crime spree perpetrated by Justin Venegas, now 41, on Aug. 11, 2022, and the attack on the corrections officer on Oct. 1, 2022.
On Monday, U.S. District Judge Gloria M. Navarro sentenced Venegas to 23 years in prison, to be followed by three years of supervised release, after Venegas pleaded guilty to multiple charges earlier this year, the U.S. Attorney's Office for the District of Nevada said Monday in a news release.
"The defendant will spend the next 23 years in prison for putting the public and police officers in danger with his senseless, violent actions in his attempt to evade apprehension, and for assaulting a detention officer while in custody," said Jason M. Frierson, the U.S. Attorney for the District of Nevada.
Details in August incident
The facts of the case are laid out in a plea agreement signed by Venegas in May.
According to the plea agreement, Metro police were doing surveillance on Venegas at about 5 p.m. on Aug. 11 because he was a suspect in a previous carjacking on May 20, 2022. When Venegas became aware of the surveillance, he started driving his 2006 Hyundai Sonata "erratically attempting to evade law enforcement," the plea agreement states.
At 7:12 p.m., Venegas carjacked a Chevrolet Avalanche at Cheyenne Avenue and Pecos Road after sticking his gun, a Smith and Wesson M&P Shield handgun, into the driver's stomach and pulling him from the vehicle.
Venegas, being pursued by officers, shot at a police vehicle with two officers inside, hitting the windshield. An officer fired five shots back from the patrol vehicle's front passenger seat, hitting the back of the Avalanche, Metro police said afterward. Venegas, who wasn't injured, kept driving.
At Decatur Boulevard and Desert Inn Road, Venegas tried to carjack a 2017 Toyota Highlander at gunpoint, but the driver refused to give over the vehicle and reversed. Venegas shot at her, hitting the car, with one of the shots grazing her left arm and wounding her.
Venegas got back into the Avalanche and continued to flee police, the plea agreement said. Continuing north on Decatur, Venegas was arrested after he drove head-on into a K-9 officer's vehicle.
In a news conference after the incident, then-Assistant Sheriff Andrew Walsh said, "We're very fortunate that we're not burying that officer, or the officers that were shot at."
On Oct. 1, Venegas punched a corrections officer while he was in custody at the Nevada Southern Detention Center in Pahrump. The officer, who then fell, suffered facial fractures, lacerations and a dislocated thumb, prosecutors said.
According to the plea agreement, when the officer approached Venegas to talk to him about a violation of the jail's rules, "the Defendant sucked punched him in the face."
According to the news release, Venegas pleaded guilty to two counts of carjacking, one count of brandishing a firearm during a violent crime, one count of felon in possession of a firearm and one count of assault on a federal officer which inflicts bodily injury.
Contact Brett Clarkson at bclarkson@reviewjournal.com.