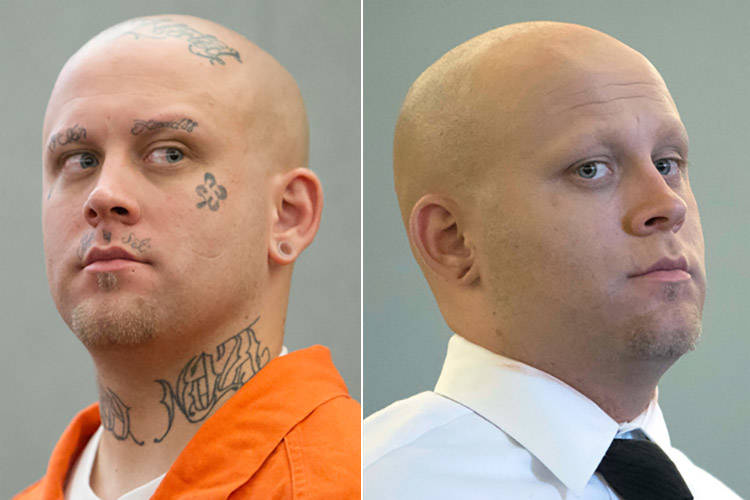 A Las Vegas felon whose neo-Nazi tattoos drew international attention pleaded guilty Wednesday to first-degree murder for killing a 75-year-old woman.
Prosecutors took the death penalty off the table for 26-year-old Bayzle Morgan, but they are expected to ask a judge to send him to prison for life without the possibility of parole.
Morgan, whose tattoos were covered with makeup during a 2016 robbery trial in a separate case, also pleaded guilty Wednesday to conspiracy to commit burglary, burglary while in possession of a deadly weapon and robbery with a deadly weapon.
Jurors convicted Morgan in the robbery trial, and he is serving a sentence of about three to nine years at High Desert State Prison in Indian Springs.
His attorney, Dayvid Figler, said he would ask that a judge sentence Morgan to a minimum of 21 years behind bars in the murder case.
A swastika within a clover is permanently etched under Morgan's left eye. The words "Most Wanted" are scrawled across his forehead. "Baby Nazi" is tattooed on his neck, and two white supremacist tattoos are located where his eyebrows should be.
Prosecutors said the slaying of Jean Main occurred just days before the unrelated robbery.
In May 2013, Morgan broke into Main's home in the 8000 block of Green Pasture Avenue while she was alone, pistol-whipped her over the head so hard that the trigger guard broke into pieces, and then shot her in the back of the head. Her boyfriend found her facedown in a first-floor bathroom.
A getaway driver, identified as Keith Smith, now 49, left when he heard gunshots but returned and saw Morgan with a suitcase of items from the victim's house. Smith was sentenced this month to four to 10 years in prison on burglary charges.
Police recovered a laptop, a Kindle Fire, a purse with $800 and keys to a Cadillac Escalade at Morgan's residence when he was arrested.
Neither Chief Deputy District Attorney Giancarlo Pesci nor Figler provided further comment on the plea agreement. District Judge Eric Johnson is slated to sentence Morgan in June.
In late 2016, another judge ruled that Morgan's tattoos would not be covered if the murder case went to trial.
At age 18 in 2010, Morgan was ordered to serve 19 to 48 months behind bars on a charge of possession of a stolen vehicle. In a mugshot from High Desert State Prison at the time, no tattoos are visible on his face. Figler has said the markings were prison-made.
Contact David Ferrara at dferrara@reviewjournal.com or 702-380-1039. Follow @randompoker on Twitter.