Las Vegas nonprofit gives former inmate another chance
November 18, 2012 - 1:59 am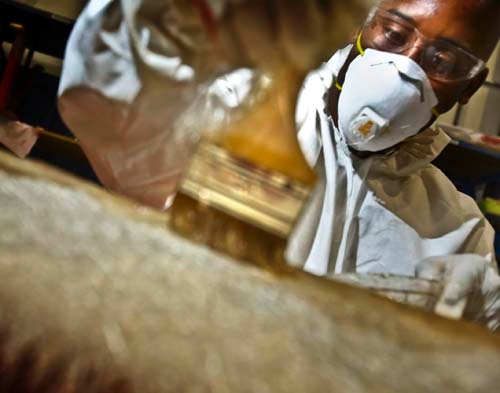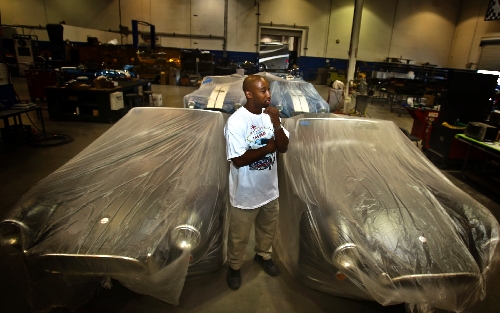 Mario Taylor was just a kid when he killed Christopher Beaver 16 years ago.
He knows people will label him a murderer. A killer. But he doesn't see himself that way.
He admits pulling the trigger, and knows he had to pay.
"I killed this man, yes," Taylor said. "I did shoot this man, but it was never my intention to murder him. I didn't brutally shoot him eight times. I shot this man one time, and I honestly thought I was trying to protect myself at the time. It was fear that did it. It wasn't that I pulled the gun out and, 'Pow!' No remorse. No nothing."
At 32, Taylor is out on parole and works as a welder and fiberglass technician for Shelby Performance Parts. He is a client of HOPE for Prisoners Inc., a Las Vegas nonprofit that helps offenders exiting the system acclimate themselves to the world outside prison bars through education and employment. Some are low on cash and lack the resources to get back on their feet. Some never have held a job in their lives. That's when the opportunity to commit crimes, to do what you have to do to survive, presents itself.
Now, Taylor is trying to get back to the life he had 16 years ago, while never forgetting about the life he took that day.
"Even though I never met this man, I take him in my spirit every day," Taylor said. "Every accomplishment I do, he's there right along with me. Without his mother's forgiveness, I would not be here right now. … I can't repay her more than just be out here and be the best that I can be."
Teresa Taddeo often thinks about Taylor. As a boy, he shot her 22-year-old son, Christopher. The boy and the man were in a heated argument about a traffic incident. The boy said the man looked like he reached for a weapon. So the boy pulled a gun and pointed it at the man's chest. The bullet hit him in his heart valve. Christopher died in the street as neighbors tried breathing life into him.
Taylor turned himself in after his friend's mother called police. It was a blur, and then it was over.
"I have mixed emotions about Mario," Taddeo said. "I'm as heartbroken about the loss of his life as I am for Christopher's. That's how it affected me. I never thought (Mario) was a bad kid to begin with. He had great potential. He was just at the wrong place at the wrong time. They both were."
There were tears, but she wasn't angry. Rather, her heart overflowed with sorrow and sadness. Taylor had to be held accountable for his actions. He would serve almost 16 years.
"I needed closure for my youngest son and youngest daughter," Taddeo said. "I needed them to see you can handle these situations and still thrive without losing dignity and pride by hatred. That's just how we handled it. So many sad faces; I can still see them like yesterday. I think about Mario frequently."
He was a kid who made a stupid mistake but deserved a second chance – to live a life her son could not live, she added.
HOPE for Prisoners has helped Taylor "fine tune" himself to society. The program offers clients a team of mentors who, for 18 months, offer support and resources, including jobs, education, housing and skills to make a better life.
Once that time is up, the nonprofit, which has relied on private donations since its inception in 2009, allows clients to return to the program as mentors.
"What HOPE for Prisoners did was bring life into my lap," Taylor said. "Here, here's a job. Here's an interview. What are you going to do? They go over this with repetition, and it becomes second nature."
The hands that took a life now build car chassis and frames from scratch – knowledge Taylor picked up while incarcerated.
"One thing I'll do in my life is never go back to prison," Taylor said. "I've got too much to live for."
Jon Ponder is the man behind the nonprofit. He knows what the clients are going through, after having bounced around the prison system since he was 12 for bank robbery and other crimes.
"There are many challenges the ex-offender faces," Ponder said. "There's a certain stigma. It's very difficult for us to get acclimated back into society because there's a big X on our backs."
Nationally, the recidivism rate is about 40 percent. In Nevada, the rate is around 26 percent.
About 6,000 Nevada prisoners are released annually. About 4,700 of them will return to the system.
More than 400 people were referred to Ponder's program last year by courts, police and ministries, among others. Of those, 260 got involved in the program. Only eight reoffended.
"It's not a number we're proud of, but it's a number we're proud of based on the recidivism rate," Ponder said.
Police serve as "boots on the ground" and, at times, identify ex-offenders or recent parolees in some of the valley's toughest neighborhoods to give them information about the program, Ponder said.
Most have grown tired of repeatedly arresting the same offenders.
"Now they're paying taxes and become productive members of our community," Ponder said. "They're paying child support and are excited about it."
It isn't clear yet how many taxpayer dollars are saved by the program or how much it's generating.
Those figures are in the works, Ponder said.
The nonprofit has strong support from lawmakers.
State Sen. Barbara Cegavske, R-Las Vegas, is a proponent of the program.
"Jon has found a way to help others coming out of the system, which is generally an invitation to go back. It's a revolving door," Cegavske said.
"In life that's what it's all about, giving second chances. I understand hesitation. I understand people being skeptical, but I think they've got safeguards in place from what I've seen. They're monitoring and working with parole and probation and mentors; you never lose sight of them. If they go back to old habits, you know about it."
Taylor is at the beginning chapter of his second chance at life.
"I am so grateful I am free, it's ridiculous," he said. "You have no clue how grateful and appreciative I am that I was granted the opportunity to show, and not just talk about, what I can do."
Taddeo, the victim's mother, said she is happy Taylor is not struggling.
"I can't tell you the peace of mind that brings me, that he found this program and is managing to put a life together," Taddeo said.
"The fact he chose that path to take really is amazing. I would be glad to be part of the positive thinking that goes along with this. This can only help. I'm happy to know that's who he is."
And Taylor is sorry for all the hurt he caused.
"That should have never happened. I wish every day I would have walked away."
Contact reporter Kristi Jourdan at kjourdan@reviewjournal.com or 383-0440.
HOPE for Prisoners
For more information about HOPE for Prisoners Inc., visit hopeforprisoners.org or call 702-586-1371.