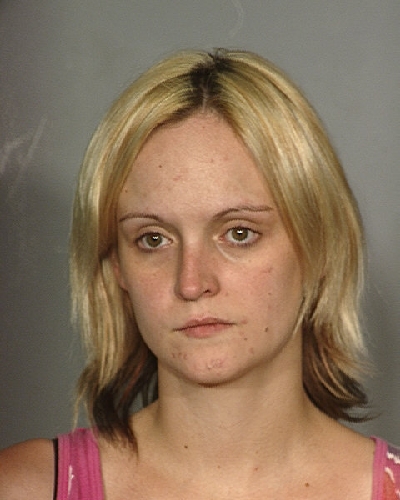 A year after a 5-year-old Las Vegas boy died – apparently from injuries suffered as a newborn – Las Vegas police arrested his mother and her ex-husband and charged them with murder.
Monique Bork, 26, was arrested Tuesday in connection to the death of her son Brayden Bork, who died last July of what were alleged to be injuries from physical abuse in August 2006. Police on Monday also arrested Edward Thompson, 32, who was dating Bork at the time the abuse is alleged to have taken place.
After his death on July 11, 2011, the Clark County coroner determined that Brayden had died of nonaccidental head trauma, and ruled it a homicide.
The arrest report for the pair alleges that Thompson violently shook Brayden, inflicting traumatic brain injuries that eventually killed him; that Monique Bork allowed her son to be put in a situation that caused him physical harm; and that neither sought immediate medical help for the infant.
Bork and Thompson are being held without bail in Clark County jail on murder charges. Bork also is being held on a charge of child neglect with substantial bodily harm.
As a result of his injuries, Brayden was legally blind for the rest of his life. He lived with his maternal grandmother for about two years and then with a foster family until he was adopted. He died as Brayden Grusman-Buckmaster.
On Aug. 21, 2006, Bork and Thompson brought the then-2-month-old Brayden Bork to Sunrise Trauma Center, according to the arrest report. Doctors couldn't say whether he would survive the night – his brain was bleeding and swelling inside his skull, and he was suffering from brain trauma consistent with shaken baby syndrome.
When Las Vegas police's Abuse and Neglect Detail stepped in to investigate the boy's injuries, Bork told investigators her son "wasn't acting himself," but that she didn't notice any unusual behavior until the day she brought him to the hospital, according to the report.
But friends and family members interviewed as part of the investigation said that for several days before his hospitalization, Brayden spent most of his time sleeping, looked sick, threw up often and cried frequently – unusual for a normally happy baby, they noted.
Just this April, a friend of Monique Bork came forward and told investigators Bork admitted that Thompson had shaken the infant, and that she had helped cover it up.
Cortney Campbell said Bork called her to her house on Aug. 21, 2006, according to the report, where Campbell saw Brayden Bork looking like "he had a stroke." Campbell told investigators that she and Thompson got into a fight about whether the infant needed to go to the hospital. Campbell said Thompson refused to go.
When Thompson and Bork got married a few weeks later, Campbell said she overheard the couple say, "Well, now we can't testify against each other."
Campbell told investigators that for months Bork called her saying Thompson had beaten her. Bork eventually moved in with Campbell for about five months, during which time Bork is alleged to have confessed her involvement in her son's abuse.
The Clark County criminal records database shows that Thompson had been in trouble with the law before and after he is alleged to have shaken Brayden. In May 2000, he was charged with robbery and conspiracy to aid and abet a robbery, both felonies, and with burglary and conspiracy to commit larceny, misdemeanors. In February 2004, he pleaded guilty to a charge of possession of a controlled substance. In July 2010, he was found guilty of possession of a controlled substance with intent to sell.
Thompson also faced charges of possessing a firearm as an ex-felon in April 2008, possession of a controlled substance with intent to sell in July 2010 and conspiracy to commit possession of a stolen vehicle in November 2011.
Contact reporter Kyle Potter at kpotter@reviewjournal.com or 702-383-0391.