Las Vegas police investigate constable employee
February 7, 2013 - 2:07 am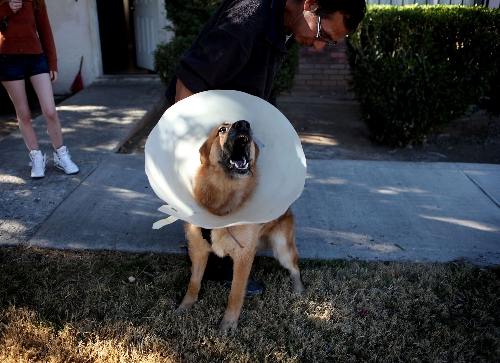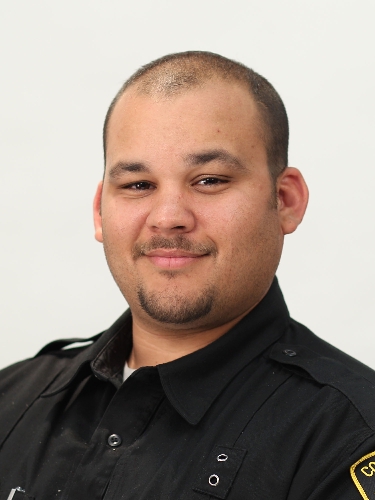 A Las Vegas constable deputy is facing a Metropolitan Police Department investigation over accusations of shooting a dog and an internal investigation over accusations of stalking and harassing an 18-year-old woman.
The accusations are against Deputy Luis Rendon, who was hired by Las Vegas Township Constable John Bonaventura despite a history of run-ins with the law, the Review-Journal has learned.
The deputy showed up unannounced at a woman's east valley home dozens of times, and one time touched her inappropriately, the woman said.
"Every time I came outside, he'd be there," said the woman, Lulu, who spoke on condition that her last name not be used.
Her boyfriend, Boris Barrios, 50, was more blunt, saying, "He was harassing her and stalking her."
They said the incidents stopped after Jan. 22, when Rendon showed up unannounced at the house on Greenbriar Townhouse Way, near Boulder Highway and U.S. Highway 95, about 10 a.m. During that incident, Rendon shot and wounded the couple's German shepherd, Pongo.
Las Vegas police responded and investigated the shooting, per an agreement with the constable's office. Dean Lauer, deputy chief of the constable's office, said the department could not comment on the investigation until it is finished.
Las Vegas police Deputy Chief Kathy O'Connor said the results of the investigation will be turned over to the district attorney's office for review.
Lauer said his office is investigating an internal affairs complaint filed against a deputy related to the shooting, but he wouldn't identify the deputy.
Barrios and his girlfriend said they filed a complaint against Rendon.
Rendon, who remains on the constable's payroll, declined to comment Wednesday.
"That matter is under investigation, and I'm not allowed to talk about it," he said.
CONSTABLE'S QUESTIONABLE HIRING
It is the latest in a series of embarrassing incidents related to Bonaventura's management of the constable's office, which collects millions of dollars annually serving papers and carrying out evictions. The constable has been criticized in recent months for hiring several employees with questionable backgrounds. Some have been hired as deputies with badges, guns and law enforcement powers.
That list includes Rendon, who in 2000 was arrested in connection with accusations of burglary and grand theft in Miami; prosecutors didn't file charges. Rendon's driving record shows a long list of traffic violations and four license suspensions for failure to pay fines.
Bonaventura told the Review-Journal in September that he was unaware of Rendon's background because someone else in his office was responsible for doing background checks.
HARASSMENT ALLEGATIONS
Barrios said he first met Rendon in December, when he left an old Pontiac Trans Am he was repairing on the street in front of his house.
On Dec. 20, Rendon cited Barrios for failing to register the car and for parking it on a public street for longer than 72 hours. A few days later, Rendon placed a warning sticker on the car. When Lulu confronted him and tried to remove the sticker, Rendon cited her for destroying it, she said.
But the next day, the woman said, Rendon returned and asked to see her citation.
"He just ripped it up," she said.
After that, Lulu said, the deputy made near-daily visits.
"He'd ask, do I want to go on a date? Do I want to go to the movies?" she said.
She told him she didn't want anything to do with him.
"I'd say, 'No, I need to go in the house' or something," she said. "And he'd say, 'Just five more seconds.' And I'd go inside, and he'd knock on the door."
Some of the requests were more blunt. Lulu said Rendon told her he knew people in the adult film industry and offered to be her manager. One time he gave her a hug and touched her buttocks, she said.
Most of the time he was in uniform and driving a constable's vehicle; sometimes he was in street clothes, she said.
Rendon was in uniform the morning of Jan. 22 when he knocked on the door, Lulu said. Her sister, Jasmine, 20, was outside talking to him when a roommate's 4-year-old son opened the front door. Out sprang Pongo.
Jasmine said she tried to hold the dog by the scruff of the neck, but the animal broke free and moved toward Rendon, barking.
Jasmine said the dog reared up on its hind legs, and Rendon retreated, drew his gun and fired one shot.
Barrios said Pongo's veterinary bills were about $2,000.
CONSTABLE CONTROVERSIES
Questionable hiring is just one of the controversies that have swirled around Bonaventura since his 2010 election. He has been involved in a roundly criticized foray into reality television, hit with allegations of sexual harassment, gotten mired in jurisdictional disputes and criticized for using clever accounting to circumvent Clark County government oversight.
Most recently, Bonaventura raised eyebrows for offering to provide security for embattled Assemblyman Steven Brooks, who was arrested Jan. 19 after lawmakers told police he had threatened to harm Assembly Speaker Marilyn Kirkpatrick. Kirkpatrick previously had criticized Bonaventura and said she planned to introduce legislation to rein in constables statewide.
Barrios and Lulu said they told the Las Vegas police officer who responded to the call about Rendon's frequent visits. O'Connor, the police deputy chief, said the allegations weren't part of the department's investigation but could be.
O'Connor said Rendon told officers investigating the shooting that he was at the house on official business.
"His statement … was that he was going by to tell them that he appreciated them registering the car," O'Connor said.
But Barrios said he never registered the car, which was towed away for that reason. He said that as far as he knew, it was still impounded because he couldn't prove ownership.
Barrios doesn't blame Rendon for citing him or for having the car towed.
"He was doing his job," he said.
But he is concerned about the frequent visits to his home.
"I'm scared," he said. "When I'm at work, I don't know if he's going to come again."
Contact reporter Lawrence Mower at lmower@reviewjournal.com or 702-405-9781.