Las Vegas police officer shot, wounded in southwest valley
September 14, 2013 - 6:53 pm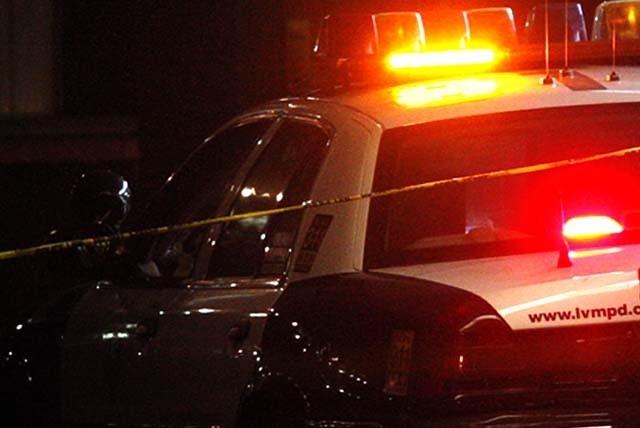 A police officer was shot and wounded while responding to a reported grand larceny in progress in the southwest valley Friday night, according to Metropolitan Police Department spokeswoman Laura Meltzer.
The officer was transported to University Medical Center with "non-life threatening injuries," and Lt. Barb Schmidt said he walked out of the hospital on his own.
Police responded to a call of an officer in need of help in the 4700 block of Quality Court near Tropicana Avenue and Decatur Boulevard at 10:47 p.m.
A business owner in the area called police about two people trespassing on his property and officers responded and searched the area. One of the officers found one of the suspects and began to put handcuffs on him when the suspect began to resist arrest, according to police.
During the struggle, the officer's gun went off and the officer was shot in the leg. Police said they don't know how the gun went off, but it's part of the investigation.
"At this time, we do not know how the firearm was discharged. If the suspect had his hand on it, or if the officer did, that will be determined through the investigation." said Robbery and Homicide Capt. Brett Primas.
When the call of an officer down came in, responding officers attended to the wounded officer and took the suspect into custody before making a tourniquet to wrap around the officer's leg.
Police said that roughly one minute later, the second suspect was taken into custody by other responding officers.
"We're just happy that he's ok and that nobody else was hurt," Primas said.
No new information on the case was available Saturday night.
Reporters Annalise Porter and Steven Slivka contributed to this report. Contact reporter Colton Lochhead at clochhead@reviewjournal.com or 383-4638. Follow him on Twitter @clochhead44.