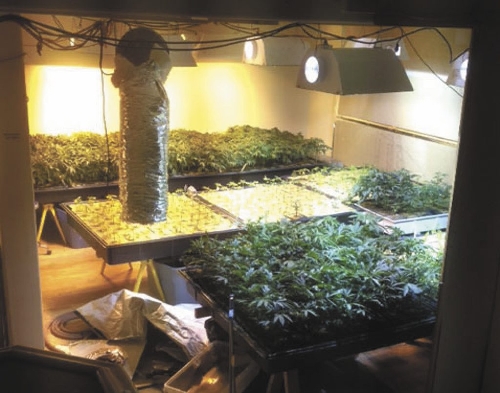 That's a lot of green.
Police made their biggest marijuana grow house bust in department history Wednesday night, collecting almost 1,500 plants and nearly $30,000 in cash from a home in the southwest valley.
Las Vegas police Lt. Laz Chavez said the 3,600- square-foot home, at 3337 Trickling Stream Circle, near Desert Inn and Fort Apache roads, was a dedicated laboratory for a professional drug operation.
The estimated street value of the raid was $4.5 million. Chavez said detectives hadn't found that many plants in a Las Vegas home before.
The number of plants, 1,481 to be precise, is comparable to outdoor operations found in the Spring Mountains, where there is more space for growers.
Chavez said the rental house was completely unlivable.
"Practically every square foot was filled with plants. There were custom rooms built just to house this gigantic lab," said Chavez, who oversees a Southern Nevada drug task force dedicated to marijuana,
Police arrested Zheng Biao Chang and Chen Hui Qing on charges of maintaining a house for the sale of narcotics, conspiracy to violate the controlled substance act, possession of a controlled substance and possession of a controlled substance with the intent to sell.
Neither suspect is an American citizen, Chavez said. They are being investigated for possible connections to other drug operations around the valley.
"These are not amateurs. They're a very sophisticated group of criminals," he said.
Chavez said that the investigation was ongoing and that police were unsure how long the grow house had been operating.
The rental home is owned by Xiang Shu Wei, an Arcadia, Calif., resident.
Police said it's too early to know whether there is a connection between the homeowner and the suspects.
Chavez said homeowners often have underwater homes and just want a tenant who can pay with cash.
"They often don't know what the house is being used for," Chavez said.
SWAT officers raided the home about 5:30 p.m. Wednesday.
When officers went inside, they were sickened by fumes from the chemicals.
The officers had to leave the home and wait for an ARMOR team to enter with chemical suits, Chavez said.
"The damage to the house was almost shocking. They just destroyed so much of the house with liquid fertilizer, and a significant amount of mold was developing in there."
Chang and Qing, who ran from officers but were quickly captured, needed masks to operate, Chavez said.
He said a citizen first alerted authorities about the suspicious activity, which is how many of their investigations begin.
"Without the public and their tips we can't do nearly as much," he said.
This was the third grow house bust this year.
In 2012, the SCORE team busted 142 grow houses and confiscated 8,579 plants and 195 firearms.
SCORE stands for Southern Nevada Cannabis Operation and Regional Enforcement, receives federal funding and involves Las Vegas, Henderson and federal authorities.
Contact reporter Mike Blasky at mblasky@reviewjournal.com or 702-383-0283.