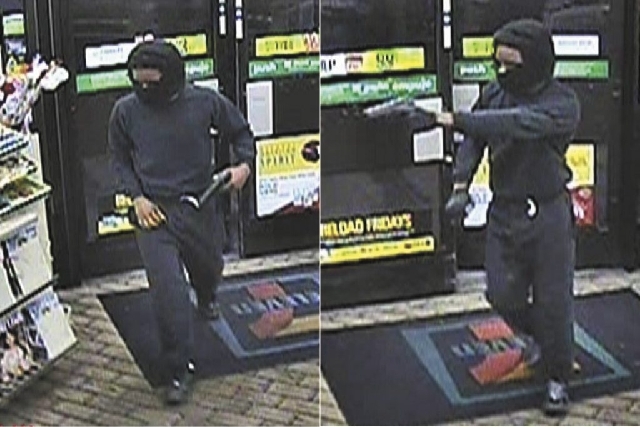 Las Vegas police are asking for the public's assistance as they search for a "Quick Pinch" armed suspect in a series of robberies on the west side of town.
At least nine robberies have occurred between 2 a.m. and 6 a.m. in convenience stores in the areas between Hualapai Way and Buffalo Drive, and Flamingo Road and Charleston Boulevard. They all happened from March to May 18, according to police.
No one was hurt in any of the incidents, but Police Department spokesman Jose Hernandez said, "We believe the longer this goes on, the potential for violence escalates."
In each case the suspect entered the building wielding a handgun, walked directly behind the counter, pointed the gun at the clerk and demanded money. After receiving the cash, he fled the scene, Hernandez said.
The man is described as black, 5 feet 8 inches and about 150-170 pounds. He wore a black ski mask, a black sweatshirt and dark pants. He is believed to have a lot of hair under the mask and is possibly ambidextrous. He also appears to be comfortable handling the gun. Police are unsure if he is working alone.
Video and still photos of the suspect can be seen at http://www.youtube.com/watch?v=t55_LVaoI4w.
This is an ongoing investigation. This suspect is considered armed and dangerous. Anyone with any information is urged to contact the Metropolitan Police Department's Robbery Section at 828-3591, or to leave an anonymous tip, contact www.crimestoppersofnv.com or 385-5555.
Contact reporter Rochel Leah Goldblatt at rgoldblatt@reviewjournal.com or 702-383-0264.