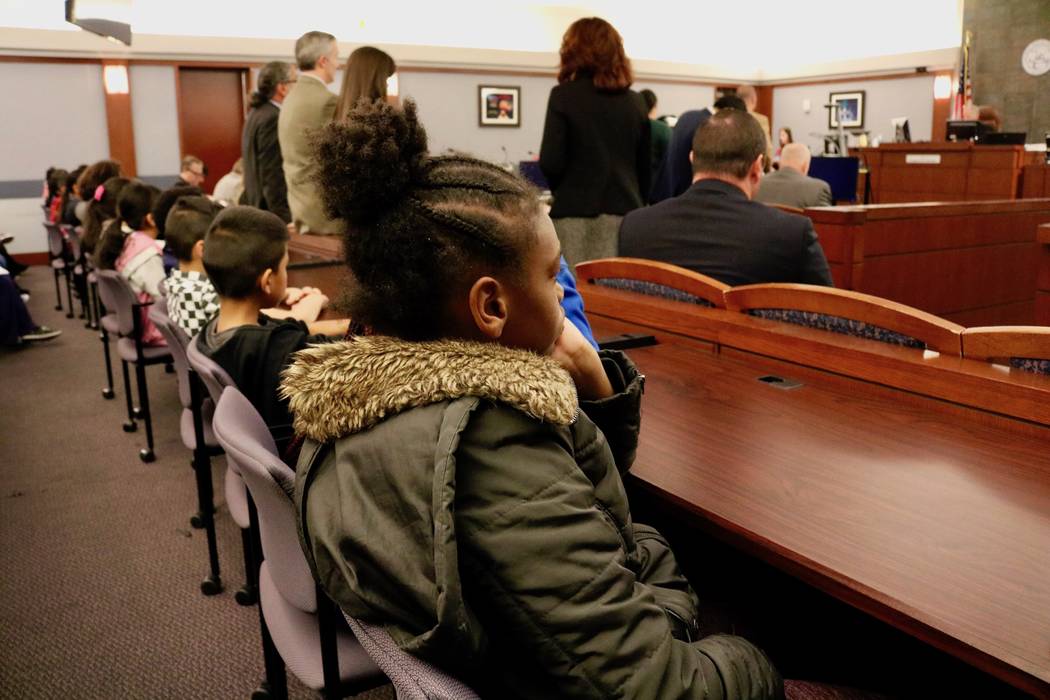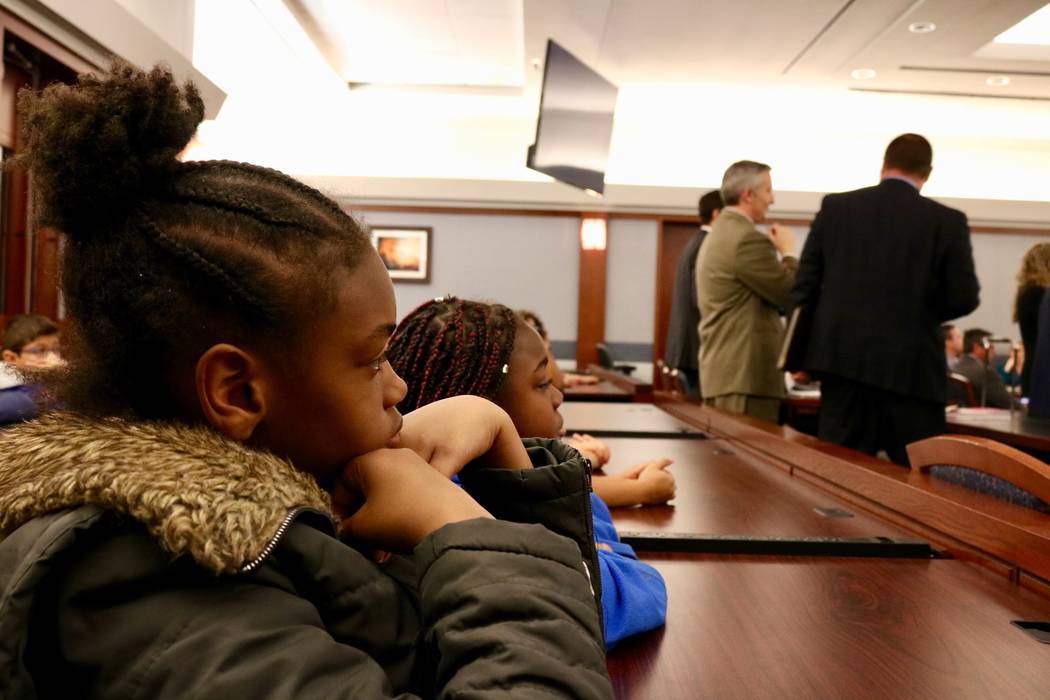 Ten-year-old Taliyah Crowder peered over the judge's bench of Courtroom 15D Friday morning at the Regional Justice Center. Her small frame and pigtails were dwarfed by the bench and her large chair.
But she leaned into the microphone with confidence.
"This is the case of Ministry of Magic vs. Harry Potter," Crowder announced to the Las Vegas courtroom.
The room was full of fourth-grade students from Hickey Elementary School. They were there on a field trip coordinated by the Nevada Eighth Judicial Court, their school and nonprofit agency Project REAL, which also provided classroom lessons on legal terms and processes before the trip.
The students role-played their way through a script, with "Harry Potter" on trial for the illegal misuse of magic, complete with defense and prosecuting attorneys, clerks, witnesses and a plaintiff.
That day, Harry Potter was charged with intentionally turning the plaintiff, Draco Malfoy, into a pink Chihuahua.
Bringing students in to witness court proceedings and participate in a mock trial is important, Herndon said.
"Obviously the legal process affects all of us, whether you're an individual, family or business," Herndon said. He developed the Harry Potter mock trial script about nine years ago "as a way to start introducing kids to the legal process."
Earlier that morning, the students listened to a full criminal calendar, heard by Herndon.
"I'm scared," said Gabriella Gutierrez, 10, as Herndon brought the courtroom to order. She and several other students gasped the first few times Herndon read defendants' charges, including murder and abuse charges faced by a man and woman, and murder charges brought against defendant in a different case.
After the calendar was through, Herndon took questions from the students. Their queries included, "How many felonies do you need to stay in jail?" "How do you know if someone is 100 percent guilty or not guilty?" and "What is the most common felony?"
"I think that kids really learn actively," said Judge Linda Bell, who assists with the program. "I think this is the best way for them to get a real understanding of how the system works."
After the mock trial was over, Crowder said her favorite part of the day was getting "to sit in the chair."
But she also said she learned "not to get in trouble so you don't go to jail."
The mock trial ended with a deliberation and verdict. The jury of three students conferred and came up with its decision.
The ruling: Harry Potter was not guilty.
Contact Madelyn Reese at mreese@reviewjournal.com or 702-383-0497. Follow @MadelynGReese on Twitter.