Lawyer: Man picks death penalty risk over Las Vegas judge's sentence
Updated November 29, 2018 - 4:14 pm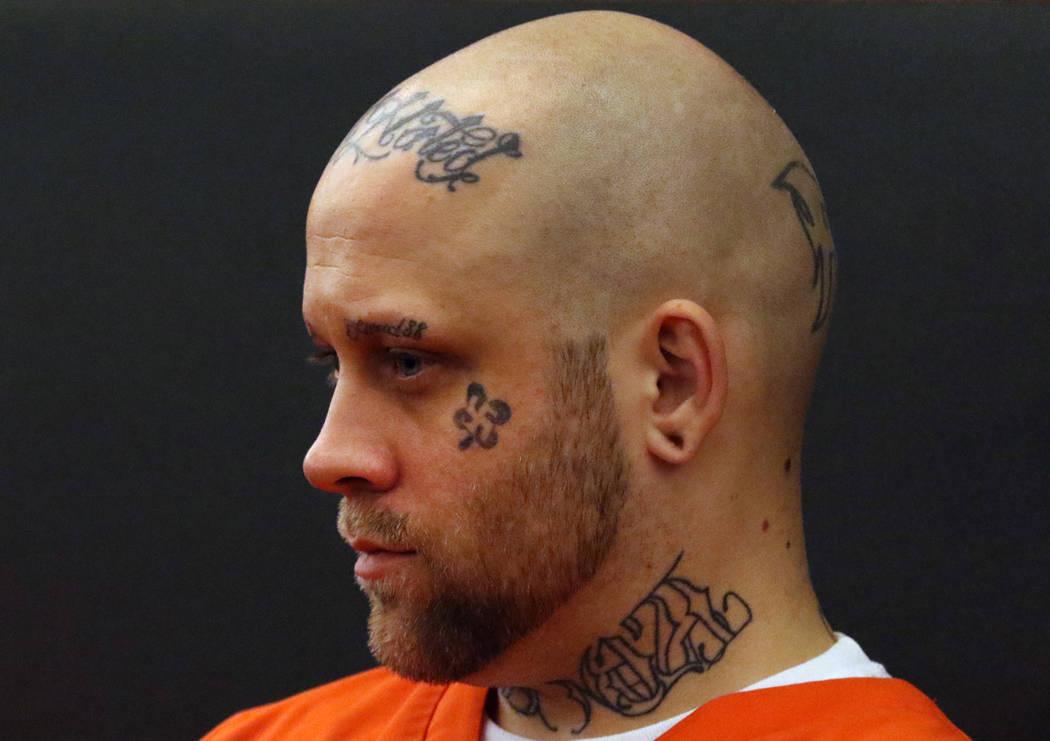 Covered in neo-Nazi tattoos, Bayzle Morgan would rather face the death penalty than be sentenced by a certain Las Vegas judge, his lawyer said Thursday.
More than seven months after prosecutors said they would not seek capital punishment for Morgan, he's now trying to pull back on a plea to first-degree murder for killing 75-year-old Jean Main inside her home in 2013.
"My client's position right now is that he'd rather be given the death penalty than be sentenced by (District) Judge (Michelle) Leavitt," attorney Dayvid Figler said.
Moments earlier inside the judge's courtroom, when Leavitt asked whether the 27-year-old Morgan had pleaded guilty because prosecutors withdrew the death penalty, the defendant spoke up: "I don't care about that."
When he entered his plea in April before District Judge Eric Johnson, Morgan's lawyers said they planned to ask for a minimum of 21 years behind bars in the murder case. Morgan was later assigned to Leavitt's courtroom after she took over Johnson's homicide cases.
"The only reason he entered into his guilty plea was because of his comfort with Judge Johnson and interactions with Judge Johnson," Figler said. "If he does not get to be sentenced by the judge who he entered his plea in front of, then it's his desire to withdraw his guilty plea."
Prosecutors are expected to ask a judge to send him to prison for life without the possibility of parole, but if he is allowed to pull back on the deal, he could once again face capital punishment.
Figler added that Morgan "strenuously objects" to Leavitt deciding "any issue of merit with regard to his case."
But Chief Deputy District Attorney Giancarlo Pesci said, "There is no expectation expressed in the plea canvas. You can't create one after the fact because you have sour grapes."
Leavitt pointed out that neither Morgan nor his lawyers negotiated to ensure that Johnson handed down his sentence.
"If you want to file a motion to withdraw your guilty plea and put the death penalty back on the table, I guess I'm just literally shocked by that statement," the judge said. "Shocked."
Morgan, whose tattoos were covered with makeup during a 2016 robbery trial in a separate case, also pleaded guilty in April to conspiracy to commit burglary, burglary while in possession of a deadly weapon and robbery with a deadly weapon.
A swastika within a clover is permanently etched under Morgan's left eye. The words "Most Wanted" are scrawled across his forehead. "Baby Nazi" is tattooed on his neck, and two white supremacist tattoos are where his eyebrows should be. On Thursday, his head was shaved, and he had a thin, light brown beard.
Jurors convicted Morgan in the robbery trial, and he is serving a sentence of about three to nine years at High Desert State Prison in Indian Springs.
Prosecutors said the slaying of Main occurred just days before the unrelated robbery.
Also according to prosecutors:
In May 2013, Morgan broke into Main's home in the 8000 block of Green Pasture Avenue while she was alone, pistol-whipped her over the head so hard that the trigger guard broke into pieces, then shot her in the back of the head. Her boyfriend found her face-down in a first-floor bathroom.
A getaway driver, identified as Keith Smith, now 49, left when he heard gunshots but returned and saw Morgan with a suitcase of items from the victim's house. Smith was sentenced to four to 10 years in prison on burglary charges.
Police recovered a laptop, a Kindle Fire, a purse with $800 and keys to a Cadillac Escalade at Morgan's residence when he was arrested.
Contact David Ferrara at dferrara@reviewjournal.com or 702-380-1039. Follow @randompoker on Twitter.