Lawyers claim suspended psychologist accused of killing wife is profiting from her death
February 21, 2017 - 6:29 pm
Updated February 21, 2017 - 9:08 pm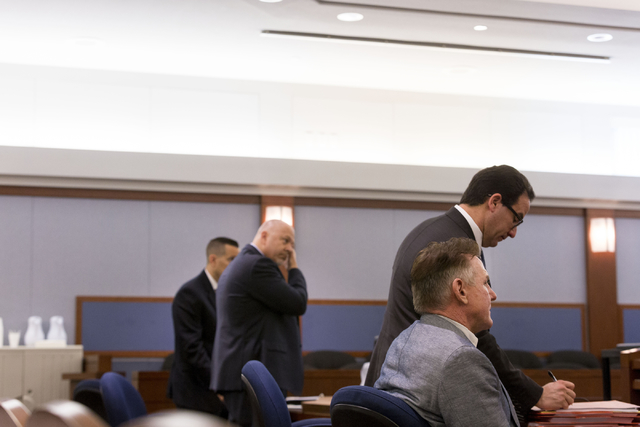 Lawyers claim a suspended Boulder City psychologist accused of killing his wife has been funding his criminal defense and feeding his "drug-addicted lifestyle" with the nearly $2 million he collected after she died.
In a court hearing Tuesday, attorneys for the family of Susan Winters pointed to what's known as the "slayer rule," which prevents a killer from profiting off the estate of his victim.
Brent Dennis, 54, is charged with murder in the January 2015 death of Winters, a lawyer. Free on $250,000 bail, Dennis appeared at the Regional Justice Center on Tuesday with defense attorney Richard Schonfeld, well-known for representing high-profile clients.
In the two months after Winters died, Dennis spent upward of $10,000 on drugs, according to court papers filed last week. When he was arrested earlier this month, officers found prescription painkillers in his possession, a police report stated.
"There's been no check and balance relative to Brent Dennis benefiting from the assets as a result of him killing his wife," Winters' attorney Tony Sgro told a judge.
Schonfeld declined to comment after the hearing.
Sgro also referred to Dennis's arrest report, which detailed evidence that showed he and a computer expert with a felony record tampered with his computers to "scrub" potentially harmful information and cover up his actions in his wife's death.
"One need not speculate as to whether defendant is destroying evidence — there is proof of it," Sgro wrote in court papers. "Defendant has destroyed evidence. He will do so again."
Based mainly on information provided by Dennis, the Clark County coroner's office initially concluded that Winters, 48, killed herself by consuming a lethal combination of prescription painkillers and antifreeze at the Henderson home she shared with Dennis and the couple's two daughters. But the coroner is reviewing new evidence.
Sgro wanted to move forward with a lawsuit even as prosecutors pursue a murder charge against Dennis, but District Judge Linda Bell put a hold on the litigation for at least six months in an effort to avoid complications for the criminal case.
"Frankly, having the criminal prosecution go forward first would make things much more streamlined and simple for this case," Bell said.
Schonfeld, meanwhile, wants Winters' attorneys thrown off the case because of alleged professional misconduct in what he has called a "media campaign" to smear Dennis, and Bell said Tuesday that she would issue a written order on the request, though she did not indicate when the ruling would be made.
Contact David Ferrara at dferrara@reviewjournal.com or 702-380-1039. Follow @randompoker on Twitter.
RELATED
Psychology board suspends license of murder suspect Gregory 'Brent' Dennis
Boulder City psychologist charged in wife's death released on $250K bail
Henderson police detail drug allegations against psychologist charged in wife's murder
Psychologist booked on murder charge at Henderson jail in wife's death
Grand jury targets husband in lawyer's 2015 death