Lawyers for Rick Rizzolo reach plea agreement with federal prosecutors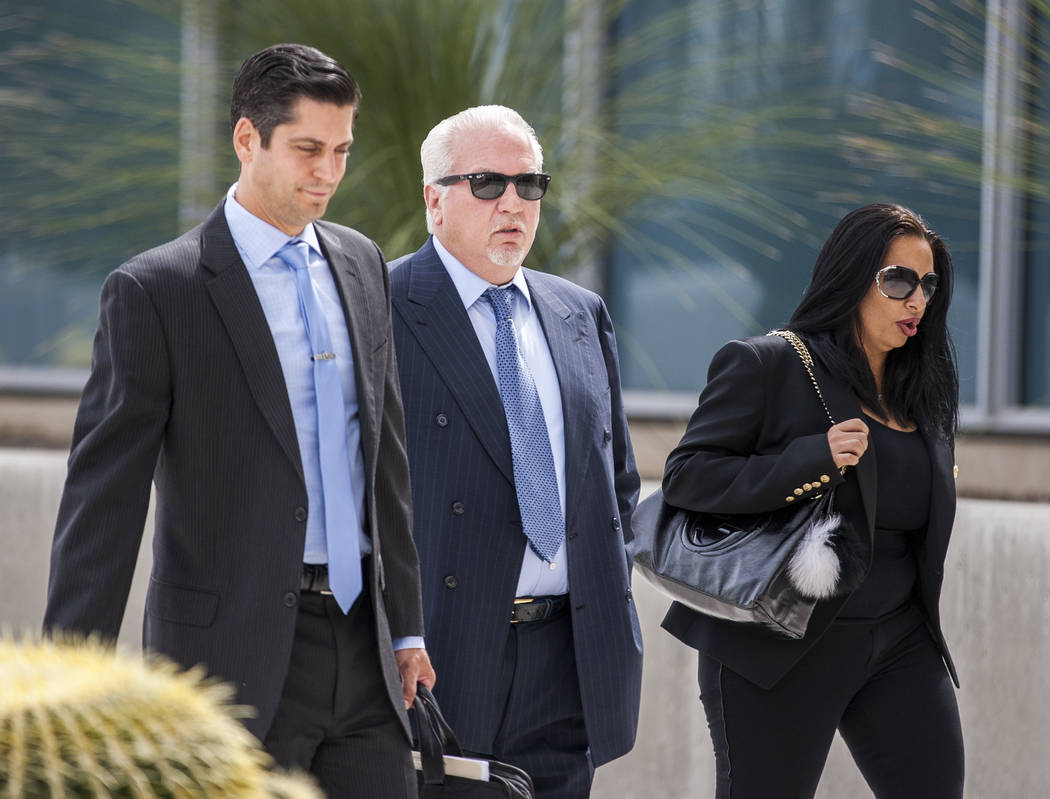 Lawyers for former topless cabaret mogul Rick Rizzolo, who has continued to live a life of luxury despite legal troubles and millions owed in restitution, have negotiated a plea agreement with federal prosecutors to settle the Las Vegas businessman's latest tax evasion charges.
Rizzolo faces two counts of tax evasion, accused of concealing $1.7 million and $861,075 in assets from the Internal Revenue Service. He strolled into federal court Friday, dressed in a suit and tie with his white hair slicked back, and spoke little during a brief hearing at which his impending plea agreement was discussed. U.S. District Judge Gloria Navarro postponed a change of plea hearing to next week, saying she wants to review sentencing documents from his previous criminal case before she accepts the plea.
The plea agreement's terms, and the crimes to which Rizzolo intends to plead guilty, were not disclosed in open court. Arguments in court Wednesday revealed that Rizzolo's defense attorney, Rich Tanasi, has negotiated a conditional plea agreement with prosecutors, meaning that the former casino high roller's guilty plea would be contingent on a predetermined sentence agreed upon between his lawyers and the federal government.
Navarro will review sentencing documents from a decade-old case in which Rizzolo faced racketeering charges that accused him of using the now-shuttered Crazy Horse Too strip club to run a profitable criminal enterprise. In that case, Rizzolo escaped prosecution on charges that his employees skimmed dancers' earnings and violently extorted payments from customers. He instead emerged with a single felony tax conviction and a one-year-and-one-day prison sentence.
He also was ordered to pay $10 million in restitution to Kirk Henry, a now-deceased tourist from Kansas whose neck was snapped in the Crazy Horse Too parking lot after he accused the strip club of padding his bar tab. When Henry died in March, Rizzolo still owed him roughly $8.7 million in restitution.
Federal authorities first alleged in 2011 that Rizzolo failed to pay the IRS an agreed-upon $1.7 million in employment taxes, along with the additional $861,000 in income taxes he earned in 2006.
Under federal law, if a victim dies, restitution still may be paid out to the victims' estate. Last week, federal prosecutors asked a judge to issue a court order that would require Rizzolo to pay $202,295.26 toward the outstanding restitution. Court filings reveal that the figure represents the amount Rizzolo has in a mutual fund individual retirement account.
Contact Jenny Wilson at jenwilson @reviewjournal.com or 702-384-8710. Follow @jennydwilson on Twitter.
The Charges
Count 1: Tax evasion for $1.7 million in employment tax he owed from 2000 to 2002
Count 2: Tax evasion for $861,000 in income he earned in 2006