Lawyers in Summerlin TB lawsuit seek judge's removal
September 16, 2015 - 2:30 pm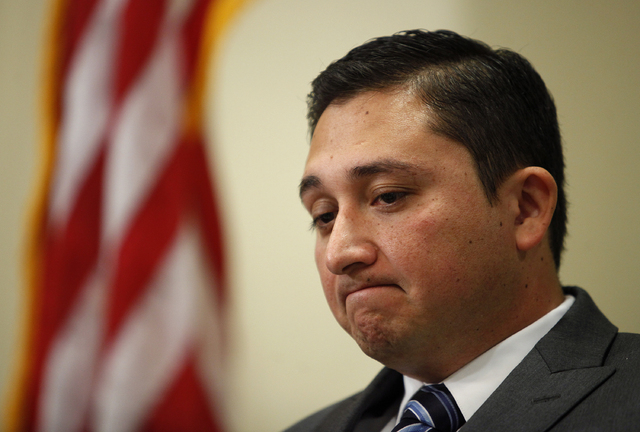 A man pursuing a medical malpractice lawsuit against Summerlin Hospital has asked District Judge Joe Hardy Jr., whose father is a doctor and state senator, to withdraw from the case because of an appearance of impropriety.
Ruben White, who claims malpractice led to the tuberculosis-related deaths of his wife and twin daughters, recently filed a motion requesting Hardy's voluntary recusal.
"This case is under intense media scrutiny and is being heavily followed by both the Nevada press and the press from around the country," according to the motion. "The mere appearance of impropriety should be seriously considered and weighed appropriately. To avoid the appearance of impropriety, this court should voluntarily recuse itself."
In his response, Hardy said he can be fair and impartial to all parties and counsel in the case.
"In my opinion, there is no statute, rule, ethical standard, or other compelling reason for me to recuse from presiding over this case," the judge wrote.
Chief District Judge David Barker is expected to rule on the matter Thursday.
White argues in his motion that Hardy's father, Republican state Sen. Joe Hardy, has an economic interest in the outcome of the case. White indicated he plans to file a motion in the case asking that the state's cap on medical malpractice damages be declared unconstitutional, and he argues that the judge's father is "an active opponent" of removing the cap.
In addition, White's attorneys previously sued the senator in a wrongful-death case. They claimed a campaign sign had obstructed the view of drivers approaching a crosswalk and led to the death of a 13-year-old boy. The senator later was released from the case, and the plaintiffs proceeded against the company that managed his campaign.
Finally, White argues that Sen. Hardy has received "significant campaign contributions from various medical providers, including Summerlin Hospital," and "contributed significantly to his son's campaign" for district judge.
"It is for these reasons, the Honorable Joe Hardy possesses an economic interest in the outcome of this case, as well as an appearance of bias, because it necessarily will affect his father's financial circumstances and political goals," according to White's motion.
Gov. Brian Sandoval appointed Joe Hardy Jr., 42, in April to fill a vacancy on the Clark County District Court bench.
"Throughout his career, Joe Hardy has demonstrated the qualities necessary to serve Nevada families as a fair and thoughtful member of the judiciary," Sandoval said in a news release at the time.
The younger Hardy ran unsuccessfully for a District Court seat last year. The elder Hardy was in the Nevada Assembly from 2003 to 2010 and has been in the Senate since 2011.
Attorney Robert Cottle, who represents White, called Sen. Hardy "the most active political doctor in Clark County."
"Judges are supposed to recuse themselves if it might appear to a layperson that there's a conflict," the lawyer said.
Cottle asked for a public hearing on the recusal issue, but Barker opted to consider the matter privately.
According to White's recusal motion, Sen. Hardy "has consistently voted against measures to repeal" Nevada's medical malpractice cap, which limits non-economic damages to $350,000 a person.
White filed his malpractice lawsuit in May 2014, and it was reassigned to Judge Hardy after he took office. White's wife, Vanessa, has been identified as the source of a 2013 tuberculosis outbreak at Summerlin Hospital.
According to the malpractice complaint, 25-year-old Vanessa White was admitted to Summerlin Hospital on May 9, 2013. Her twin girls, Abigail and Emma, were born prematurely "in substantial part because of the failure to identify and treat" their mother's tuberculosis, the lawsuit alleges.
The mother died July 1 at a California medical facility. Emma died June 1 at Summerlin Hospital, and Abigail died Aug. 1 at the hospital.
According to Judge Hardy's response to the recusal motion, his father "did not personally contribute funds" to his campaign; instead, his father's election committee contributed funds.
Contact reporter Carri Geer Thevenot at cgeer@reviewjournal.com or 702-384-8710. Follow her on Twitter: @CarriGeer