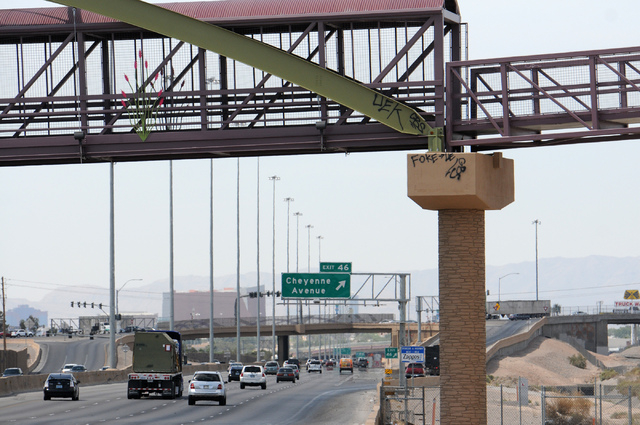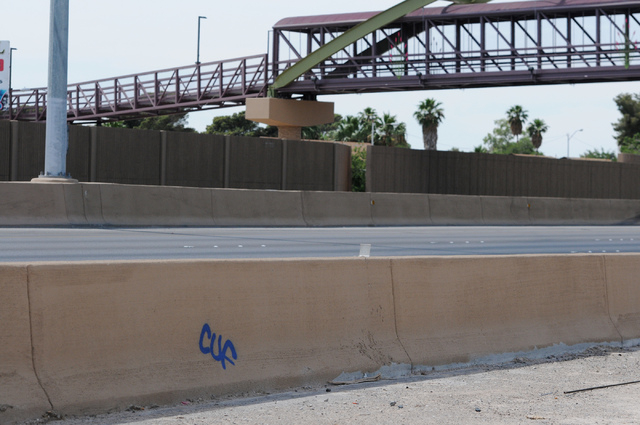 It didn't take long for that nice new pedestrian bridge over Losee Road and Interstate 15 to get tagged.
North Las Vegas Mayor John Lee, who on May 1 cut the ribbon for the bridge that connects a city trail system for bicyclists and pedestrians, said he was furious in mid-May when he learned the bridge had been defaced with black spray paint.
Lee, who sits on the Regional Transportation Commission, said the vandalism got him to thinking about how much the tagging of bridges and signs presents an image problem for Southern Nevada.
But he said he also knew he had to do something in his own backyard before advocating an abatement strategy for the Transportation Commission.
"We'll start here (North Las Vegas) and report on it over there," Lee said. "I won't go to the RTC and ask them to spend money, but if they see it as something that they're having problems with and they want to join the cause, that would be great. If (commission General Manager) Tina (Quigley) feels she wants to contribute money or raise awareness by putting messages on buses, we would definitely support that effort because it's a regional problem."
Lee and North Las Vegas Councilman Isaac Barron plan to unveil a strategy at an upcoming council meeting that puts a plan in place to address the tagging problem.
Barron said vandalism and tagging is one of the top concerns North Las Vegas residents have expressed in recent community meetings and focus groups he has conducted.
Lee said the first phase of the plan would be to form a community graffiti and tagging task force and conduct a citywide cleanup. When North Las Vegas addressed a long-standing financial crisis last year, it laid off all but two of its eight graffiti abatement officers. Barron said he thinks it's time to dedicate some resources to the issue, including seeking volunteers to mobilize neighborhood cleanup efforts with the city providing supplies.
Other components of the strategy:
■ To review city ordinances with the goal of toughening vandalism statutes. Lee is hoping the council could enact penalties that would enable the city to take away a juvenile's minibike, bicycle or skateboard and punish parents of juveniles caught tagging property.
■ To meet with Juvenile Justice Services personnel about giving the maximum penalties for convicted taggers.
■ To consider increasing the 25-cent graffiti abatement fee on water bills of North Las Vegas residents.
■ To encourage police to dedicate resources to catching taggers.
■ To establish a reward fund similar to Secret Witness to encourage informants to provide information on taggers for a reward.
Barron also is looking into the community offering a place for graffiti artists to practice their craft.
"There's a difference between a tagger and a graffiti artist," Barron said. "If we can provide an outlet this way, maybe it will reduce the number of people tagging property."
Chrissie Coon of the North Las Vegas Police Department's special assignments unit said most of the tagging is by gangs to mark territory. Other tagging crews that police consider to be gangs compete with each other to reach the strangest, coolest or highest place to tag.
"We've found that the best way to address neighborhood tagging is to be vigilant about covering it up," Coon said. "Once a tag is discovered, spray over it. If it's tagged again, spray over it again. Eventually, they get discouraged and move along to some other place."
She said citizen awareness can also help. People who see taggers in the act should call police immediately. She said the public can help police by taking pictures or shooting video.
But she also said people shouldn't endanger themselves in the process.
"If you've called police or taken some pictures or video and the police haven't come, don't follow them," she said. "It's a frustrating problem, but people's safety is more important."
Lee isn't the first Southern Nevada mayor to be exasperated by tagging problems. In 2005, then-Las Vegas Mayor Oscar Goodman declared that convicted taggers should have their thumbs cut off publicly.
Contact Richard N. Velotta at rvelotta@reviewjournal.com or 702-477-3893. Find him on Twitter: @RickVelotta.