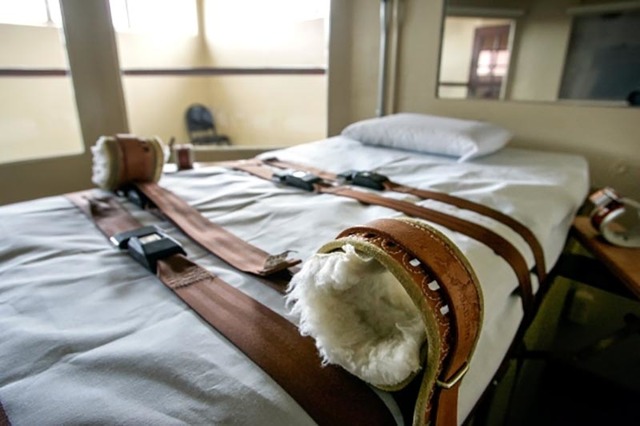 CARSON CITY — Two state legislative leaders have requested a bill be drafted to abolish the death penalty in Nevada.
Bill draft request No. 544 from Assemblyman James Ohrenschall, D-Las Vegas, would make life without the possibility of parole the maximum criminal penalty in Nevada. Sen. Tick Segerblom, D-Las Vegas, chairman of the Senate Judiciary Committee, signed on as a joint requester of the measure.
Ohrenschall had previously indicated he would propose an amendment to the state Constitution to abolish capital punishment, a process that would take five years and a favorable vote of the people to become law.
But Ohrenschall said Tuesday he opted instead for a bill to try to expeditiously accomplish the same goal in the 2017 legislative session, as a change to the existing law could take effect next year.
If approved by the Legislature, the measure would go to Gov. Brian Sandoval, who would have to sign it for a ban to become law. Sandoval, who does not comment on proposed legislation, is a supporter of capital punishment.
DEATH PENALTY IMPASSE
There is currently no capital punishment in Nevada, however, because pharmaceutical companies are declining to provide the drugs needed to perform an execution to the state Department of Corrections. Nevada law mandates lethal injection as the only form of capital punishment.
Ohrenschall, vice chairman of the Assembly Judiciary, Corrections, Probation and Parole Committee, said he opted for a legislative change after talking with Nevada death penalty opponents, including the ACLU of Nevada and the Nevada Coalition Against the Death Penalty.
If the bill is not successful then a constitutional change could be a future option, he said.
A constitutional amendment would have to be passed by the Legislature twice, in 2017 and 2019 and then go to voters in 2020 before it could take effect.
Some opponents of capital punishment cite a legislative audit issued in 2014 that showed the cost of litigating death penalty cases is higher than if a convicted murderer was sentenced to life without parole.
Newly elected Assemblyman Ozzie Fumo, a Democrat and longtime Las Vegas defense attorney, said the economic reasons alone make abolition the right course of action, although he is morally opposed to capital punishment as well.
The Legislature can pass a bill to put it on Sandoval's desk and then see what he will do, Fumo said.
AN EXPENSIVE EXAMPLE
Fumo's legal partner, Tom Pitaro, said the economic factors are more likely to lead to an end to capital punishment in Nevada than moral or religious grounds.
Pitaro said he is preparing for a new death penalty hearing next year for John Valerio, who has been on death row for decades. The case is an example of how costly and time-consuming death-penalty litigation can be, he said.
Valerio was first sentenced to death for the fatal stabbing of a Las Vegas prostitute in 1986. The 9th Circuit upheld his conviction but overturned his sentence and prosecutors are again seeking the death penalty decades later, he said.
The de facto moratorium on the death penalty comes just as the state finished work on a new execution chamber at Ely State Prison, where the 81 men on death row are housed. The project was approved by lawmakers in 2015 and cost nearly $860,000.
Nevada prison officials said earlier this year that the state will have to explore its options to carry out executions after it received no bids from pharmaceutical companies to supply drugs required for lethal injections. The state issued 247 requests for proposals on Sept. 2 after its stockpile of at least one drug used in executions expired. Not one response was received.
INMATE VOLUNTEERS FOR EXECUTION
While there was no urgency because no executions were expected to be scheduled anytime soon, that may have changed recently with death row inmate Scott Dozier telling a Clark County District judge that he wants to abandon his appeals and be executed.
After sitting on death row for more than nine years, Dozier sent a handwritten, two-page letter to his attorneys and Judge Jeniffer Togliatti on Oct. 31 requesting that his appeal process cease and he "be put to death."
Dozier has the right to end his appeals process but his attorney has asked for a competency hearing.
Nevada's last execution, by lethal injection, occurred at the Nevada State Prison in Carson City in April 2006.
The state has executed 12 inmates since capital punishment was reinstated by the Nevada Legislature in 1977. All but one were inmates who, like Dozier, voluntarily gave up their appeals.
Contact Sean Whaley at swhaley@reviewjournal.com or 775-461-3820. Follow @seanw801 on Twitter.
RELATED
Nevada's new $860,000 execution chamber is finished but gathering dust
Nevada legislators question need for new death chamber