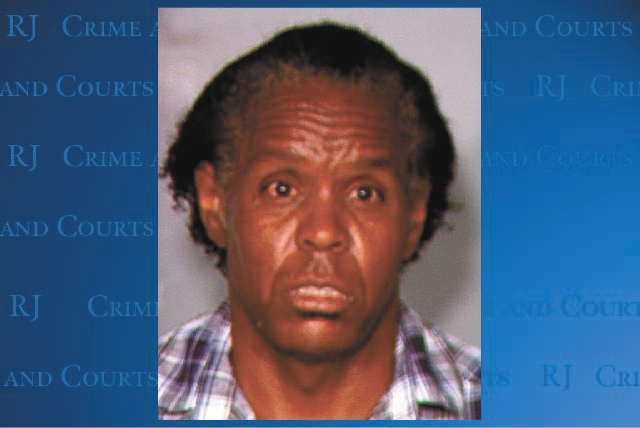 A man suspected of stabbing four people at random Thursday night told Las Vegas police "he was looking to buy a gun and he was going to shoot everyone that was bothering him," according to the arrest report.
Police received numerous calls around 11:15 p.m. about an unknown man stabbing people near the intersection of Harmon Avenue and Koval Lane.
Lee Sanford, 53, was holding a large kitchen knife when police found him about 15 minutes later inside a McDonald's at 3717 Las Vegas Blvd. South, near Harmon Avenue.
Sanford followed officers' instructions to drop the weapon and was taken into custody without incident.
According to his arrest report, Sanford told police he had been involved in a verbal altercation with "some white boy" before going to his East Harmon Avenue apartment to retrieve a knife.
Sanford said he returned to the Strip, where people continued to bother him. When asked to explain, the suspect told police "people kept bumping into him and that he was getting angry because of that."
"Sanford then stated that things could have been much worse," according to the report. "When asked what he meant by that statement, Sanford stated that he was looking to buy a gun and he was going to shoot everyone that was bothering him."
When asked whether he had stabbed anyone with the knife he was carrying, Sanford told police, "I'm not sure, but things could have been much worse."
Sanford soon began "to rant incoherently," according to the report.
Police later interviewed victims at University Medical Center, where all were treated for injuries that were not life-threatening.
According to the report, police could not interview a 56-year-old woman who was stabbed in the stomach "due to the fact that she was in surgery and sedated."
A 25-year-old victim said he and his sister had been walking east of Harmon Avenue when he noticed a man walking toward him with a knife. The victim was stabbed in the left elbow and lower back.
Another stabbing victim, a 16-year-old boy, said he was standing at the corner of Koval Lane and Harmon Avenue with his parents when he felt something hit his right shoulder. He turned and saw a man standing behind him holding a knife and realized he had been stabbed.
A 20-year-old woman told police she was standing on the sidewalk of Harmon, near Las Vegas Boulevard, when she thought she was punched in the lower back. She then touched her back and noticed she was bleeding.
When she turned around, she saw a man holding a large knife. She said the man then walked west on Harmon.
According to the arrest report, McDonald's workers called 911 to report that a man was inside the restaurant "and told the employees to call the police." They reported that the man was carrying a large knife and bleeding from the hand.
Sanford was arrested on four counts of battery with a deadly weapon and booked into the Clark County Detention Center.
Contact reporter Carri Geer Thevenot at cgeer@reviewjournal.com or 702-384-8710.