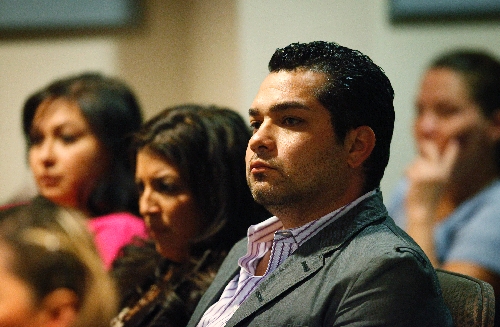 A Las Vegas man charged with stealing $482,883 from a sports-betting operation started by gambler-developer Bill Walters pleaded not guilty Monday in District Court.
Ezekiel Rubalcada, 35, who is suspected of staging a phony carjacking to cover up a series of thefts, was indicted Aug. 26 on 33 felony theft and burglary counts. He is free on $131,000 bail.
An April 23 trial was set before District Judge Valorie Vega.
Rubalcada, who appeared in court with defense attorney Robert Langford, declined comment afterward.
The indictment alleged Rubalcada stole the money between Jan. 18 and April 14 from an M Resort betting account belonging to ACME Group Trading, a company Walters incorporated in July 2005.
Until October, Walters was the sole officer of Veg Corp. Inc., listed as the manager of ACME Group Trading.
Rubalcada, a partner in the high-profile sports-betting operation, placed wagers for the group with money deposited into the M Resort account, according to Henderson police.
He is accused of withdrawing cash from the account in amounts from $2,000 to $130,000 on 16 occasions without notifying the company's manager. Then, to divert attention from the theft, authorities alleged, Rubalcada staged the carjacking and reported it to police.
He told officers the carjacker sped away with nearly $360,000 in company sports-betting money left in the vehicle.
Henderson police, however, poked holes in the story. The missing money has not been recovered.
Contact reporter Jeff German at jgerman@reviewjournal.com or 702-380-8135.