Man facing death penalty wears Tony Romo jersey at Las Vegas courthouse
Updated June 30, 2017 - 5:53 pm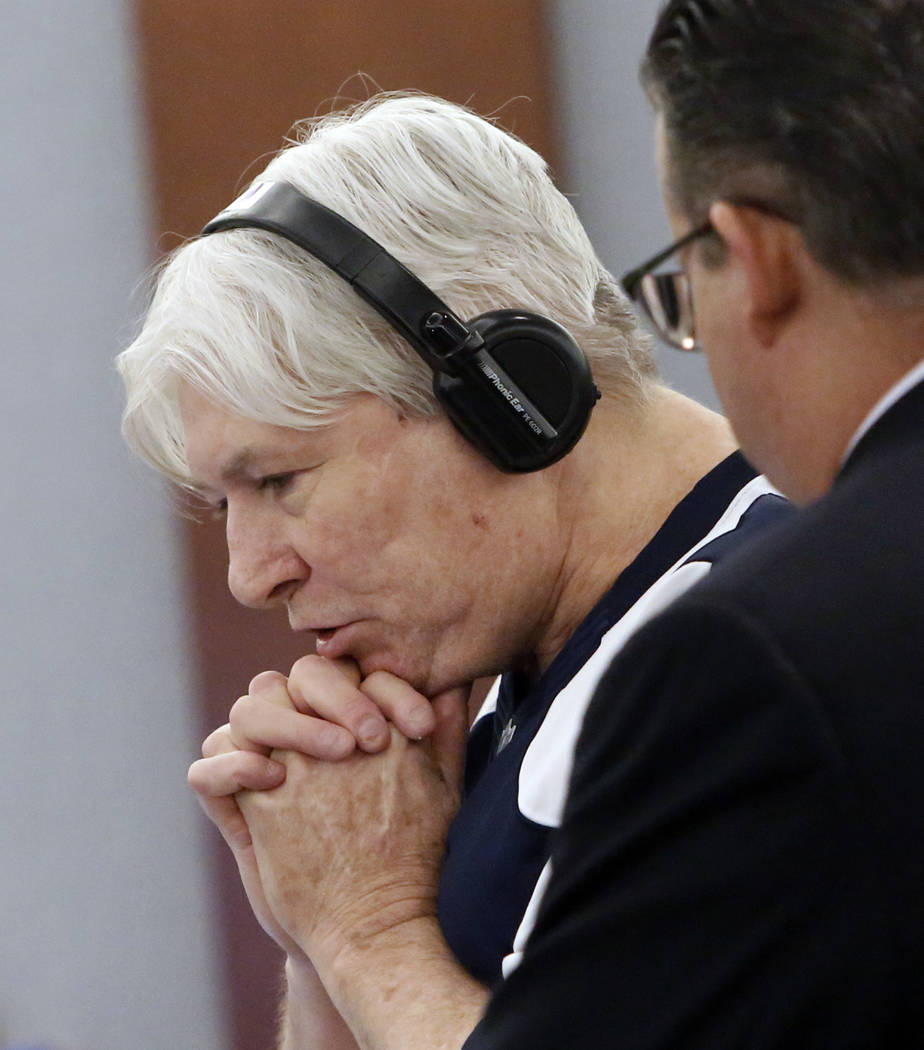 Thomas Randolph walked into a Las Vegas courtroom on Friday wearing a Dallas Cowboys jersey. He walked out with a jury deciding whether he should die.
Chief Deputy District Attorney David Stanton told jurors that wearing the XXXL No. 9 Tony Romo blue and white jersey with blue jeans and white gym shoes showed that Randolph had no remorse for the deaths of his sixth wife, Sharon Causse or the man he hired to kill her, Michael James Miller.
Earlier this week, jurors convicted Randolph of two counts of first-degree murder with use of a deadly weapon and one count of conspiracy to commit murder.
"He doesn't care about that at all. It doesn't bother him a bit," the prosecutor said. "Any rational compassionate human being would be appalled at themselves."
Several people testified at trial that they still fear the 62-year-old convicted killer, who defense attorneys said would die in prison no matter his sentence.
Randolph said he wanted to wear the jersey, rather than a traditional shirt and tie, on his last day of trial because he would speak to jurors. He has been locked up since January 2009, wearing only jail clothing.
"Since I've been 12, I've been a Cowboys fan," he told reporters in the holding cell. "It gives me comfort, even in here."
He rose to address the panel of eight women and four men, adjusting his hearing aid headphones, referencing three of his four dead wives, and saying the thought of serving his time among the general population of a prison frightens him.
"I've lived a helluva good life," he said. "I've been blessed … I'm sorry that all this happened. … We'll do one appeal, and if it doesn't work, give me that shot, and I'll go meet Sharon and Becky and Francis."
Jurors can decide one of four sentences: a term of 20 to 50 years behind bars, 20 years to life in prison, life in prison without the possibility of parole, or death. The decision must be unanimous. They deliberated for about an hour, and are expected to return at 9 a.m. Wednesday.
In asking jurors to spare Randolph's life, one of his lawyers said they could consider the simple fact that he's a Cowboys fan. In a video re-enactment of the killings, Randolph wore a gray Cowboys T-shirt.
"It only takes one of you to to stop death," Deputy Special Public Defender Clark Patrick told the jury.
Randolph had told police that he noticed a man in a black ski mask after finding his wife shot in the head in an entrance hallway of their home in May 2008. He brushed up against the man and shot him five times, he said.
But prosecutors said Randolph's story did not make sense, and they pointed to similarities between the two killings and the death of his second wife.
Randolph was arrested in the double homicide in January 2009, and it took more than eight years for the case to go to trial.
Prosecutors say Randolph was motivated by greed, and stood to gain upward of $360,000 in insurance money from Causse's death. That was less than the roughly $500,000 in insurance money he collected after the 1986 death of his second wife, Becky Gault.
Defense attorneys had argued that Randolph's last marriage was going well before Causse died, and they called Gault's death a "red herring."
A coroner ruled that Gault died by suicide. Randolph ultimately was acquitted after being tried for murder, but he pleaded guilty to tampering with a witness for offering an undercover officer posing as a cellmate a car title and cash to kill the star witness in the Utah case.
Chief Deputy District Attorney Jacqueline Bluth called Randolph the "worst of the worst" criminals, adding that he's dangerous even from behind bars.
"Shouldn't the death penalty be about the worst of the worst?" the prosecutor said. "It should be saved for those human beings in society who are the worst of the worst."
Contact David Ferrara at dferrara@reviewjournal.com or 702-380-1039. Follow @randompoker on Twitter.
Randolph penalty
A Las Vegas jury is considering whether to sentence Thomas Randolph to death for the murder of his sixth wife, Sharon Causse, and Michael James Miller, the man he ordered to kill her. Randolph suggested to the panel that the thought of execution scares him less than living among the general population of a prison.
"It's going to be hard on my family more than anything," he said.