Man shot and killed by police in east valley barricade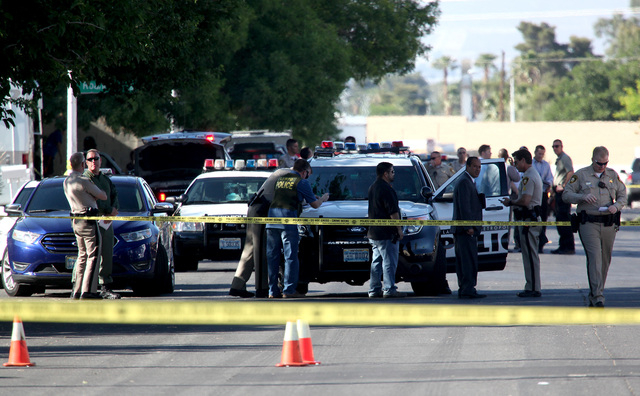 Las Vegas police shot and killed a man who they say fired at multiple officers during a barricade situation in the east valley Tuesday afternoon.
Officers responded to reports of "unknown trouble" at a house on the 5400 block of Palm Street, near Russell Road and Mountain Vista Street, about 2 p.m. The man who called told dispatch that he was 'going to be killed today,' police Capt. Matt McCarthy said.
A police sergeant contacted the man by phone and they spoke for an extended period of time. McCarthy said the man came outside several times during the phone call, but reentered the house. During that time, officers surrounded the house.
The man came outside a final time and shot at officers with a handgun, McCarthy said, and the officers returned fire. The man rounded a corner and shot at a second group of officers, who also returned fire before the man fell to the ground.
The man was taken to Sunrise Hospital and Medical Center, where he died. He will be identified by the Clark County coroner's office.
No officers were wounded by gunfire, police said. One officer who responded to the scene was taken to the hospital, but McCarthy said the officer wasn't shot and the episode wasn't related to the shooting.
This was the seventh officer-involved shooting for Las Vegas police in 2014, and the fourth fatal shooting. The last one was April 8 when 40-year-old Travis Doering pointed a loaded rifle at police and was fatally shot by a Las Vegas SWAT officer.
Review-Journal writers Henry Brean and Colton Lochhead contributed to this report.
Contact Annalise Porter at aporter@reviewjournal.com or 702-383-0264.