Man shot by off-duty police officer charged with attempted grand larceny
August 14, 2013 - 8:55 pm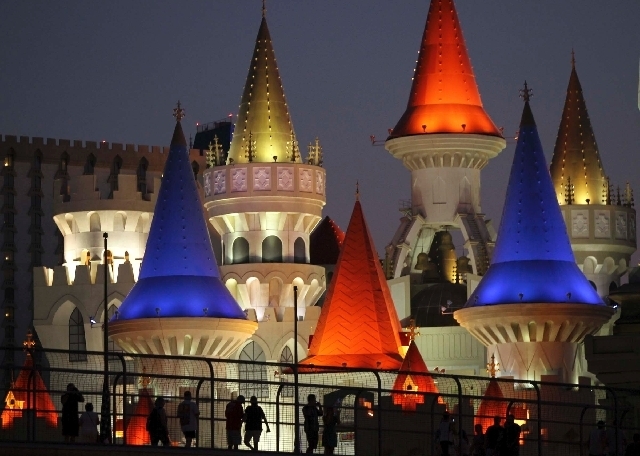 Las Vegas police say the man shot Sunday night by an off-duty detective on the Strip was trying to steal the officer's personal vehicle.
Saul Villegas, 27, of Bellflower, Calif., was charged with one count of attempted grand larceny Wednesday and booked into Clark County Detention Center.
Officials have not said whether Villegas was armed.
On Wednesday, police identified the officer who shot Villegas as Detective Bernard Plaskett, a 20-year veteran of the Metropolitan Police Department who currently works in the Gang Crimes Bureau.
The off-duty officer and his wife were in a loading zone near the valet area of the Excalibur about 9 p.m. when a Villegas got into the driver's side of Plaskett's vehicle, police said.
According to Las Vegas Police Capt. Brett Primas, the couple had been unloading packages from their vehicle to deliver to friends staying at the medieval-themed resort.
Plaskett, 54, told Villegas to get out of the car, police said, but the man would not listen.
Plaskett then identified himself as a police officer and again commanded Villegas to get out, but he didn't move.
Primas initially said Villegas reached underneath the seat of the car but later said he put his hands "down below his waistline, out of view."
In a news release issued Monday afternoon, police said Villegas "lowered his hands to his waistband."
When Plaskett no longer could see Villegas' hands, he pulled a gun and fired a single round through the passenger side door, striking him in the wrist, according to police.
After he was shot, Villegas ran toward the Excalibur, where hotel security offered him aid and took him into custody, according to police.
Plaskett remains on paid administrative leave. Paid leave, pending an internal investigation, is standard for Metropolitan Police Department officers involved in shootings.
The incident was the 13th officer-involved shooting this year in Clark County.
Contact reporter Colton Lochhead at clochhead@reviewjournal.com or 702-383-4638. Follow him on Twitter @clochhead44.