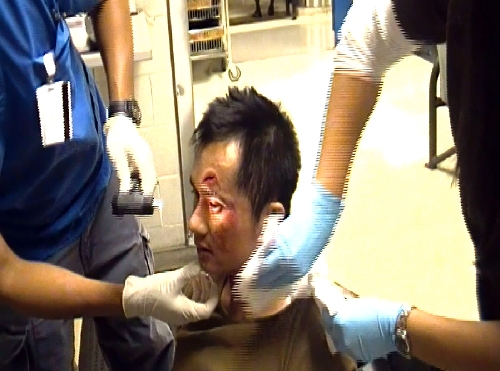 A California man is suing Las Vegas police and an officer who "slammed" him to the floor of the Clark County Detention Center last year.
Khoi Pham, 36, is seeking at least $20,000 in damages for the incident, which left him needing stitches for a nearly inch-long cut above his eye.
Video of the Oct. 2, 2011, incident shows a handcuffed Pham standing in the jail's booking room, waiting to be processed on charges of burglary and conspiracy to commit a crime. Jail guard Sean Berndt, a 10-year veteran officer, then walks up to him and, after a brief exchange, pushes him. Pham, 35, falls back into the chair and one of his legs swings up, possibly striking the officer.
Berndt then takes Pham by the arm, pulls him out of the chair and drives him into the jail's tile floor. When Pham gets up, blood is seem streaming down his face.
Pham's attorney Al Lasso said Tuesday that the officer's actions were unnecessary.
"When you take somebody who's handcuffed and take their head and smash it into a concrete floor, there is no reason to do that," Lasso said. Pham is also represented by attorney Andre Lagomarsino.
DISCREPANCIES BETWEEN REPORT, VIDEO
Lasso said his client has lasting injuries.
"He's got some serious scarring above his head, as well as headaches, loss of memory issues," he said. "We believe he suffered a concussion, but we don't know for sure."
Las Vegas police declined comment on the case because it is in litigation. Berndt, who still works in the jail, did not respond to a call for comment. It's unknown whether the Metropolitan Police Department investigated the altercation.
Jail personnel wanted to charge Pham with battery on a police officer – kicking Berndt.
But lawsuit papers note discrepancies between the crime report Berndt filed and what the video shows.
In the silent video, Pham is sitting next to an inmate who is spitting on the floor. As several officers take the unruly inmate away, Pham stands up.
Lasso said Pham was told by an officer to stand so they could move that prisoner.
Berndt wrote in his arrest report that Pham was "up and wandering around" though the video shows him standing relatively still. He described Pham as belligerent, stating that Pham "refused to sit and yelled, 'No!' "
Berndt then shoves Pham into the seat.
Berndt's report describes a series of events that seem to take place in a split-second in the video: After he was kicked, he told Pham to stand up, but Pham refused and resisted a wrist lock, which officers use to gain control of someone. When two officers come over to help, Pham slipped and his head hit the floor next to the wall, he wrote.
Jail nurses who examined Pham sent him to University Medical Center for stitches.
NO CHARGES FROM INCIDENT WITH GUARD
Prosecutors did not charge Pham with battery on an officer. He took an Alford plea on a charge of conspiracy to commit a crime. An Alford plea means Pham did not admit guilt but acknowledged prosecutors could prove their case.
That charge covers the incident that landed him in jail. Pham had followed a friend into the garage of a southwest valley home. The friend later told officers he was looking for a known drug house, but when the two entered the garage, people from the house chased them out and called police. They denied any intent to take anything. It's unclear what happened to charges against Pham's friend.
Lasso described Pham as a college graduate with no felonies or gross misdemeanors on his record. He denied being involved in a crime, Lasso said, and only pleaded guilty so he could get out of jail. If he completes his probation, which includes staying out of trouble and going through impulse control counseling, the charge will be reduced to a misdemeanor. He has avoided trouble, but as of Oct. 10, he hadn't finished counseling.
He has moved back to California, where he works in the computer business, the attorney said.
"He really doesn't want anything to do with Las Vegas," Lasso said.
Contact reporter Lawrence Mower at lmower@reviewjournal.com or 702-405-9781.