Man who tossed furniture from Strip hotel window sentenced to prison
Updated September 28, 2023 - 4:51 pm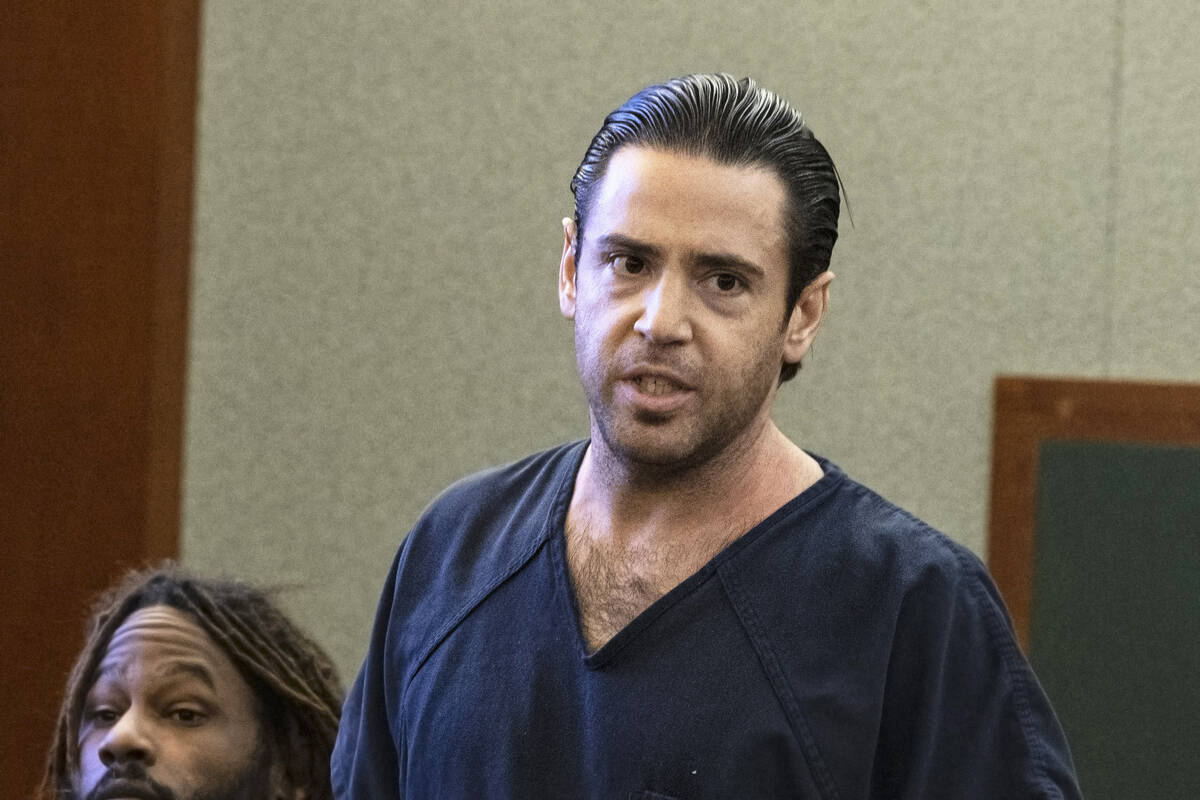 A 36-year-old man was sentenced Thursday to at least 19 months in prison for throwing furniture out of a Caesars Palace hotel room during a standoff with police that lasted more than five hours.
Matthew Mannix pleaded guilty last month to a felony charge of malicious destruction of property and a gross misdemeanor charge of willful or wanton disregard of the safety of persons or property. He initially also faced charges of first-degree kidnapping and coercion with a deadly weapon.
Mannix was arrested on July 11 after the police standoff, when he was accused of threatening to open fire on officers and cut out the tongue of a woman police said he was holding hostage. Police said he broke windows in the hotel room and threw large pieces of furniture to the ground, 21 floors below.
District Judge Crystal Eller sentenced Mannix on Thursday to between one year, seven months and four years behind bars. His attorney, David Roger, told the judge that Mannix and his family have already paid $55,292 in restitution to Caesars Palace.
Mannix also received 80 days' credit for time already served in custody since his arrest.
The judge said she was not considering probation for Mannix because of his prior felonies in Colorado. She said she was referring Mannix to a drug treatment program within the Department of Corrections.
"This is a chance for you — a person who has trouble controlling their choices — to do what's best for you," Eller said.
Mannix addressed the judge during the hearing, apologizing to the Las Vegas community for what he said was a mental health crisis due to drug use.
"It's a huge wake-up call for me," he said.
Mannix previously was convicted in Colorado of attempted kidnapping as an act of domestic violence. He has a felony warrant out of the state on a parole violation. He also is facing a weapons charge out of Colorado, Roger said.
The judge ordered Mannix to serve his sentence concurrently with the charges out of Colorado, although it is unclear if and when Mannix would be extradited.
Deputy District Attorney Max Anderson had argued for Mannix to be sentenced to the maximum of two to five years in prison. He said that although Mannix pleaded guilty to property crimes, he caused "enormous panic" among first responders on the Strip, reminiscent of the circumstances surrounding the Route 91 Harvest festival mass shooting on Oct. 1, 2017.
"And when police, the only facts they have are that someone has busted out a window high in a hotel tower, they have to mobilize resources as if it's the worst-case scenario," Anderson said.
The 2017 gunman used a 32nd-floor suite at Mandalay Bay to fire into the concert crowd below. The shooting resulted in 60 deaths.
Roger characterized his client's case as a substance abuse issue and said Mannix and the woman only had a pocket knife with them in the hotel room. The attorney said the woman had not been kidnapped and had consented to sex with Mannix two times during the standoff.
"Not to excuse his conduct — but to explain what is going on in this guy's life — he has been a drug addict, and a big-time drug addict, for a long time," Roger said.
In a jailhouse interview with the Las Vegas Review-Journal in July, Mannix said the woman had helped him barricade the door, and that the situation was a "huge misunderstanding."
Contact Katelyn Newberg at knewberg@reviewjournal.com or 702-383-0240.