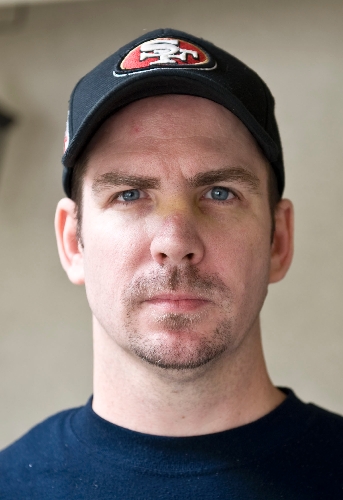 A man who alleges a Las Vegas police officer beat him for videotaping police in March has filed a federal civil rights lawsuit against the officer.
Mitchell Crooks' lawsuit against suspended officer Derek Colling was filed in U.S. District Court late Thursday night.
The 40-page document, which also names the Metropolitan Police Department, Clark County Sheriff Doug Gillespie and several of Colling's fellow officers, seeks more than $75,000 in damages.
"Colling had only one malicious, illegitimate, illegal reason for questioning Mr. Crooks that night," said the lawsuit, filed by attorney David Otto.
"Officer Colling decided to use the fear and terror of his physical ability to beat Mr. Crooks into submission."
Crooks, 37, was videotaping police from his driveway the night of March 20 as officers investigated a burglary across the street from his home near East Desert Inn Road and South Maryland Parkway.
He said that when he refused to stop filming, Colling beat him, with much of the altercation recorded by the camera.
Crooks was arrested for battery against an officer, trespassing and resisting arrest, but the charges were dropped.
The lawsuit alleges Crooks may have been targeted by officers after an incident earlier in March, when Crooks said he had an unpleasant encounter while filming officers.
No footage of that incident has been released.
Colling has been on paid suspension since April 1. An internal investigation completed in July found that Colling violated several Police Department policies, but the specific violations have not been released.
Colling's punishment, if any, was expected to be decided later this month, sources said.
The harshest punishment short of firing is a 40-hour unpaid suspension.
Crooks told the Las Vegas Review-Journal on Friday that he hopes Colling is fired, but he doesn't expect it.
"I'm not holding my breath," he said. "I know how they run the show in Vegas."
The video went viral on the Internet, and local activists and national "cop watch" blogs scrutinized Colling's actions.
Local American Civil Liberties Union lawyer Allen Lichtenstein reviewed the video and found clear policy violations.
"It raises serious questions about whether the officer used good judgment and whether he was properly trained," Lichtenstein said. "Those questions require answers."
Rank-and-file officers who spoke to the Las Vegas Review-Journal after the incident were as demoralized as the public was incensed.
"The majority of us think Colling made a mistake," one patrol officer said. "All the officers I talked to understand that citizens will see this video, and yeah, we know it looks bad."
Neither Crooks nor Colling was a stranger to controversy.
Colling has been involved in two fatal shootings in his 5½ years as a Las Vegas police officer.
In 2006, he and four other officers shot Shawn Jacob Collins after the 43-year-old man pulled a gun at an east valley gas station.
In 2009, Colling shot and killed Tanner Chamberlain, a mentally ill 15-year-old who was holding a knife at his mother's neck and waving it at officers.
Both shootings were ruled justified by Clark County coroner's juries.
Chamberlain's mother, Evie Oquendo, sued Colling and the Police Department in May.
When the lawsuit was filed, Oquendo's lawyer asked why Colling was still working as an officer.
"He's killed two people in 5½ years and beaten one guy up that we know of," Brent Bryson said.
Crooks' lawsuit also commented on Colling's past, using highly charged, speculative language.
"If (Crooks) had followed these unlawful orders, he would most likely have been murdered by Colling, who has killed citizens with his service weapon and not been punished."
Crooks made headlines in 2002 when he videotaped two Inglewood, Calif., police officers beating a 16-year-old boy.
Crooks first tried to sell that tape and refused to give it to prosecutors. He then was jailed on old warrants from drunken driving and petty theft charges. Civil rights advocates decried the jailing as retribution.
He has lived in Las Vegas since 2003 and worked as a freelance videographer.
Contact reporter Mike Blasky at mblasky@reviewjournal.com or 702-383-0283.