Man with neo-Nazi face tattoos gets prison time for robbery
November 9, 2016 - 2:11 pm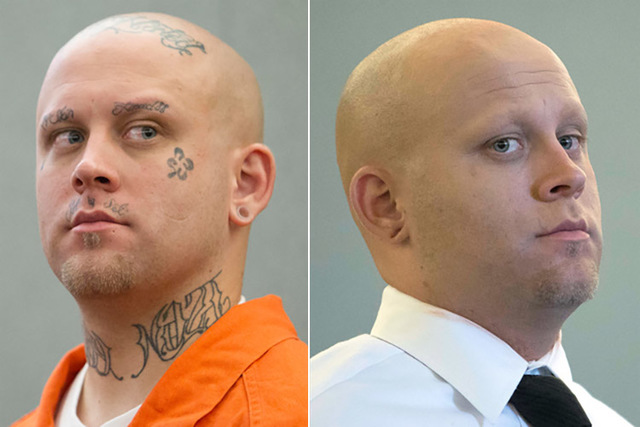 A 25-year-old Las Vegas man whose neo-Nazi tattoos were covered with makeup during a robbery trial was sentenced this week to up to nine years in prison.
Bayzle Morgan must serve a minimum of three-and-a-half years in prison for his conviction, according to a sentence handed down Tuesday by District Judge Richard Scotti.
Defense lawyer Dayvid Figler said he planned to appeal the conviction for the May 2013 robbery.
"This is a very complicated case for a very young man who is accused of serious offenses," Figler said.
Morgan is also facing the death penalty in the northwest valley slaying of a 75-year-old woman that occurred just days before the robbery.
"All these issues, especially when you're dealing with the death penalty, are extremely complex," Figler said, "and no one should ever rush to the ultimate judgment."
A different judge is expected to set a trial date for the capital case on Thursday.
A swastika within a clover is permanently etched under Bayzle Morgan's left eye. The words "Most Wanted" are scrawled across the 25-year-old's forehead, and "Baby Nazi" is tattooed on his neck. Two more white supremacist tattoos are located where his eyebrows should be.
Morgan gained international media attention earlier this year after a different Scotti ordered the tattoos covered for trial.
Contact David Ferrara at dferrara@reviewjournal.com or 702-380-1039. Follow @randompoker on Twitter.
RELATED
Neo-Nazi gets makeover to hide tattoos from jury
Trial of tattooed neo-Nazi put on hold
Neo-Nazi convicted of robbery, even with tattoos concealed
Jury hears opening statements, but sees none of neo-Nazi tattoos in robbery trial