Margaret Rudin's 2001 murder conviction vacated
Updated May 16, 2022 - 4:19 pm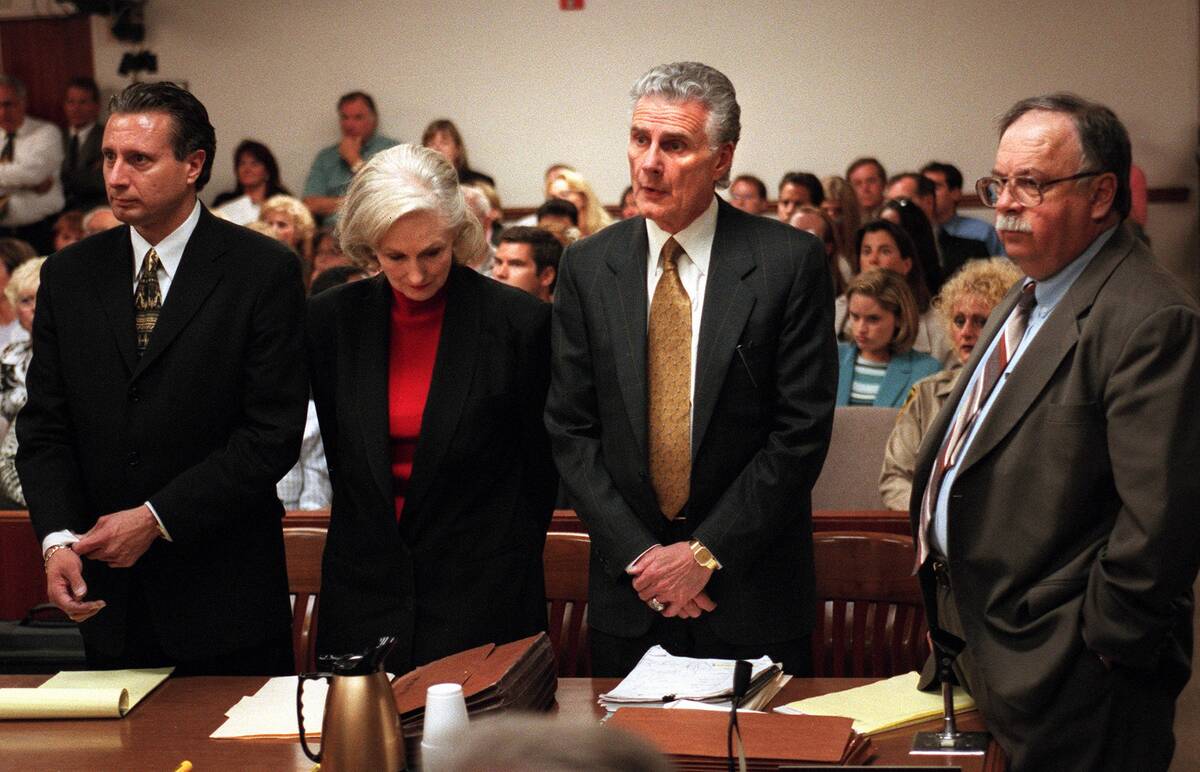 Notorious Las Vegas suspect Margaret Rudin has had her murder conviction tossed out in the death of her millionaire husband.
"I'm very, very grateful to God," Rudin said in a phone interview Monday. "I will be 79 years old at the end of this month so I am very, very grateful."
A federal judge made the ruling on Sunday.
Rudin, 78, previously was convicted of murder in the killing of her spouse, Ron Rudin. The real estate developer and businessman was shot in the head as he slept in the couple's Las Vegas home in 1994.
Authorities said Ron Rudin's estate was worth at least $8 million as he readied to divorce his wife. Las Vegas police interviewed a handyman who said Margaret Rudin hired him to clean up a bloody mattress and carpet from the couple's home.
Police also said remnants of an antique trunk were later found with Ron Rudin's charred remains near Nelson's Landing at Lake Mohave. Now retired Las Vegas police homicide Detective Phil Ramos said police proved Margaret Rudin purchased the trunk.
The media later dubbed Margaret Rudin "the Black Widow" in one of the most high-profile murder cases in Las Vegas history. She was indicted on a murder charge in April 1997 in what authorities portrayed as a crime committed for financial gain. Before she could be arrested, though, she fled Las Vegas and remained on the run until she was apprehended in Revere, Massachusetts, in the fall of 1999.
Rudin was convicted of murder in 2001 and served nearly 20 years in prison for the killing before being released on parole in 2020. She vowed at the time to pursue all appeals, predicting she would clear her name.
"I want to be free to travel if I choose to on a passport," Rudin said after her release from prison. "I want to be able to vote. I want to be able to do all the things I was able to do before Ron was murdered. And I did not do it."
Her attorney, Greg Mullanax, said Monday that U.S. District Judge Richard Boulware had conditionally granted a writ of habeus corpus filed on her behalf, meaning the murder conviction is vacated. The judge ruled that Rudin had received ineffective assistance of counsel from her late defense attorney, Michael Amador.
Amador negotiated media rights deals while simultaneously representing Rudin, then gave a confused and bewildered opening statement in her murder trial that was widely panned. Amador's trial tactics also drew the ire of the presiding judge, Joe Bonaventure.
Amador also failed to prepare or interview witnesses prior to trial, according to Rudin's many appeals. Boulware cited Amador's conduct as the reason that led him to grant relief.
"Even putting the allegations of a serious conflict of interest by Amador to the side, Rudin clearly was denied effective assistance of counsel due to the extreme lack of trial preparation by Amador and his ensuing self-absorbed, ill-prepared, and incompetent representation at trial," the judge wrote in the ruling.
Mullanax said Clark County prosecutors now must decide whether to appeal Boulware's ruling or retry Rudin on a murder charge. Sunday's ruling also meant that her parole requirements were vacated.
"It's been a long journey and I'm very happy the court made the decision they did because I think it was the proper decision," Mullanax said. "It is unfortunate it came out after she's served her sentence in prison because this has been bouncing around the courts ever since 2001. It is still what we were seeking: a new trial and vacating of the conviction, and that's what we got. I'm happy a court finally looked at this and saw what happened. The trial was a travesty."
Clark County District Attorney Steve Wolfson did not respond to requests for comment on Monday. Ramos declined to comment on the ruling.
Contact Glenn Puit by email at gpuit@reviewjournal.com. Follow @GlennatRJ on Twitter.