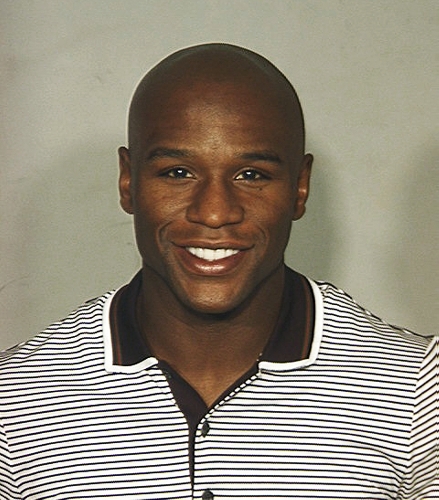 Champion boxer Floyd Mayweather, Jr., has been charged with misdemeanor battery, accused of repeatedly poking a Southern Highlands security officer in the face following a November confrontation over a parking citation.
Mayweather is scheduled to appear before Las Vegas Justice of the Peace Tony Abbatangelo this morning on the misdemeanor charge, but his attorney might appear in his stead.
The new charge could lead another justice of the peace to revoke Mayweather's bail on pending felony charges stemming form a Sept. 9 domestic violence incident involving his three children and their mother, Josie Harris.
Mayweather, who is facing several felony charges, including felony coercion, grand larceny, and robbery, is free on $31,000 bail in that case.
According to court documents, Mayweather was charged with the misdemeanor count for the Nov. 15 incident involving security guard Shayne Smith. In a report, Las Vegas police said Smith noticed two vehicles, a grey Ford Explorer and a silver Mercedes 550, parked in violation of the Southern Highlands regulations.
After placing parking violation stickers on the vehicles, Smith attempted to drive on but found Mayweather standing in the road blocking the way.
"Smith alleges Mayweather was markedly agitated and screamed he had no (expletive) business touching his personal property," according to the police report.
Police described the boxer as being verbally abusive during the "tantrum" and allegedly jabbed his finger into the Smith's cheek.
According to the report, investigators viewed photos that showed Smith had redness and discoloration to the left side of his face following the incident.
Mayweather refused to speak with officers who were called to the scene, according to the report.
The new charge is just the latest in a string of criminal accusations against the former U.S. Olympian since September.
Last month a former employee of the boxer accused Mayweather of assault with a deadly weapon. Quincey Williams said Mayweather tried to force his vehicle off Arville Road, near Spring Mountain Road, according to a police report.
There were no other witnesses, and the incident remains under investigation.
Williams also was the victim of an August 2009 shooting at a local roller skating rink that investigators said involved an associate of the boxer. Ocie Harris was indicted on two felonies, attempted murder and assault with a deadly weapon in connection with the shooting.
Meanwhile, Mayweather awaits a January preliminary hearing in justice court for the Sept. 9 domestic violence incident. Harris has accused Mayweather of domestic violence in the past, only to recant her story or stop cooperating with police.
In December 2003, she told police he assaulted her outside a nightclub during an argument over another woman. But at the July 2005 trial, Harris testified that she had lied about being beaten. She told the jury Mayweather was a "teddy bear" who had never laid a hand on her. The jury acquitted him of the felony domestic violence charge.
In 2002, Mayweather pleaded guilty to two misdemeanor domestic violence charges.
In 2005, he was convicted in the unprovoked beating of two women in the Ra nightclub at Luxor. He received a suspended one-year jail sentence and an order to undergo counseling.
Contact reporter Francis McCabe at fmccabe@reviewjournal.com or 702-380-1039.