Memorabilia returned to baseball legend Jackson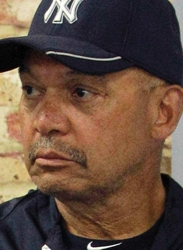 A replica of Reggie Jackson's 1977 World Series championship ring and a watch commemorating his 400th home run have been returned to the baseball Hall of Fame member, his lawyer said Thursday.
"Reggie's relieved to have the property back," Las Vegas attorney Jeffrey Rugg said.
Jackson, 65, filed a federal lawsuit last year in Las Vegas to stop his stepmother, Resurrection, from selling the sports memorabilia. Jackson had given the items to his father, Martinez, who died in 1994.
The former slugger was in court in July when U.S. District Judge Kent Dawson issued an injunction that barred Resurrection Jackson and American Memorabilia, a Las Vegas-based auction house, from selling the ring.
The order also barred the defendants from selling a watch the New York Yankees presented to Jackson to celebrate his 400th home run.
According to its website, American Memorabilia was formed in 1994 by Victor Moreno, who also was named a defendant in the lawsuit.
Earlier this month, Jackson reached an agreement with his stepmother, American Memorabilia and Moreno.
The parties agreed that the ring and watch, which were being held in a safe deposit box, should be returned to Jackson and that all claims against the defendants should be dismissed.
In February, Resurrection Jackson signed a declaration in Philadelphia that stated she had "no ownership interest in or right to possess" either the ring or the watch.
The agreement between the parties did not involve defendant Martinez Jackson Jr., Jackson's half-brother.
On March 20, Henderson attorney Marc Risman filed a motion asking to withdraw as Martinez Jackson's lawyer. According to the motion, Martinez Jackson has neither returned nor initiated communication with his lawyer, who also represents the other defendants in the case.
Risman shared his belief that Martinez Jackson "was incarcerated for a lengthy period of time making communication with him, concerning the instant civil action, impossible."
During a hearing on Risman's motion Thursday, the lawyer said he always had reached Martinez Jackson in the past at the home of his mother, Resurrection, in Philadelphia.
Risman, who participated in the hearing by telephone, also said Resurrection Jackson's recent declaration, in which she reversed her earlier position, created a conflict of interest for him by forcing him to discredit one client or the other.
At the hearing, Rugg informed Risman that Martinez Jackson was released from custody on March 23, hours after his mother had died.
"I had no idea that my client Resurrection Jackson had passed way," Risman responded.
U.S. Magistrate Judge Bill Hoffman granted Risman's request to withdraw as Martinez Jackson's lawyer.
After the hearing, Risman declined to comment on the recent developments in the case, other than to say the parties had reached "a mutual settlement with mutual consideration."
"As part of the settlement agreement, we all agreed to confidentiality," he said.
Risman said he did not know why Martinez Jackson was incarcerated.
Outside the courtroom, Rugg described Jackson as "saddened by the death of Resurrection Jackson and saddened that this case had to be brought in the first place."
According to a statement that appeared last year on the American Memorabilia website, Resurrection Jackson had kept the ring "near and dear to her heart since 1994."
"It is only now that she has turned to what her husband had left her, her heirloom, to aid her and her family. She is now 77 years old, on dialysis and is unbelievably still working to make ends meet. She has no other means to support herself or her family and this will be her saving grace."
The couple were married for 21 years, according to the website.
Although the American Memorabilia website described the ring as "Reggie Jackson's original World Series ring," Jackson said he still had possession of the original, a size 13.
According to a declaration signed by Jackson, he had a similar ring made for his father, but it had an additional diamond and was a size 9.5.
His father agreed that it should be passed to other relatives after he died.
When his father lost the ring a couple of months later, according to the declaration, Jackson had a second version of the ring made for him.
Jackson also allowed his father to display the Cartier watch Jackson received from the Yankees.
Jackson contended the items were not given as gifts to his father and "were not intended to be sold" by his father or his father's family.
After his father's death, he asked Resurrection Jackson to return the second version of the World Series ring, and she did.
She never told Jackson she had found the first ring, according to his declaration.
In June, a friend told Jackson that the ring and watch were being auctioned on the American Memorabilia website.
Jackson played baseball for 21 seasons, hit 563 home runs and was elected to the Hall of Fame in 1993. He lives in California.
Earlier this month, Jackson moved for summary judgment against Martinez Jackson, the only remaining defendant in the case.
Resurrection Jackson's declaration was attached to the motion, which seeks a judgment that Jackson "has sole title" to the ring and watch.
Contact reporter Carri Geer Thevenot at cgeer@reviewjournal.com or 702-384-8710.