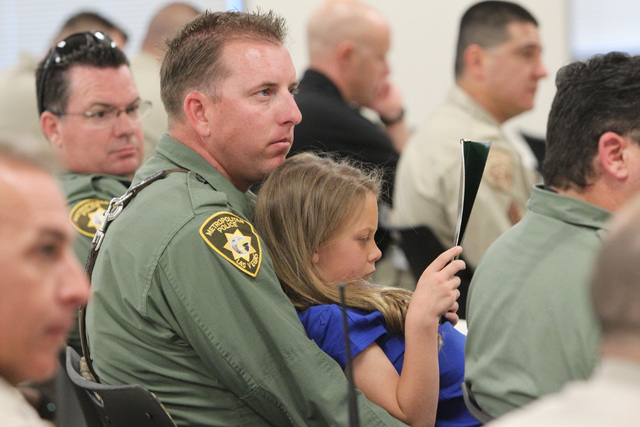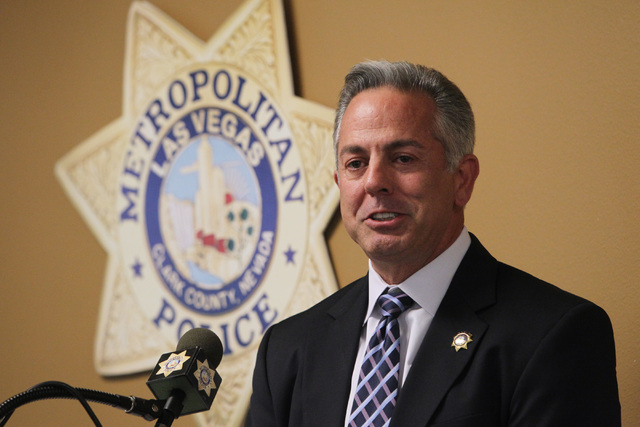 Las Vegas police honored 59 officers for outstanding service and saving lives at a commendation ceremony at Metro headquarters Wednesday afternoon.
Each of the officers was involved in a situation where first aid was required at a critical moment or where they acted valiantly in a dangerous situation.
Take officer Allen Johnson. He was honored for two medical emergencies, in Logandale and Overton, in which he saved lives by administering aid while he was waiting for a helicopter to carry the patients to the hospital. Johnson, like many Metro cops, is also an EMT.
Officer James Downing was honored for his work in two SWAT team situations. One of them, an incident in August, could have ended with a number of tankers at a Union Pacific rail yard in North Las Vegas exploding and affecting people in a 1-mile radius, Las Vegas police said. Hazardous materials units from across the valley would have been unable to prevent the explosion without Metro's ARMOR unit.
Sgt. Fred Haas, who has been with Metro for 14 years, was honored for his unit's efforts to save a couple of children in a burning home in June. Haas said that while it's nice, it is also an emotional experience to be honored for those efforts, because the children did not survive.
"We don't ask for thanks. We do our job," he said. "That's what we're expected to do. I'd do it again."
He said that though police don't always like to advertise their accomplishments, it's great to hear about the good works of other officers.
"There's people I've never seen before here getting awards. It's great," he said. "They do great work. We have a couple incidents everyday that go unnoticed."
It was the first ceremony of its kind for Clark County Sheriff Joe Lombardo, who distributed the certificates to the honorees and said similar events will likely occur every month going forward.
He also said that it's important to celebrate the police who are heroes, especially at a time when police in other places are making national headlines for questionable shootings and arrests.
It's very important that police don't get painted with a broad stroke, he said.
Contact Wesley Juhl at wjuhl@reviewjournal.com and 702-383-0391. Find him on Twitter: @WesJuhl.