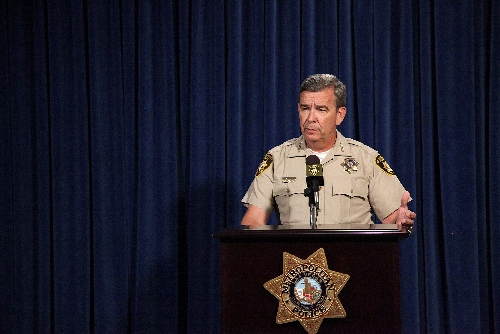 Declaring that his agency has added an unprecedented "level of accountability," Sheriff Doug Gillespie announced Monday the release of internal documents that detail fatal encounters between Las Vegas police and civilians.
The documents pertain to police shootings and other use-of-force incidents that resulted in a death.
Those types of incidents have for decades been publicly scrutinized at the coroner's inquest, a fact-finding hearing where officers and other witnesses testify. But changes to the system and an ongoing legal challenge by police unions have stalled the inquest process for 19 months.
Gillespie said the public deserves to know what happened when someone dies at the hands of his officers.
"Although not perfect, the inquest process served as the one venue for the public to hear what happened in deadly use-of-force cases," he said during an afternoon news conference.
"We know that whenever one of our officers use force, the public doesn't often see all of the elements surrounding that split-second decision."
The sheriff said the document release was made possible when newly appointed District Attorney Steve Wolfson began reviewing the backlog of cases for potential criminal charges against the officers. His office has released seven such reviews since April. Each one cleared the officers of any criminal wrongdoing.
The Metropolitan Police Department will release documents only from cases that Wolfson has reviewed.
For each case, the Police Department will release two reports. One is an investigative summary report that details police actions that led to the death, and the other is an administrative report that focuses on whether officers violated department policies and whether policy changes were made because of the incident.
Gillespie said he had to balance his officers' right to a fair and impartial process with the public's demand for information. Police intend to release the documents within 30 days of Wolfson's decision, he said.
Allen Lichtenstein, general counsel of the American Civil Liberties Union of Nevada, said he is cautiously optimistic the new policies will result in a more transparent Police Department.
"Certainly the idea is a good one, but it can be abused," he said. "If they're just going to be used to smear the person who was shot, which has been done in the past, it won't be particularly helpful."
Lichtenstein said he is hopeful the coroner's inquest soon will resume after a lengthy legal delay.
The Nevada Supreme Court will hear arguments today on the constitutionality of the process, and Lichtenstein thinks that the justices will rule in favor of the inquest.
A renewed inquest, with more transparency from police and the district attorney's office, will be good for Nevada, he said.
"More transparency and accountability is helpful to educate the public and also help the police themselves," Lichtenstein said.
At the center of the controversy over the revised coroner's inquest was the creation of an ombudsman who can question officers on behalf of the dead person's family.
Led by the Las Vegas Police Protective Association, local police unions have balked at the new process, saying the ombudsman changes the fact-finding hearing into an adversarial one that violates the officers' constitutional rights.
The unions have advised their officers not to testify at the inquest under the Fifth Amendment protections against self-incrimination.
Chris Collins, the PPA's executive director, said he had no opinion on the decision to release internal reports.
Las Vegas police released the first reports of three incidents Monday on the website www.lvmpd.com. The cases involved the deaths of three men in November and December 2010.
One of the cases involved Anthony Jones, 44, an unarmed man running from a traffic stop on Dec. 11, 2010. Two Las Vegas police officers used their Taser stun guns multiple times in the death of Jones.
Police stopped Jones' Lexus sedan about 1 a.m. near Martin Luther King and Lake Mead boulevards because its headlights were off. During the stop, an officer noticed Jones acting erratically and asked him to step out of the vehicle. After an altercation, the officer drew his gun, and Jones ran. Jones fell in a nearby dirt lot, and the officer jumped on his back and fought with him.
According to released reports, Officer Mark Hatten fired his Taser 10 times for about 92 seconds. Officer Timothy English used his Taser twice for about 10 seconds. It's unclear how many of the Taser shots struck Jones, the report said.
Because of this incident, the Police Department changed its Taser policy to stop multiple officers from using the less-lethal force weapon on someone at the same time.
Also, policy was changed to restrict Tasers from being used for more than three five-second cycles.
The coroner listed Jones' cause of death as cocaine and ethanol intoxication, with police restraining procedures and an enlarged heart as contributing factors.
Documents were released for two fatal shootings on Nov. 15, 2010.
Benjamin Hunter Bowman, a 22-year-old man, was shot and killed while holding a female bartender at knifepoint at a PT's Pub at Nellis Boulevard and Sahara Avenue.
Bowman entered the bar, hit a patron with a beer mug and held a knife to the bartender's throat as he yelled, "This is a robbery!" Three officers fired at the same time.
In another case, Anthony James Brenes, 32, was killed by a single shot fired by Las Vegas police officer Sean Miller. Brenes was holding a walking stick and as he moved toward the officer and challenged him to shoot outside a convenience store near Desert Inn Road and Pecos-McLeod connector.
Before Miller fired his fatal shot, two other officers arrived and shot Brenes twice with both a Taser and beanbag shotgun. Neither stopped Brenes from continuing to move toward Miller, who backpedaled nearly 130 feet before pulling the trigger, the report said.
The internal documents determined that officers violated no polices in the Bowman and Brenes deaths.
Richard Boulware, with the Las Vegas chapter of the National Association for the Advancement of Colored People, said his group has encouraged Las Vegas police to make such documents public. However, he stopped short of saying the department is now transparent.
He said his group hopes the revised coroner's inquest, with an independent ombudsman, will create true accountability in fatal police encounters.
Boulware said the release of internal documents can't replace a revised inquest system.
"Having Metro release its own reports on its own officers is not sufficient and is not a true measure of transparency and accountability," he said.
Review-Journal reporter Kyle Potter contributed to this report. Contact reporter Antonio Planas at aplanas@reviewjournal.com or 702-383-4638. Contact reporter Mike Blasky at mblasky@reviewjournal.com or 702-383-0283.
Deadly Force: When Las Vegas Police Shoot, and Kill
Las Vegas Review-Journal investigative series