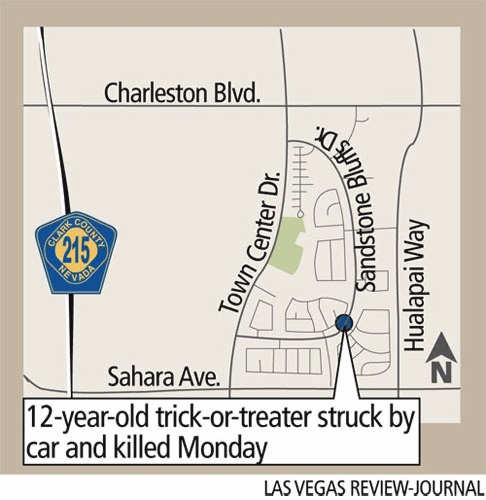 Rocquell Love was pregnant and about to become a single mother when she made a symbolic decision.
Knowing she would need mental strength for the years ahead, she decided to give her daughter a name that reflected her needs: Faith.
"Because I knew it would take faith in God for me to raise her by myself," Love said.
For 12 years, Faith lived up to her name, brightening her family's days with bubbly enthusiasm for anything and everything in life, her mother said.
"You know how most kids hide in the bathroom, supposed to be getting ready for school, but they're playing video games and texting?" Love asked. "My child would literally go in there with a book. She would read three or four books at a time. She just loved knowing things and learning."
On Monday night, while trick-or-treating on Halloween with relatives, Faith was hit by a vehicle that authorities allege was being driven by a drunken man.
She died at University Medical Center shortly after arrival.
Justin Caramanica, 41, was arrested on a felony DUI charge in the crash, which happened about 8:20 p.m. at Sandstone Bluffs Drive and Wesley Lake Place in Summerlin.
Fifteen-year-old Aaron Francois was trick-or-treating with his brother when he saw the crash.
He said the vehicle, a 2009 Mazda RX-8, was going much faster than the 25 mph speed limit in the residential neighborhood when it struck the girl.
After Faith was hit, he heard a young boy scream, "That's my cousin, that's my cousin!"
Francois held the boy and told him to pray, he said.
Love said her sister called her about the crash within minutes. She rushed to the scene, but paramedics already had sped away.
By the time she got to UMC, Faith had died.
"She wasn't fighting. She was already gone," Love said.
Faith wasn't even supposed to be trick-or-treating in Summerlin. Love had made family plans with church friends on the other side of Las Vegas, but when Faith's 6-year-old brother got sick, she decided to stay home.
But Love didn't want Faith — who dressed as a Native American princess, one of her favorite reading subjects — to miss any of the fun. So she allowed Faith to go with her cousins, supervised by her aunt.
Love said her sister feels terrible about the crash, although Love doesn't blame her.
"She feels because she was with her, she should have been able to take care of her and protect her," Love said.
Faith was a seventh-grade honor student at Rogich Middle School who enjoyed math, reading and history, Love said. Faith loved reading about other cultures, especially Native Americans and the Japanese. Her favorite movie was "Memoirs of a Geisha," and she talked about traveling to the country someday.
"She just was a bright, happy girl," Love said, her voice cracking with emotion. "This is just so hard."
The crash marked the third auto-pedestrian fatality in recent days and the second possibly involving impaired drivers.
A 15-year-old Henderson boy, Lucas Ruiz-Brenes, died Sunday from injuries he received after being struck on Center Street near Dogwood Street in Henderson. The driver, 77-year-old Imre Dayka, was arrested on a felony DUI charge.
Amelia "Mia" Decker, 6, died three days after being struck in a crosswalk Oct. 21 in North Las Vegas. Her two friends were critically injured, including Alyssa Mowery, 5, who remains hospitalized.
The 78-year-old driver who struck the girls has not been identified or charged.
Although Love has lost Faith, she hasn't lost her faith in God. Her daughter was raised with strong Christian beliefs, and Love doesn't doubt she is in a better place.
"She had a large family and a large church family that loved her dearly," Love said. "She was always our angel."
Contact reporter Mike Blasky at mblasky@reviewjournal.com or 702-383-0283.