Mother charged in daughter's slaying to enter insanity plea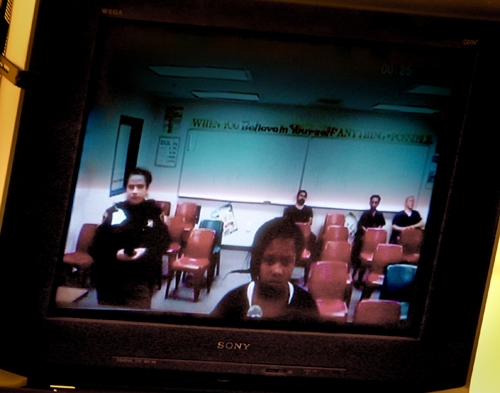 A 27-year-old woman will plead not guilty by reason of insanity when she is arraigned in District Court next week on charges she killed her 6-year-old daughter with a pair of scissors, her lawyer said.
Danielle Slaughter on Tuesday waived her right to a preliminary hearing before the judge could determine whether prosecutors had enough evidence to send the case to trial.
An arraignment hearing is set for May 3, when Slaughter is expected to plead not guilty to the lone charge of murder with use of a deadly weapon, Deputy Public Defender Andrea Luem said.
Slaughter remained jailed in the Clark County Detention Center without bail, records show.
Slaughter cried during the hearing but was able to tell Las Vegas Justice of the Peace Joe Bonaventure that she understood what was happening, Luem said.
The insanity plea is an affirmative defense under the law, meaning Slaughter's lawyers with their medical experts will have to convince a jury of it. The plea also means that Slaughter can expect to be interviewed by the prosecution's own medical experts.
It's unknown whether the Clark County district attorney's office will seek the death penalty against Slaughter. That probably will not be determined until after her arraignment.
But in a case involving Carl Guilford, who according to his mother is bipolar, prosecutors recently said they won't seek capital punishment against him. In that case, the 19-year-old is accused of suffocating his 6-year-old cousin and, after his arrest, fatally beating and stabbing his cellmate.
Authorities said Slaughter was possibly delusional last month when she stabbed her daughter, Kyla Franks, to death with a pair of scissors.
Kyla was a kindergartner at Bell Elementary School, and her mother was in her first semester at the College of Southern Nevada.
According to a Las Vegas police report, Slaughter said she stabbed Kyla after hearing her daughter speak in an "evil" voice.
She told detectives she had felt a dark presence in her home for several days.
Slaughter also told police she recently had begun taking the weight-loss supplement Hydroxycut.
About 6 p.m., shortly after the killing, Slaughter was found running naked on Vegas Drive near Jones Boulevard, about two miles from her home. She was screaming, and her hands were covered in blood. She was not injured.
"The blood was from the Lamb of God," Slaughter told the officers who found her.
Police weren't able to connect Slaughter to her daughter's death for more than two hours, when Slaughter's live-in boyfriend came home and found the girl's body, near Vegas Drive and Tenaya Way.
The girl had multiple stab wounds to the neck.
Police later arrested Slaughter at Valley Hospital Medical Center, where she had been taken after being found wandering on the street.
Contact reporter Francis McCabe at fmccabe@review journal.com or 702-380-1039.